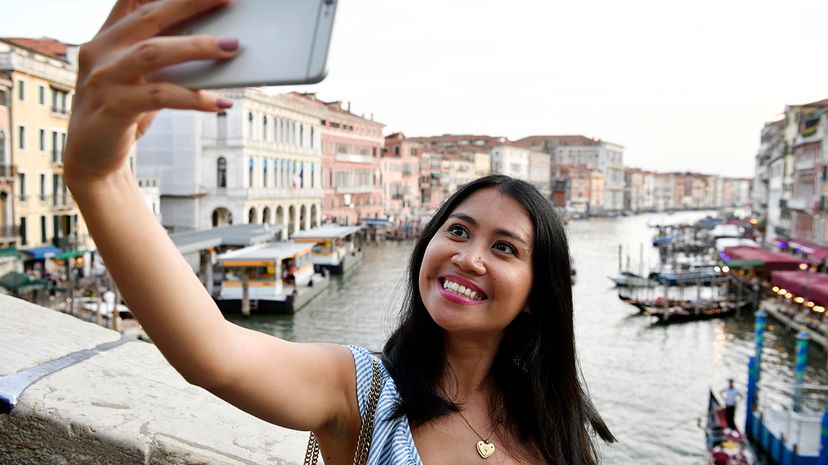 More women than ever are traveling solo, like this one, who's taking a selfie on the Rialto Bridge in Venice, Italy.
Lex Rayton/Getty Images
Listen up, ladies: It's time to mark some of those destinations off your travel bucket list, even if it means you have to visit them alone. And that's not a bad thing: Research shows that solo travel has skyrocketed — between 2013 and 2015, those traveling alone jumped from 15 to 24 percent. And one in four respondents to a global travel survey said they expect to travel solo in 2018.
"Female solo travel is definitely a growing trend," says Liz Smith, marketing manager of Maui Surfer Girls, a surf school and camp on the Hawaiian island of Maui. "I'm not sure if Instagram and Pinterest are spurring this trend, or [they're] just increasing sales of flowy dresses, floppy hats and fancy cameras."
While it's probably not Pinterest and Instagram spurring women to travel more, experts do have their theories. Some say it's because women have more money to spend, and others believe it's because people have (or use) less vacation days and want to make the most of the time off. In any case, the travel industry is evolving to meet demand.
Traveling for Passion and Growth
Companies like REI Adventures and Abercrombie & Kent are catering to solo female clients. Jean Fawcett, media relations manager for Abercrombie & Kent says they have seen a slight increase in solo travelers, and about 70 percent of those are female.
"Nearly 40 percent of A&K solo travelers choose a trip because their partner doesn't share their interest in the destination," she says via email. "Twenty-five percent travel alone to pursue a personal passion such as wildlife photography, history or archaeology."
Like Mary Block, who is a Spanish teacher and a married mother of two middle school-aged children in Atlanta. She has taken several solo trips, including a 10-day trip to Spain to sharpen her Spanish-speaking skills. "You don't have a choice when [you travel] alone, but at some point you end up having to be introspective and reflective," Block says. "You're not always going to be next to somebody that's going to strike up a conversation; there's going to be a time when you feel uncomfortable and that makes you grow as a person."
Traveling for Adventure
But women aren't only traveling solo for personal growth. Many women are also doing it simply for the adventure. They're eschewing traditional road trips and spa getaways in favor of more exciting journeys like adventure races, hiking or climbing, and camps that teach skills such as surfing or sailing. These travel excursions ensure women can enjoy a trip safely, and take risks as they welcome new travelers to the fold.
Maui Surfer Girls, for instance, has been experiencing steady growth since the early 2000s, though Smith says it's been much more pronounced in the last few years. In 2016, they offered just one women's session, but demand was so high, they added 12 in 2017; 75 percent sold out.
Tour proprietors say adventure vacations can provide bonding experiences because they can provide an instant group of girlfriends. Most female-oriented tours are heavily staffed by women, as well, which also sends a message of female empowerment.
Smith says a lot of the women who come to her camp have never surfed a day in their life. But the supportive, all-female environment can be very valuable. "Some women come to camp to improve on their surfing, but we get a good amount of women who have never surfed before in their lives, and just want to try something new, face their fears or just needed some tropical time out of the cold," she says. It's all part of the journey.