On a prominent hilltop overlooking the city of Cincinnati stands the large Greek revival-style house where William Howard Taft was born in 1857. The house, now the William Howard Taft National Historic Site, is a reminder of an elegant era when Mount Auburn was known as the city's "Fifth Avenue," and it is restored to look as it did when the twenty-seventh President and tenth Chief Justice lived here as a child and young adult.

©Library of Congress
William Howard Taft's childhood home has been restored
to look just as it did in 1857.

Taft lived in the home continuously until he went to Yale College in 1874. After college, his career skyrocketed. When he became President in 1909, it was only the second time he had been elected to office. As President, Taft introduced the income tax and the federal budget, and he inaugurated the presidential tradition of throwing out the first baseball of the season.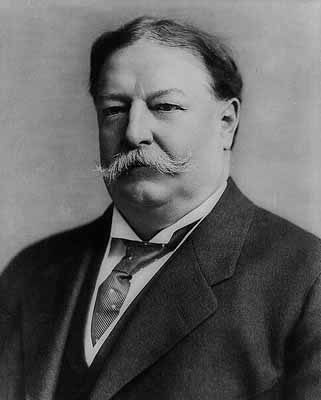 ©Library of Congres
William Howard Taft was the only man to serve the United
States as both President and Chief Justice of the Supreme Court.

The house was almost demolished in 1938, eight years after Taft's death. In 1969, it was designated a national historic site. Letters from Taft's mother Louise, describing the home to her family in Massachusetts, guided the restoration efforts. All the family portraits and many of the books in the house belonged to the Tafts while they lived there, and it is furnished with a combination of original and period pieces.
In addition, the site has exhibits detailing the life and career of the only man to serve the nation as both President and Chief Justice of the Supreme Court.

William Howard Taft National Historic Site Information
Address: 2038 Auburn Ave., Cincinnati, OH
Phone: 513/684-3262
Hours of Operation: 8 a.m. to 4 p.m. daily except Thanksgiving, Christmas, and New Year's Day
Admission: Free ­

Learn more about these other national historic sites:
To learn more about national monuments, memorials, and historic sites, and other travel destinations in North America, visit:
­
ABOUT THE AUTHOR:
Eric Peterson
is a Denver-based freelance writer who has contributed to numerous guidebooks about the Western United States.