Suggested Itineraries for Visiting Washington, DC
You've just learned about the monuments, museums, culture, and history you can experience while visiting Washington, DC. But how do you fit it everything into your trip without missing any of the highlights? We've put together these suggested itineraries to help you see everything in your specific areas of interest, whether they be special events and attractions, arts and culture, architecture and landmarks, shopping, nightlife and entertainment, or relaxing and unwinding.
1-, 2-, and 3-Day Suggested Itineraries for
Special Events & Attractions in Washington, D.C.
Special Events & Attractions in Washington, D.C.
The must-see attractions in Washington, DC, range from the historical to the cultural to the gastronomical. Follow these suggested itineraries to ensure that you take advantage of all the things to do in Washington, DC.
1 day: Start the day with lobbyists and other movers and shakers at the Mobil Four-Star Hay-Adams Hotel (16th and H Sts, NW), where the price is right for breakfast with a view of The White House. Then walk the few blocks to The White House Visitors Center (1450 Pennsylvania Ave NW), where you can see a video and exhibits about the first families and learn about the building's architecture, furnishings, and other details. Leave yourself at least 20 to 90 minutes to tour the center.
Have lunch among White House staffers at the Mobil Two-Star Old Ebbit Grill (675 15th St, NW). This restaurant isn't far from The White House and has velvet booths, and bars set in marble, brass, and beveled glass just like a 1900s saloon. Antique beer steins are on display, as well as a walrus head caught by President Teddy Roosevelt. You should try the three cheese ravioli or steak and egg tostada for lunch.
Spend the afternoon at the Old Patent Office Building, newly christened the Donald W. Reynolds Center for American Art and Portraiture (Eighth and F Sts, NW). The freshly renovated two-city-block museum is home to the Smithsonian's National Portrait Gallery and American Art Museum. Take a coffee break at the terrace cafe on the building's second floor.
Explore the art galleries and other shops in the surrounding Penn Quarter neighborhood and dine at one of many trendy restaurants. Zaytinya (701 9th St, NW) is a favorite spot where you can have the tiniest beef stuffed balls of pasta called 'manti nejla' that are covered with roasted garlic yogurt and paprika butter. Go Asian at Teaism (400 8th St, NW) for bento boxes, some with the best priced fresh salmon in town. For wooden oven pizzas, try Matchbox (713 H St, NW) or have a perfect Angus beef mini-burger on toasted brioche with onion straws.
2 days: Check the Washington National Cathedral Web site (3101 Wisconsin Ave NW) for tours and enjoy the educated docents' program. This beautiful building was made of Indian limestone and features intricate carvings inside and out, has a 30-story central tower and 215 stained-glass windows. Bring binoculars to see the more than 100 gargoyles. Take the elevator up to the towers for a panoramic view of the city and beyond.
Have lunch at one of the best pizza restaurants in the United States: Two Amys (3715 Macomb St NW). This gourmet pizza tastes different because the owners follow strict rules about the type of ingredients used, then pop it into a wood-burning oven. When it's done, they put a swirl of extra virgin olive oil on top. One type to try is the pizza topped with salami, sweet peppers, garlic, and mozzarella. You'll find unique offerings like clams (in the shell) on other pizzas.
Drop into Washington Consignments (3226 Wisconsin Ave NW), where the wealthy sell their decorative arts and furnishings after they redecorate, or where they pick things up to ship to homes in Nantucket and the Eastern Shore.
After lunch, go south on Massachusetts for a walk down Embassy Row. Stop in at The Society of the Cincinnati Museum at Anderson House (2118 Massachusetts Ave, NW), a turn-of-the-century Beaux Arts mansion that belonged to Larz and Isabel Anderson, who bequeathed their home to an organization of descendants of Revolutionary War officers, the Society of the Cincinnati. The grand building is interesting in its own right and for the murals, art, and historical exhibits. You need a guide to see some areas, so inquire about the tour schedule ahead of your visit.
Also try to fit in a visit to the only Presidential museum in Washington, Woodrow Wilson House (2340 S St, NW), a National Historic Landmark that focuses on the President's public service. Wilson led the country during World War I and served two terms, from 1913-1921. He and his wife, Edith, moved into this beautiful home at the end of his second term, and it has been preserved as it was when they occupied it. Mrs. Wilson willed the home and its contents to the nation. There are guided tours, exhibits, and educational programs.
3 days: Spend most of the day at Mount Vernon (3200 Mount Vernon Memorial Hwy, Mount Vernon), appropriately the most popular historic home in America. Sixteen mostly-scenic miles from DC, Mount Vernon was going downhill fast when a group of concerned citizens -- all women -- raised money to save it. It's still owned and operated by America's first preservation organization, the Mount Vernon Ladies' Association, founded in 1853.
At the end of October 2006, two new buildings opened on the 500-acre grounds. The Ford Orientation Center and Donald W. Reynolds Museum and Education Center are the fruit of a $95 million campaign to bring Mount Vernon and the Father of our Country into the high-tech, multi-sensory present with interactive galleries and media displays.
One movie and other short films produced by The History Channel and three life-sized models depict Washington as a teen and at two other stages of his life, to expand his image as a statesman. These models were designed to humanize him by showing a young man of modest means who became President. In the museum, which increases the exhibition space five-fold, many personal family items will be displayed here for the first time.
A perfect complement to Mount Vernon is Old Town Alexandria, a river port established in 1749. One can wander the preserved cobblestone colonial streets or shop, enjoy galleries, and have dinner. If you like the idea of dining and historic interpretation in a preserved 1785 hotel and tavern, visit Mobil Two-Star Gadsby's Tavern (138 N Royal St, Old Town Alexandria) for peanut soup and blueberry trifle. This restaurant and museum, was a center of political, business, and social life in early Alexandria. George Washington, John Adams, and Thomas Jefferson dined here.
If you'd rather head back into town and try a newer dining experience, make reservations for low-country cuisine at Indigo Landing (1 Marina Dr, Alexandria) and try the pan-seared hake with bacon, lima bean, corn, tomato, crab succotash.
1-, 2-, and 3-Day Suggested Itineraries for Arts & Culture in Washington, DC
1-, 2-, and 3-Day Suggested Itineraries for Arts & Culture in Washington, DC
Washington, DC, takes arts and culture very seriously. You can visit countless museums in this town, and it is home to several fine performing arts institutions. Here are some suggested itineraries that will help you get the most out of DC's arts and culture:
1 day: A must for any visit to Washington now and for the foreseeable future is the Donald W. Reynolds Center for American Art and Portraiture (Eighth and F Sts NW), the two-block home to Smithsonian collections and the Luce Foundation art storage and study center. After a six-year renovation, light streams into skylights at the Greek Revival Old Patent Office Building.
Visitors are encouraged to discover pieces of their own story on the walls of the Smithsonian American Art Museum (8th and F Sts NW). Installations of three centuries of this country's most creative artistic achievement include Edward Hopper landscapes, a massive folk art altar, Andy Warhol pop art, and Nam June Paik's state-by-state video map of America. Beyond its serious collection of Presidential portraits, the National Portrait Gallery mingles classics with contemporary art. Exhibits honor poets, composers, performers, and notable sports figures; visionaries, villains, and activists are also represented.
Any leftover time and energy should be spent exploring Penn Quarter (also known as the 7th Street Art District), the once-sketchy part of town that matured beautifully during the museum renovation years. This revitalized section of northwest Washington runs from Pennsylvania Avenue to Chinatown, and east-west from 6th to 9th Streets. In a sparkling new mall, Gallery Place, shops include Aveda, Banana Republic, Benetton, and a 14-screen movie theater. Not far on F and 11th St, there's the 25,000-square-foot H&M, the Ikea of clothing. A boutique called Pua Naturally sells clothes and gifts that support the people who make them in India, Nepal, and Afghanistan. Apartment Zero has modern home furnishings and accessories.
Penn Quarter's International Spy Museum (800 F St NW) is the only public museum in the world that explores the history and contemporary role of espionage. Narratives enlighten visitors about carrier pigeons, the atom bomb, and Hollywood's contributions to disguise techniques. The Spy City Cafe has a good reputation for healthful breakfast, lunch, and snacks at economy prices.
The Bead Museum (400 7th St NW) might be the smallest museum in town, but it features quite a collection of beads. The exhibits are dedicated to further the understanding and appreciation of these tiny objects used as jewelry, ornaments, religious symbols, and artifacts through the ages.
Penn Quarter also has lots of art to purchase in galleries. Of all the galleries, don't miss The Zenith, headquartered here for more than two decades, with its contemporary art and a room of neon creations. On the fourth Thursday of each month, a Gallery Walk is held. Art galleries are open until 8 pm and Starbucks hosts a poetry reading. A farmers market sets up on 8th Street between D and E from 3 to 7 pm every Thursday as well.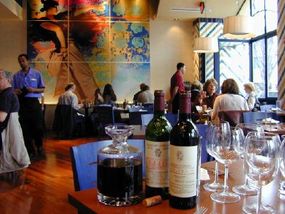 ©2006 Lourdes Delgado The Mobil Three-Star Jaleo serves fine tapas andwas the pioneer restaurant in Penn Quarter.
In this neighborhood you can dine at some of the most delicious and stylish restaurants in town: Teaism (400 8th St NW) serves great bento boxes and tea; IndeBleu (707 G St NW) has good veal-stuffed gnocchi; and Zaytinya (701 9th St NW) provides all kinds of Eastern Mediterranean dishes like the fascinating 'manti nejla' that are covered with roasted garlic yogurt and paprika butter. Mobil Two-Star Jaleo (480 7th St NW) serves tapas extraordinaire and was the pioneer restaurant in this part of town.
2 days: The U Street Corridor is another recently revitalized neighborhood. Centered on U Street between 10th and 15th Streets NW, and down 14th to N Street, this area draws locals and visitors alike to its shops, restaurants, and clubs. Historic landmarks include the African American Civil War Memorial and Museum (1200 U St NW) and Howard University (2400 6th St NW). The memorial pays tribute to more than 200,000 African American soldiers who fought in the Civil War. The university's main campus houses a Gallery of Fine Art with changing exhibits.
A neighborhood jewel is Candida's World of Books (1541 14th St NW), one of the best travel-dedicated bookstores in the country. Other popular stores include Go Mama Go (1809 14th St NW) for colorful gifts and artwork; Meeps & Aunt Neensie's Vintage Fashionette (1520 U St NW), and the Wild Women Wear Red (1512 U St NW) for designer shoes.
Some of the best soul food in the city still can be had at Ben's Chili Bowl (1213 U St NW), founded in 1958 and made famous in part by Bill Cosby's enthusiasm. A classic meal -- half-smoke, cheese fries, and milk shake -- costs less than $10.
For a more formal dining experience, and one of the best views of Washington, make reservations at Tabaq Bistro (1336 U St NW). The menu draws from Turkey, Greece, Lebanon, and Morocco. The dish that receives the most notice is the branzini (Mediterranean sea bass) with spinach, rice with almonds and currants, and creamy lobster sauce. The restaurant's glass ceiling opens up when weather allows.
For dessert, it's all about Warren Brown, the lawyer turned baker who opened CakeLove and LoveCafe (1506 U St NW). He has appeared on Oprah and in People Magazine, and is host of his own Food Network show called Sugar Rush.
3 days: Head out of town and cross the river by Metrorail to Alexandria, Virginia for a full day and evening. At 250 years old, it's known for history and hospitality, historic homes, churches and museums, shopping, and a lovely day spa.
Six of the city's historic sites are the Alexandria Black History Resource Center (638 N Alfred St), Archaeology Museum (105 N Union St), Fort Ward Museum (4301 W Braddock Rd) and Historic Park (118 N Washington St), Friendship Firehouse (107 Alfred St), and The Lyceum (201 S Washington St), Alexandria's history museum. It prides itself on art and artists.
When you get hungry, grab a table at Gadsby's Tavern (138 N Royal St), for Colonial-era food and entertainment.
The Torpedo Factory Arts Center (105 North Union St, Alexandria) was born through the efforts of local artists and the city in 1974. With 84 working studios and six galleries, the Torpedo Factory is considered the largest and most successful visual arts center in the United States.
If you stay in town and art and gardens are appealing, head for Georgetown instead, and visit Dumbarton Oaks and Gardens (1703 32nd St NW). In the 19th-century Federal-style mansion, a 1944 conference led to the formation of the United Nations. The museum of Byzantine and Pre-Columbian art and artifacts is closed and under renovation, but the 16 acres of gardens are open--works of art in their own right. Nature lovers, amateur and pro, delight in the formal and informal designs that were inspired by various English, French, and Italian gardens.
In the afternoon, visit the first national museum dedicated exclusively to Native Americans. The National Museum of the American Indian (Fourth Street & Independence Ave SW) showcases objects from ancient civilizations through the 21st century. Multimedia presentations, live performances, and hands-on demonstrations bring the Native American people's history and culture to life. The museum opened in 2004 on the last available open space on the National Mall. Not just a time capsule of historic events, the museum's exhibits include groundbreaking modern artwork. Have lunch in the cafe, praised for its delicious, healthful, and culturally appropriate food.
1-, 2-, and 3-Day Suggested Itineraries for Architecture & Landmarks in Washington, DC
1-, 2-, and 3-Day Suggested Itineraries for Architecture & Landmarks in Washington, DC
Washington, DC, is known for its classic architecture. Civic buildings and monuments throughout the city sport stately marble columns. These suggested itineraries will help make sure you see all the best examples of Washington, DC, architecture and landmarks during your visit.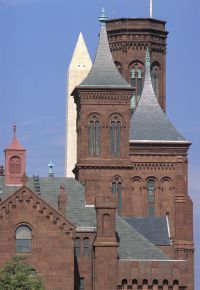 ©2006 Washington, DC, Convention and Tourism Corporation The Smithsonian Castle is where thehuge network of Smithsonianmuseums began.
1 day: If you only have one day, stay outdoors and see as much as you can. A tour is in order. If you prefer to do it yourself, walk the National Mall. You'll see the U.S. Capitol at one end and the Washington Monument in the distance beyond the other end, about a mile away.
In between, you'll see the National Gallery of Art (National Mall between 3rd and 7th Streets at Constitution Avenue NW) and its celebrated East Wing, a sharp-lined building made with pink Tennessee marble. The Smithsonian Castle building (1000 Jefferson Dr SW) was the original of what is now the largest collection of museums in the world, 19 and counting, including the National Zoo (3001 Connecticut Ave NW).
On the National Mall, highlights include the Freer Gallery (Jefferson Drive at 12th St), National Air and Space Museum (600 Independence Ave), the Hirshhorn Museum and Sculpture Garden (Independence Avenue and 7th St), National Museum of Natural History (Constitution Ave and 10th St NW), and National Museum of American History (14th St and Constitution Ave). To learn about all of the Smithsonian museums, visit its Web site.
One of the newest museums in town is the National Museum of the American Indian (4th St & Independence Ave SW), made of undulating, golden, Minnesota limestone. At night, after everything else is closed, walk around the seven-acre FDR Memorial (West Basin Dr).
2 days: If you have two days, spend an early morning beyond the west end of the Mall and visit the Vietnam Veterans Memorial (900 Ohio Dr SW). Continuing toward the Tidal Basin, walk through the Korean War Memorial (French Dr SW and Independence Ave). On your walk, you will see the 555-foot Washington Monument and the Jefferson Memorial, which are best viewed from a distance. No need to go up close and inside, unless you have the desire.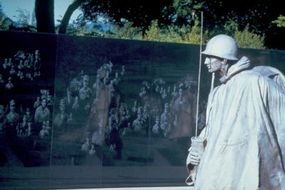 ©2006 The Korean War Memorial is one of manystirring memorials in the Washington Mall.
If you want to go up to the top of the Washington Monument (15th St SW), stop there first for timed tickets or obtain tickets in advance for a small fee ($1.50) by calling 1-800-967-2283 or online.
3 days: You can also get a great view of Washington from the towers of the National Cathedral (3101 Wisconsin Ave NW). This amazing marvel of art and architecture could occupy the good part of a day with its organ demonstrations, choir rehearsals, and other rich offerings. A Behind the Scenes tour is offered at 10:30 am and 1:30 pm weekdays, July through February. Participants must be at least 11 years old and able to climb lots of stairs. Check out the long list of public tours on the Web site.
If you time it right, you can make reservations for tea, with Tour & Tea in the Pilgrim Observation Gallery, offered year-round. In blooming season, especially for rose lovers, spend a quiet moment in the Bishops Garden. The three National Cathedral shops (the main Museum shop, the Herb Cottage, and the Greenhouse) are well known for creches, books of the spirit, and gardening items. Washingtonians love to shop here in December for holiday gifts and holly wreaths.
On your way to or from the Cathedral, take a walk up or down Embassy Row, otherwise known as Massachusetts Ave and 23rd St NW, from Dupont Circle to Wisconsin Avenue. Many embassies offer tours with prior notification. Some have concerts and lectures. A comprehensive listing of embassies is online.
If you have an interest in aviation and space flight, drive out to Dulles Airport to see this architectural wonder. The main attraction is the Air and Space Museum outpost, the Steven F. Udvar-Hazy Center (14390 Air and Space Museum Pkwy, Chantilly). More than an outpost of the Mall museum, it welcomed its millionth visitor before celebrating its one-year anniversary in December 2004. The Space Shuttle Enterprise is a draw, along with hundreds of rockets and satellites and other aircraft that could not fit into the Mall museum. Here, with 760,000 square feet, there's room for hundreds of exhibits, another IMAX Theater, a memorial to explorers and aviators, and an observation tower for viewing air traffic in and out of Dulles.
1-, 2-, and 3-Day Suggested Itineraries for Shopping in Washington, DC
Although Washington, DC, doesn't have a reputation as a shopping town, you won't have any trouble finding places to get in a little retail therapy while you're visiting. Use these suggested itineraries to take advantage of the shopping hotspots.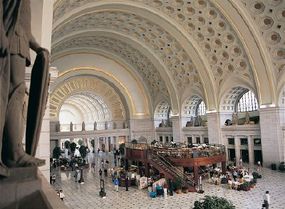 ©2006 Union Station is the perfect place to shop for souvenirs.
1 day: Have breakfast in the eatery at Union Station (40 Massachusetts Ave NE), the perfect place for one-stop souvenir shopping. Its stores specialize in flags (Alamo Flags); political satire (America's Spirit); DC items (Destination DC); and DC sports teams (Out of Left Field). After an hour or so of shopping, head to the National Mall.
It could take weeks to explore all the National Mall museums and shops, so let your interests guide your choices. Some of the best shops are in the Freer Gallery (Jefferson Drive at 12th St SW) and the National Museum of the American Indian (4th St & Independence Ave SW), but don't miss one of the most unusual: the National Museum of African Art (950 Independence Ave SW). There are baskets from Botswana, dolls from all over the continent, and jewelry for women and little girls. As with almost all museum shops, there are great books, and special merchandise is added to complement each new exhibit.
Late in the day, before choosing any of the many great restaurants in Penn Quarter, visit the International Spy Museum and store (800 F St NW), open until 8 or 9 pm during summer. One of the best-selling items is a gray T-shirt with "Deny Everything" screen-printed in red. Kids love the Wild Planet spy gear and disguises that include synthetic wigs and a set of mustaches. Gray Line recently added an evening tour of famous/infamous spy activity spots in DC.
2 days: Many Washingtonians wish for a full day to walk around Georgetown. The corner of Wisconsin and M Streets, NW is not the geographic center of Georgetown, but it's the heart of this charming, historic neighborhood that has shopping and restaurants that attract area college students, visitors, and the established society set that lives in elegant townhouses on cobblestone streets.
For relaxation and culture, visit Dumbarton Oaks, or take a walking tour and see where Jack and Jackie Kennedy lived in the 1950s and 1960s. Have capellini at Mobil Two-Star Cafe Milano (3251 Prospect St NW) or a crabcake or perfect burger and fries at Mobil One-Star Nathan's (3150 M St).
Up and down Wisconsin and M in Georgetown, there's something for everyone. Everard's Clothing (1802 Wisconsin Ave, NW) has upscale menswear; Sherman Pickey (1647 Wisconsin Ave NW) is American prep, with some imports and handmade items. For vintage clothing, try Annie Creamcheese (3279 M St NW) for never-worn T's from the 70s and gently worn Manolo Blahnik shoes. Snap up jewelry inspired by flags, eagles, and national landmarks at designer Ann Hand's Boutique (2900 M St NW), where staffers from The White House and Departments of State and Defense buy gifts for foreign dignitaries.
The store is managed by Ashley Hand, Ann's granddaughter, and her influence added trendier offerings to Hand's line. In this very old section of the city are great shoes, date dresses, and the latest in skinny jeans from Sassanova (1641 Wisconsin Ave NW); Sugar Clothing & Accessories (1633 Wisconsin Ave, NW) and Hu's Shoes (3005 M St NW). And who can resist a store for babies with a name like Piccolo Piggies (1533 Wisconsin Ave NW).
Historic Georgetown has a contemporary design district: Cady's Alley, behind M Street between 33rd Street and Key Bridge, where stores offer traditionally-exclusive products to the public. The Thos. Moser showroom leads to Ligne Roset, Baker, Poggenpohl, Design Within Reach, and Waterworks. For a pastry or lunch break, Leopold's Kafe Konditorei (3315 Cady's Alley NW) is in a courtyard along the pedestrian-friendly block. The pastry chef worked with Daniel Boulud and at Payard in New York; expect something exquisite.
In the late afternoon, head north on Wisconsin Avenue and window shop or prepare to spend real money at The Collection at Chevy Chase (5471 Wisconsin Ave at the DC/MD line), where Washingtonians shop like Upper East Siders at the world's top luxury retailers such as Barneys Co-op, Jimmy Choo, Chanel, Dior, a huge Ralph Lauren establishment, and Max Mara. If it's too much, neighboring department stores include Saks Fifth Avenue and Neiman Marcus, as well as Filene's Basement and Lohmans.
3 days: After a tour of George Washington's Mount Vernon (George Washington Parkway, Mount Vernon) a bit beyond Alexandria, Virginia, allow plenty of time for the gift shops where they sell everything from seeds, cider, and cookies to a Dove of Peace Lamp inspired by the weathervane commissioned by Washington for his home.
Have lunch there before heading off to one of the best shopping meccas on the East Coast, Tyson's Corner in Virginia, two malls with almost 300 stores plus a huge Crate & Barrel, and then a small center with Tiffany, Hermes, and the like, in the same area. Tyson's anchors are Nordstrom, Bloomingdale's, Hecht's, and Lord & Taylor. Specialty shops such as Wolford Hosiery and Izod are sprinkled throughout, and one of the best places in the area to buy a global selection of fine watches is Liljenquist and Beckstead.
Tyson's restaurants include chains, but good chains: P.F. Chiang and Legal Seafood are at the Galleria. Locals love Mobil Two-Star Clyde's (8332 Leesburg Pike, Vienna), and its 12 restaurants in the metropolitan area. The beauty of Clyde's is that everything is done well and there's a wide variety of menu items, from chili to grilled salmon.
1-, 2-, and 3-Day Suggested Itineraries for Nightlife & Entertainment in Washington, DC
1-, 2-, and 3-Day Suggested Itineraries for Nightlife & Entertainment in Washington, DC
Washington, DC, really lights up at night with plenty of theater companies, restaurants, and night clubs to choose from. These itineraries will help satisfy the night owl in you.
1 day: In the late afternoon, head for the U Street/Logan Circle area and start out at Busboys & Poets (2021 14th St NW), a combination of coffee shop, bookstore, restaurant, and lounge that attracts a diverse crowd.
Try DC9 (1940 9th St NW), a two-level club with DJ downstairs and a mix of local and national up-and-coming acts upstairs. Cafe Saint Ex (1847 14th St NW) has the reverse set up with live music and dancing downstairs, and a restaurant and bar upstairs.
For live Latin jazz, go to the Chi-Cha Lounge (1624 U St NW), and if the weather calls for an outdoor space, end the night at Local 16 (1604 U St NW), which has a nice rooftop bar.
Whenever you're in the mood for dinner, if duck with sauteed baby spinach, pumpkin seeds, raisins and passion fruit oil sound sounds enticing, you'll find it at Mobil Two-Star Cafe Atlantico (405 8th St, NW).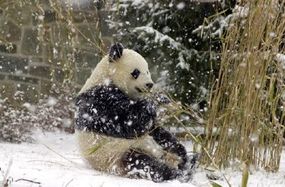 ©2006 The National Zoo is among the few placesin the country where you can see pandas.
2 days: After a relaxing day walking around the National Zoo (3001 Connecticut Ave NW), head to the Adams Morgan neighborhood. Chloe (2473 18th St NW) is an upscale, stylish, multilevel dance club; Madam's Organ (2461 18th St NW) is the place to go for bluegrass and soul. This very relaxed, fun place has been around for decades -- a good sign in the club business. The nearby Reef (2446 18th St NW) has three levels including a roof deck with a view. Fish tanks located throughout the room maintains the aquatic theme.
For some quality food and spirits, grab a table at Mobil Three-Star Mendocino Grill and Wine Bar (2917 M St NW, 202-625-7888). Their all-American wine list is impressive and will complement any creative dish on the menu.
3 days: Bowl the afternoon away at the hip Lucky Strike (701 7th St NW). Have dinner at Mobil Two-Star Jaleo (480 7th Street NW). One of your best choices will be gambas ajillo (garlic shrimp), a classic among so many delicious tapas.
One of the classic and yet still edgy, even punk/grunge clubs in DC is the 930 Club (815 V St NW) incredibly still going strong after a few decades. Performers have included R.E.M., Nirvana, James Brown, Liz Phair, and the Black Crowes.
Across the river in Alexandria, nightly live Irish music comes with humor at Murphy's on King Street (713 King St, Alexandria, VA).
If you're looking for a comedy club, The Improv (1140 Connecticut Ave NW) regularly books the best national comedians. For political satire set to music, Washingtonians love to take their out-of-town guests to see The Capitol Steps, a group that performs live every Friday and Saturday night at the Ronald Reagan Building (1300 Pennsylvania Ave NW).
Dinner at the Mobil Three-Star Bombay Club (815 Connecticut Ave NW) might feature lamb with fresh spinach, ginger, garlic, tomatoes, nutmeg and a blend of Northern Indian spices.
1-, 2-, and 3-Day Suggested Itineraries for Relaxing & Unwinding in Washington, DC
1-, 2-, and 3-Day Suggested Itineraries for Relaxing & Unwinding in Washington, DC
Washington, DC, has more parks and open spaces than you'll find in most cities, making it an ideal place to kick back and take it easy. Use these itineraries to find ways to relax and unwind while visiting Washington, DC.
1 day: Spend the early morning walking -- or jogging -- through the National Zoo (3001 Connecticut Ave NW). Ideal for early risers and parents of small children, the Zoo grounds open at 6 am. Although the buildings don't open until 10 am, you can see lots of animals in their outdoor habitats. The zoo is ideal for a walk or run in the morning. If you have your heart set on seeing pandas, cheetahs, and other wild animal babies, you can do so between 7:30 to 10 am, when there is less of a crowd, and when young animals are more active in the morning. If you take the Metro, get off at the Cleveland Park stop instead of Woodley Park-Zoo. Cleveland Park is actually closer and an easier walk.
Most tourists never venture out to Hillwood Museum and Gardens (4155 Linnean Ave NW), a treasure of a museum estate up Connecticut Avenue on land that borders Rock Creek Park. Visitors must make reservations to have lunch and a guided tour at Hillwood, one of the homes of Post Cereal heiress Marjorie Merriweather Post, who designed the interior of the 36-room Georgian mansion to display her world-class collections of imperial Russian and French fine and decorative arts.
Among thousands of notable items are Faberge eggs, chalices, icons, and liturgical vestments from imperial Russia; Beauvais tapestries; and Sevres porcelain. You can wander on your own, but you still need reservations. They can often be obtained same day, especially during the week. Don't skip the excellent film in the Visitors Center.
2 days: Completely off the beaten track on one of the best streets in a gorgeous part of the city, the Kreeger Museum (2401 Foxhall Rd NW) is the former residence of Washington philanthropists Carmen and David Lloyd Kreeger. Their collection of traditional African and Asian art and masterpiece paintings are displayed in a sprawling mansion that was designed by premier American architect Philip Johnson in 1967; it was one of his first forays into postmodernism. This is an excellent place to relax while contemplating works by Monet, Rodin, Picasso, Miro, Moore, Kandinsky, and Washington artists Sam Gilliam, Bill Christenberry, and Gene Davis.
If you love a massage, the most luxurious is at the spa at the Mobil Four-Star Mandarin Oriental Washington DC (1330 Maryland Ave SW). It glows and soothes from the minute you enter. The burnished bronze ceilings, oak floors and sycamore walls at this orchid-strewn spa envelop even those in-the-know guests who only book a manicure. Most of the facilities are available, including amethyst steam rooms; showers with four kinds of color, temperature and water pressure variations; the vitality pool and ice fountain; and relaxation areas where complementary snacks and beverages are offered. If you book a half-day or day package, the fitness center and pool are included as well.
If you still aren't ready to leave this beautiful property, and aren't driving, go to the Mandarin's Empress Lounge, where bartenders shake up creative seasonal drinks like lemony Monticello martinis, fresh fruit Empress Sangrias, and the tangy Mandarin Rum Punch.
If the weather is right and you'd rather be outdoors, head to Hains Point, a spit of land that juts into the Potomac River. It has golf and more: a swimming pool, tennis courts, playgrounds, and picnic tables. Look up and see planes taking off from Reagan National Airport. Take photos at The Awakening, an unusual sculpture by J. Seward Johnson Jr. that's a series of large body parts (head, knee, foot, hand, and arm) that emerge from the earth.
3 days: If swimming, fishing, crabbing, boating, and windsurfing sound good, the closest beach to DC -- about an hour's drive -- is a mile-long stretch called Sandy Point State Park, near Annapolis. The family-oriented mile-long beach has picnic shelters, hiking trails, and boat rentals. There's a perfect view of the Chesapeake Bay Bridge, and you'll surely see some freighters and sailboats passing by.
Many Washingtonians love to golf, and there are many good public courses throughout the metropolitan area. Two of the tops are in Montgomery County, MD. At Blue Mash (5821 Olney-Laytonsville Rd, Laytonsville) is a location where seasoned players pray for accuracy over distance. The first five holes are very long, and golfers report that no two holes feel the same. Blue Mash architect Arthur Hills is known for strategic requirements for every shot. He has designed and renovated courses around the world, including some of the DC area's finest private clubs: Chevy Chase, Burning Tree, and Congressional.
A second course, Little Bennett (25900 Prescott Rd, Clarksburg), is impeccably maintained with fast greens and narrow fairways. Architect Michael Hurdzan is admired -- and cursed -- for his creativity. This is a hilly course where the pros play; Little Bennett serves as the qualifying course for the PGA Tour's Booz Allen Classic.
As you've seen in this article, there's more to Washington, DC, than museums and historical landmarks. It's a truly vibrant city that offers everything from great food to a hopping nightlife.
© Publications International, Ltd.
ABOUT THE AUTHOR:
Ann Cochran, winner of the Washington Writing Prize for personal essay, is a journalist whose work has appeared in AmericanStyle, Art & Antiques, Bethesda Magazine, Chesapeake Life, GolfStyles, LINKS, Modern Bride, Modern Luxury's DC Magazine, USAA Magazine, Virginia Living, Washington Gardener, Washington Woman, and Washingtonian. Although her focus is on her home base of Washington, DC, and extends to the Mid-Atlantic States, assignments also take her overseas. Her recent stories include golf in Italy and Jamaica for the sun-adverse.
Related Links
Cultural Alliance of Greater Washington
Great Falls Park
Hirshhorn Museum and Sculpture Garden
Cyrus and Myrtle Katzen Arts Center
Little Bennett
Mandarin Oriental Washington DC
National Museum of African Art
National Museum of American History
National Museum of Natural History
National Museum of the American Indian
Donald W. Reynolds Center for American Art and Portraiture
Franklin D. Roosevelt Memorial
Smithsonian Resident Associates
Washington Area Bicyclist Association
Washington, DC Convention and Tourism Corporation