Voyageurs National Park
3131 Highway 53 South International Falls, MN 56649-8904
218-283-9821
www.nps.gov/voya
Named for the voyageurs -- the trappers who traveled by canoe from Montreal to Alberta -- this national park is rich in both cultural and natural resources. Modern visitors should be prepared to get wet because Voyageurs National Park is a water-based park -- access to nearly all of its shoreline is by watercraft. Located on Minnesota's northern border, the park is 15 miles east of International Falls and 300 miles north of the Twin Cities.
Entrance fees: Admission is free.
Visitor centers: Rainy Lake Visitor Center is open daily from mid-May through September; it's open Wednesday through Sunday from October through mid-May. Ash River and Kabetogama Lake visitor centers are open from mid-May through September.
Other services: One hotel and backcountry boat-in campsites
Accommodations:
Multiple campsites, as well as backcountry camping, are available year-round throughout the park on a first-come, first-served basis.

Kettle Falls Hotel is open from early May through late September. 888-534-6835.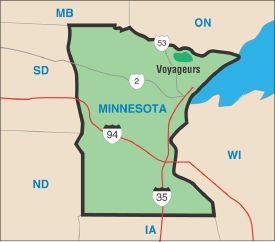 Visiting Voyageurs National Park
Visitors canoeing on a lake in Voyageurs National Park are likely to hear the haunting cry of a loon echoing across the water. A bald eagle may fly in circles high overhead. At night, the eerie howls of wolves resound through the forest.
Throughout this wilderness, great blue herons stride confidently on their long legs, and mallards swim in and out among the grasses near the lakeshore. Great ospreys soar through the sky, their sharp eyes scanning the water for fish.
Voyageurs National Park encompasses a land of large lakes, with their shorelines cut by bays and inlets too numerous to count, as well as hundreds of small lakes, ponds, swamps, and one of the last remnants of the great wilderness forest that once blanketed this region.
More than 35 percent of Voyageurs National Park is covered by water, most of it contained in four large lakes linked by narrow channels and small streams. There are many smaller lakes, as well as marshy areas and bogs. Visitors traveling through the park by canoe, motorboat, or houseboat often slip easily back and forth between the United States and Canada without knowing it.
Whether you're an angler or you just love the outdoors, Voyageurs is the place to be. It has camping, hiking, canoeing, and more. Go to the next page to learn more about sightseeing at Voyageurs National Park.