You've heard that Vancouver is gorgeous -- nestled into a fjordlike setting between ocean, mountains, and mighty river. That said, the city formally established in 1886 in a coastal rainforest, by the sometimes dour Brits and Scots, was once a bit staid. No more. In recent years, Vancouver has morphed into a lively, cosmopolitan metropolis.
Immigration of mostly skilled newcomers -- from Hong Kong, Taiwan, mainland China, India, and other countries -- has worked well. The result is an upbeat, prosperous multicultural character reflected in the streets, restaurants, theaters, and elsewhere. The downtown peninsula has been thoughtfully redeveloped to accommodate more than 100,000 apartment and townhouse dwellers in an appealing, pedestrian-oriented environment.
Youthful, bright, and affluent, Vancouver is on the ascendancy. Of course, the region's physical attributes remain a big attraction, making this an ideal destination in which to combine urban pleasures with outdoor recreation.
The Best of Vancouver
Vancouver is distinctly "West Coast" -- combining lingering Anglo-Saxon origins with decades of pan-European migration and most recently a major infusion of Asian Pacific peoples and cultures. While closely linked with the rest of Canada, it shares many of the attributes of U.S. neighbors like Seattle and Portland.
At its heart is 1,000-acre Stanley Park, which is largely a forest and a hint of what the entire landscape looked like before Europeans arrived. An ideal way to enjoy the park is on a horse-drawn carriage ride around its rim. You can also walk, jog, bicycle, or otherwise propel yourself along the perimeter seawall. The 13-mile seawall continues around much of the rest of the downtown peninsula, from English Bay to Granville Island and beyond.
Granville Island, accessible from the south shore of misleadingly named False Creek (it's a lakelike inlet) is another must-see. Happily, some of the island's early industrial ambiance remains in buildings converted to artist studios and shops. The island includes theaters, restaurants, and pocket parks, but the hub is the Granville Island Public Market.
Great city neighborhoods (for exploring, dining, and shopping) include trendy Kitsilano, counter-culture Commercial Drive, slightly edgy Main Street, and chic Yaletown.
Other highlights include a gondola ride up Grouse Mountain, kayaking on Indian Arm, hiking on the North Shore Mountains, and flight-seeing up to Whistler. The stunning University of B.C.'s Museum of Anthropology boasts world-class aboriginal art.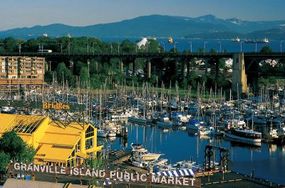 ©2006 Al Harvey The Granville Island Public Market is great spot for touriststo experience glimpses of what Vancouver used to be like.
Fast Facts & Info
Geography and landscape: Vancouver nestles into the southwestern mainland of Canada's British Columbia. It's a coast of inlets shaped by mountains and dotted with islands. The dense rainforest still rules.
To the south, a 45-minute drive is the Canada-U.S. border. To the east sprawls the Fraser Valley -- the region's breadbasket. To the north rise the coastal mountains. To the west lie Georgia Strait and Vancouver Island, with B.C.'s capital city, Victoria, at its southern tip. It's a 90-minute BC Ferries ride (for foot passengers and cars) to Vancouver Island.
General orientation: Metro Vancouver, with 2 million residents, extends from the north shore of Burrard Inlet south to the shores of Georgia Strait and east to the Fraser Valley. At its center is the city of Vancouver, with half a million residents.
Most visitors stay on or near the downtown peninsula. Adjacent neighborhoods -- Kitsilano, West Point Grey, South False Creek and South Granville -- are also attractive. The suburbs of North Vancouver and Richmond offer lots of hotel and motel accommodations.
Downtown Vancouver is walkable; the central city is well served by buses. A large public passenger ferry, the SeaBus, connects the downtown with North Vancouver. Small, private passenger ferries run from the downtown peninsula to Granville Island and Kitsilano. A major attraction of the inner city is the seawall, so bring your walking or running shoes (as we call them in Canada), bicycles, or inline skates.
Safety: Vancouver is relatively safe and peaceable. This applies to most of the city, including the vast part of the downtown peninsula. That said, visitors should take normal precautions with valuables. Avoid, for example, leaving visible valuables in a car or a good bike where thieves could cut through a lock in a flash.
However, Vancouver's Downtown Eastside should be avoided, especially at night. The area lies northeast of the downtown -- east of Cambie Street, along East Hastings Street for about a mile. Few visitors see this area, and it shouldn't be a concern. Problems are mostly confined to its denizens. A few panhandlers may amble downtown, but they are not aggressive.
Historic Chinatown nestles just to the south, and the popular tourism district of Gastown to the north. Both can be accessed from the downtown without entering Downtown Eastside. Kingsway, a major arterial that bisects the east side of the city at a diagonal, is not particularly appealing either, and should be avoided at night.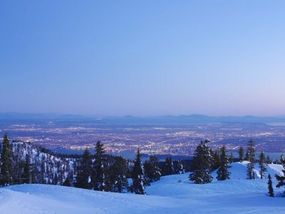 ©2006 Tourism Vancouver Getting to the top of Grouse Mountain is an easy gondola ride up.With views like this, it's definitely worth the trip.
Climate/weather: Vancouver's climate is temperate. In winter, temperatures fall below freezing, but irregularly. There might be a week of snow, but it usually melts quickly. In January, the average daily temperature is 42 degrees Fahrenheit (5 degrees Celsius). Spring, when the city's flowering street trees bloom, is mild and wet. Summer is short, but sweetly warm and rarely hot. July and August average 74 degrees Fahrenheit (23 degrees Celsius). The early autumn is often dry and lovely.
Of course, Vancouver is famous for rain -- particularly in winter, but (in truth) year-round. A total of about 44 inches falls each year, so make sure to pack your umbrella.
Population: The city of Vancouver has just more than 500,000 residents; metropolitan Vancouver about 2 million. Visible minorities -- mostly of Chinese and South Indian ancestry -- now account for almost one-third of the population.
Thanks to the city's street grid plan, getting around town is quite simple. Still, visiting a new city can have its challenges, so see the next section for tips on navigating Vancouver.