A Touch of Distinction: Titanic's Design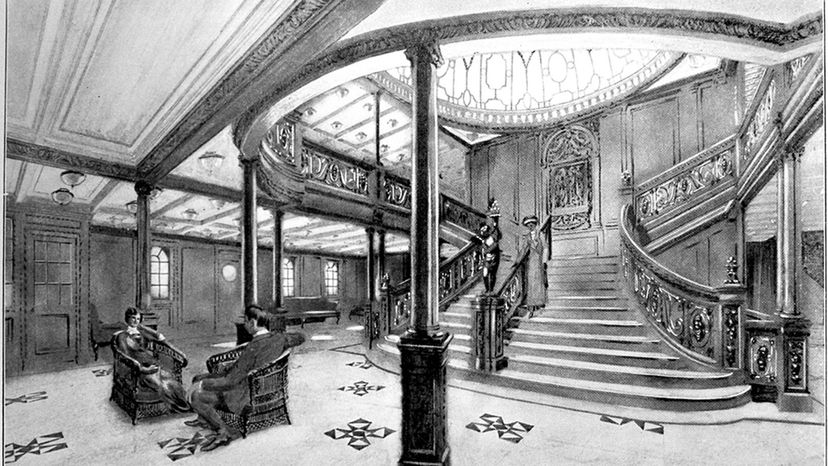 By the time the Titanic was completed in 1912, the ship's price tag hovered around £4.3 million ($7.5 million or $400 million in 2019 dollars) [source: Investopedia]. The ship reflected Ismay and Pirrie's goals of a posh, fast and safe ship. Conceptually, Titanic wasn't too different from modern cruise ships. But in the early 20th century, the comforts and amenities of this ocean liner were unlike anything travelers had ever seen before. It was more like a floating luxury hotel than a ship, and Titanic's designers put every effort into disguising or hiding equipment and cargo. Even the lifeboats were deemed eyesores on the deck, so only 16 were loaded along with four collapsible boats. (This would later prove a fatal mistake.)
From top to bottom, the ship was structured like this: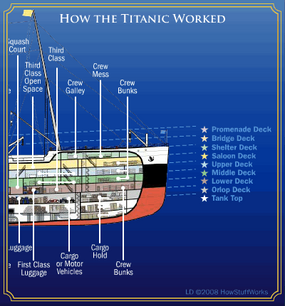 Boat Deck: Contained the Captain's Bridge, from which the ship was navigated, the gym and the open, pine-paneled deck
Promenade Deck (Deck A): Encompassed the two first-class staircases (placed between the four giant funnel stacks), reading/writing room, lounge, all-male first-class smoking room and the Verandah Café/Palm Court (an indoor area designed to look like an outdoor patio)
Bridge Deck (Deck B): Included first-class cabins/suites, an à la carte restaurant and Café Parisien, an all-male second-class smoking room and the third-class poop deck (a platformlike deck where third-class passengers strolled and played games among some larger cargo equipment)
Shelter Deck (Deck C): Site of the purser's office, third-class smoking room and the second-class library/lounge
Saloon Deck (Deck D): First-class reception room, first-class dining saloon (located strategically between the second and third funnels to ensure the least noise and movement disturbance possible to elegant diners), first- and second-class galleys and the second-class dining saloon
Upper Deck (Deck E): Contained second- and third-class cabins
Middle Deck (Deck F): Location of the third-class dining saloon and the Turkish baths (a hot, dry room with electric baths and tubs with cold water for soaking)
Lower Deck/Orlop Deck: Included the squash courts; post office; carpentry, plumbing and electrical workshops; and "refrigerated" rooms cooled by a series of miles-long copper pipes where foodstuffs and other perishables were contained. (Orlop is just a fancy term for the lower decks in sailing vessels with at least four decks.)
Tank Top: Housed the boiler and engine rooms
[source: RMS Titanic] (For an extensive description of all the decks and rooms, visit the Ultimate Titanic website.)
The era dictated much about the ship's design; Edwardian style ran rampant with touches of Georgian and Louis XV influences. There was an airy lightness to much of the ship's décor — wicker furniture in the casual dining areas, subtle pastel fabrics, palm trees and other lush potted plants, cheery wallpaper with simple floral or stripe motifs, and lots of glass and lighting fixtures reinforced with iron. Titanic was impossibly in vogue, and thousands of people clamored to be part of her maiden voyage. The ship could hold 3,295 people: 2,435 passengers plus 860 officers and crew members, but was not full when she set sail for New York [source: RMS Titanic].
As we've seen in the delineation of the different levels of the ship, class was an important distinction aboard the Titanic.