Theodore Roosevelt
National Park
PO Box 7
Medora, ND 58645-0007
701-623-4466 (South Unit Information)
701-842-2333 (North Unit Information)
Located in the North Dakota badlands, 135 miles west of Bismarck, Theodore Roosevelt National Park pays tribute to this great U.S. president and conservationist. The park stands on the land that Roosevelt owned during the 1880s, when he headed west and purchased a cattle ranch to help him grieve the losses of his wife and his mother.
Home to a variety of plants and animals -- including bison, prairie dogs, and elk -- this park has a lot to offer visitors. They can view the scenery from the comfort of an automobile or by hiking or biking through the park's more than 100 miles of trails.
Entrance fees: $5/individual ($10 maximum/private vehicle)
Visitor centers: Medora Visitor Center and North Unit Visitor Center are open daily, except January 1, Thanksgiving Day, and December 25.
Other services: Three campgrounds
Accommodations:
Cottonwood Campground is open year-round and operates on a first-come, first-served basis.

Juniper Campground is open year-round and operates on a first-come, first-served basis.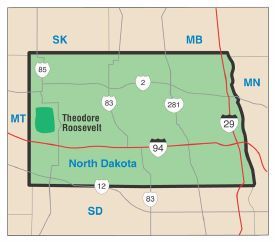 Visiting Theodore Roosevelt National Park
Theodore Roosevelt National Park is a surprisingly rugged landscape that stretches along North Dakota's Little Missouri River. Here, even a casual visitor can't help but feel a haunting sense of the Old West.
This austere landscape of rolling prairie cut by rivers and streams provides a habitat for an astonishing array of wildlife. Along with buffalo, elk, white-tailed and mule deer, and pronghorn antelope, there are wild horses and mountain lions, as well as millions of prairie dogs and other small mammals, reptiles, and amphibians. The theme song of the park seems to be the call of the western meadowlark; it is a bright, flutelike sound that is unmistakable.
Today, the park includes significant portions of the Little Missouri Badlands, along with an important grassland area brimming with animal life and sections of the ranch property that once belonged to T.R. In the spring, when it is rainy, a spectacular bouquet made up of multitudes of wildflowers colors the river's bottomland and the grassy flats.
In the next section, we'll tell you more about this land, which is some of the most pristine you'll find in the United States.