Conservation was a major interest of Theodore Roosevelt, the nation's twenty-sixth President. During his presidency, the U.S. Forest Service, five national parks, 150 national forests, and countless other refuges for nature were established. It is therefore fitting that the Theodore Roosevelt Island Memorial is an island in the Potomac River that provides an urban haven for wildlife.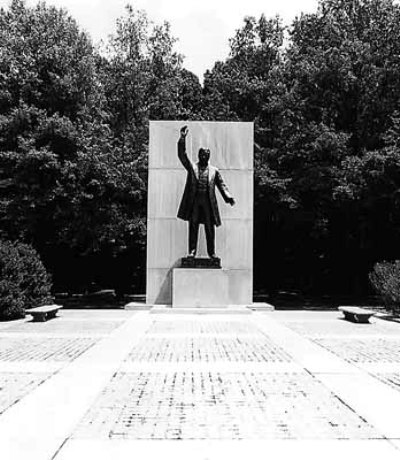 ©Senate.gov
A bronze statue of Theodore Roosevelt stands on the island's northern end.

This 91-acre enclave of forest and marsh is reached by footbridge from the Virginia shoreline; no cars are allowed. The island offers 21/2 miles of walking trails that provide good views of a variety of different environments -- marshes, swamps and woods. Visitors can anticipate encounters with cottontail rabbits, muskrats, chipmunks, birds and other animals.
On the island's northern end, circled by a moat, stands a 17-foot-tall bronze statue of Roosevelt, his hand uplifted as though he were speaking. A 30-foot-tall granite shaft provides a backdrop for this likeness, and four granite tablets are inscribed with words spoken by him that expressed his philosophy about manhood, youth, nature, and the nation. Markers along the hiking trails provide information about the island and its history. During spring and summer, park rangers lead guided tours.
Theodore Roosevelt Island National Memorial Information
Address: Turkey Run Park, George Washington Memorial Parkway, McLean, VA
Telephone: 703/289-2500
Hours of Operation: Open daily, dawn to dusk
Admission: Free
Learn about these other national memorials:
To learn more about national monuments, memorials, and historic sites, and other travel destinations in North America, visit:
ABOUT THE AUTHOR:
Eric Peterson is a Denver-based author who has contributed to numerous guidebooks about the Western United States.