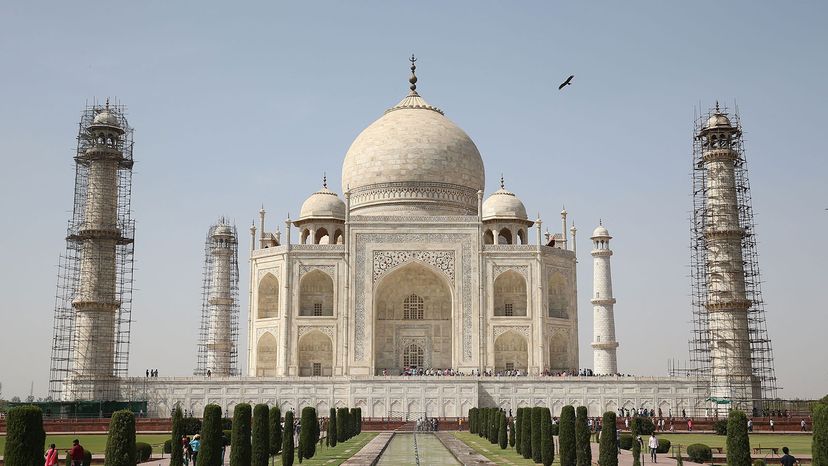 The Taj Mahal is one of the seven new wonders of the world, a UNESCO World Heritage Site and easily the most famous cultural landmark in India. But a caustic combination of air pollution, water pollution and bug poop (yes, bug poop) has left its mark, literally, on the nearly 400-year-old, palatial marble mausoleum.
The Taj Mahal's ivory-white exterior has been stained brown, green and yellow by industrial pollution and swarming insects. And flooding from the nearby Yamuna River, laden with human and industrial waste, is also no treat for tourists.
The pitiable state of one of the world's most beloved monuments recently led the Supreme Court of India to threaten the country's Ministry of Environment and Forests, saying, "Either you demolish [the Taj Mahal] or you restore it."
The Supreme Court issued this ultimatum as a way to spur the Indian government to finally take action to conserve this famous "monument to love." While there's no chance that India will actually tear down the Taj Mahal, restoring the site to its former glory will be an uphill battle. Bonnie Burnham, former president and CEO of the World Monuments Fund (WMF), a private nonprofit organization dedicated to preserving threatened cultural landmarks, says the challenges facing the Taj Mahal are two-fold.
"It's money plus politics," says Burnham, who tried unsuccessfully to partner with Indian authorities to improve the Taj Mahal visitor experience when she was with the WMF. "It's not having a vision of the bigger picture, a strong will to do something within a context of dynamic change. You can't simply treat a monument as if it were in a glass box and won't be affected by its environment. And that's the problem with the Taj Mahal."
In 2016, the Times of India reported that the Taj Mahal had taken in more than Rs 75 crore (about $11 million) over the last three years but had spent just Rs 11 crore ($1.6 million) on maintenance and conservation. Burnham says that ticket revenue from the Taj Mahal is lumped together with revenue from other tourism sites and spent by the central Indian government on any number of expenditures, not all related to tourism or cultural preservation.
"The funds for these restoration works come at its usual pace in our bureaucratic setting and those disbursing the funds have remote, if any, emotional connect with the monuments, even if these are 'World Heritage Sites,'" wrote Maneesh Pandey, deputy editor of the Indian publication Mail Today back in 2016.