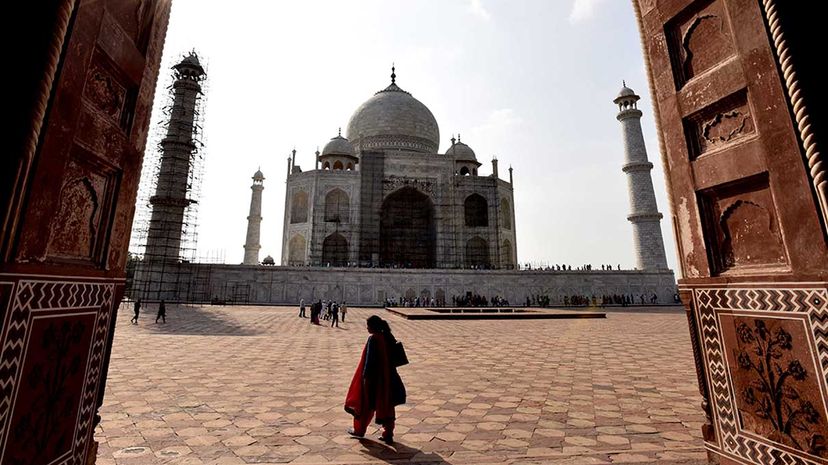 To people around the world, India's most recognizable landmark is most likely the Taj Mahal. Located in a garden on the right bank of the Yamuna River, the iconic structure's home is the Agra District in India's northern state of Uttar Pradesh.
While its spectacular domes and elegant arches might lead many to assume that it's a palace, the Taj Mahal is actually a giant mausoleum, built in the mid-1600s by Mughal emperor Shah Jahan in remembrance of his favorite wife, Mumtaz Mahal. Her death in 1631 left the ruler inconsolable, as this 2016 story from The Hindu newspaper details. Shah Jahan ordered construction of a magnificent final resting place for his love. It was fashioned from Indian marble and materials brought from as far away as Tibet.
But despite being a venerable architectural marvel with a spot on the United Nations' World Heritage List, the Taj Mahal has been having some tough times of late. In 2015, the Times of India reported that the Taj Mahal's coloration has been damaged by air pollution, and the number of tourists who visit the landmark has been declining. And now accusations in India claim the recently elected Hindu nationalist government in Uttar Pradesh is deliberately neglecting the Taj Mahal, because the landmark was erected centuries ago by Muslim invaders.
The state government aroused controversy this summer when it omitted the Taj Mahal from the cultural heritage section of its 2017-2018 budget, according to the Hindustan Times. More recently, the landmark was left out of a government tourism booklet. That led to criticism from the opposition Congress party, whose spokesman told the Indian Express that the state government "shows a clear religious bias." (The state government does maintain a tourism website about the landmark.)
More recently, the Taj Mahal has been the scene of protests by Hindu nationalists who've made claims that the landmark was built on the site of a Hindu temple, according to the newspaper The Statesman. BBC News reports that prior to the Taj Mahal's construction in the mid-17th century, a mansion stood on the site.
On Oct. 26, 2017, the ruling Bharatiya Janata party's chief minister Yogi Adityanath tried to calm the controversy by visiting the landmark. He symbolically swept a small area outside with a broom, and said that it had been built with "the sweat and blood" of Indians.