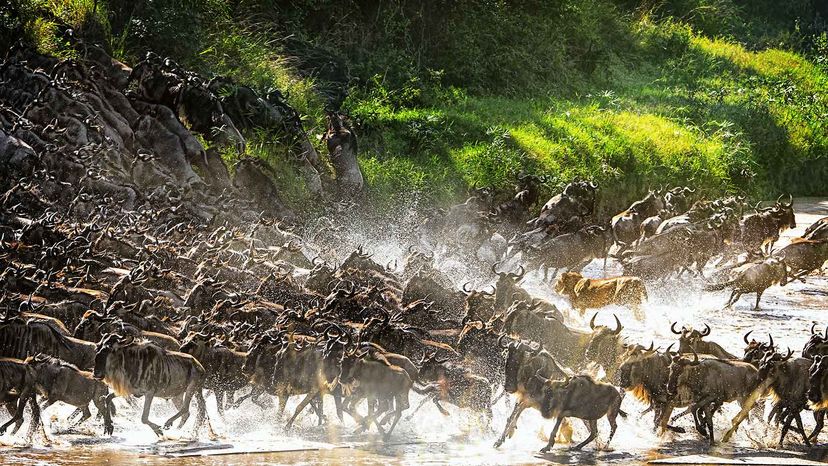 A lion hunting in the middle of the wildebeest migration attempts to cross the Sand River in the Serengeti National Park in Tanzania, Africa.
Vicki Jauron, Babylon and Beyond Photography/Getty Images
Machu Picchu and the Great Pyramids may top many travelers' bucket lists, but for me — and countless fellow wildlife lovers — it's hard to beat a Serengeti safari. One day in the wildlife-rich Serengeti has more action than a typical month at home. With hundreds of species across its 12,000 square miles (31,079 square kilometers), you can start the morning watching lion cubs play, followed by a cheetah hunt, elephant dust bath and baby giraffe learning to walk — all before lunch. Every day is a new adventure, and no two Serengeti trips are alike. That's why I first visited in 2009, and it's what kept me going back.
While every wildlife encounter is thrilling, the cherry on top of any Serengeti safari is the chance to witness the Great Migration, which I did on my last visit in October 2018. With 1.5 million wildebeest and hundreds of thousands of zebras and gazelles following the rains for lush pastures and water, this bucket-list sight is among the most miraculous on Earth. It's a rare spectacle that can only be seen in Africa's Serengeti.
What Is the Serengeti?
The Serengeti is a massive African ecosystem that spans 12,000 square miles (31,079 square kilometers) in northern Tanzania and into southwestern Kenya. Within this ecosystem, there's the popular 5,600-square-mile (14,503-square-kilometer) Serengeti National Park, as well as other game reserves and conservation areas like Tarangire National Park. The Serengeti is also home to the Maasai Mara main game reserve in Kenya, as well as the Ngorongoro Conservation Area, the world's largest inactive and unbroken volcanic caldera, which is filled with diverse wildlife. Animals can pass freely between the Kenya-Tanzania borders, but humans cannot.
As a vast, expansive ecosystem, it's not surprising the Serengeti's terrain varies wildly. According to Vivian Temba, co-founder of Tanzania safari outfitter Amani Afrika, the area's vastness is what makes it so special.
"The colors are different in every season, and there are new things to experience each time you visit," she says via email. "The Serengeti has many habitats, from open savannahs to riverine forests, acacia woodlands to swamp, and the granite kopjes are pretty impressive, too. The biodiversity is incomparable, really."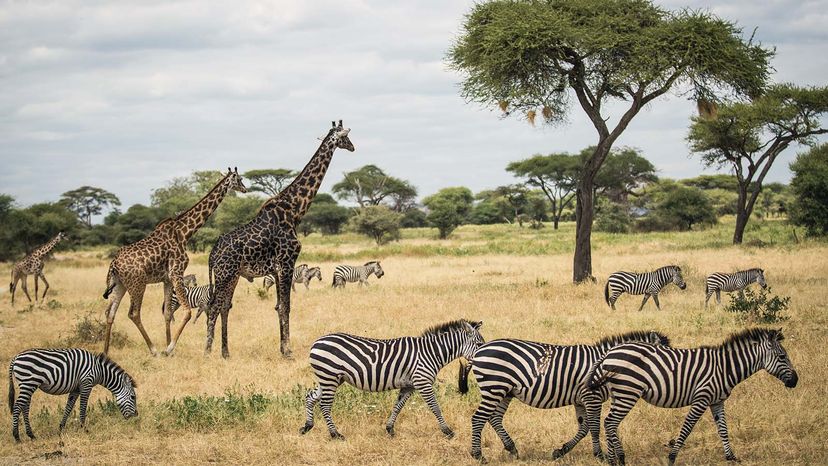 Giraffes and zebras are two of the wild animals you could see while on safari in Serengeti National Park.
Roman Lukiw Photography/Getty Images
The Animals of the Serengeti
While the Serengeti boasts hundreds of mammal and bird species — 800 to be exact — many travelers head here to see the "big five" in the wild: lion, rhino, leopard, elephant and Cape buffalo. Spotting these animals is exhilarating, particularly the elusive leopard and rhino, but these hardly scratch the surface of animals you'll see in the Serengeti.
Most Serengeti National Park safari days start before sunrise and, if you're willing, can continue right up to sunset. (Sunrise and sunset are when animals are most active.) The days can include hours upon hours of driving in an open-air vehicle; this is all on road, as off-roading is prohibited for conservation reasons. Instead of cars and buildings, you're spending the day driving past animals like zebra, wildebeest or warthog. Safari guides will stop for any animal you'd like to photograph, but the zebra, giraffe and wildebeest sightings become so common that, by day two, you'll probably be fine just slowing down and rolling by.
As you watch the spectacular wildlife outside your window, guides, who spend years training in the classroom and field, scan for tracks, poop, birds and plants to "form a mental map of what might have happened at a location and its surroundings," Temba says. "They make some educated guesses about what may happen next."
The guides use this intel to locate the big five and other favorites like cheetah or hyena. If you're lucky, the guides will get you to the scene of a hunt just before it happens — although be prepared: On one of my visits we spent two hours slowly following a cheetah hunting a gazelle. And we were only lucky enough to stumble upon it because our guide had a good hunch.
"Guides that go on safaris often, like week after week, can get to know the animals intimately," Temba says. "Often the experienced guide will go searching in familiar terrains to continue their storylines or find out what's happened to the animals since they last visited."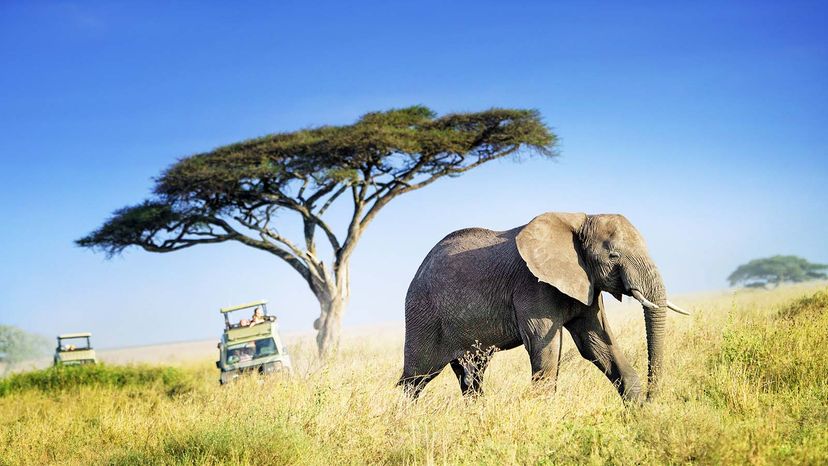 A huge African elephant is seen crossing the plains of the Serengeti against a lone Acacia tree.
Vicki Jauron, Babylon and Beyond/Getty Images
How to See the Great Migration
On a micro scale, safari guides search for the big five and their guests' favorite animals in action. But on a larger scale, the guides are following the Great Migration, because where wildebeest go, so go the predators.
According to Temba, the Great Migration is a year-round phenomenon. For the majority of the year, the massive wildebeest herds — think about 1.5 million of them — stay within Serengeti National Park.
Between January and March, about 500,000 wildebeest are born there. The herds stay in the central Serengeti in April and May, then slowly move north toward Kenya in search of fresh pasture. The wildebeest reach the Kenya border roughly around late July, which is when the most renowned part of the Great Migration truly begins: the Mara River crossings, where thousands of hungry crocodiles are waiting.
"From July to October, the wildebeest herds are expected to be seen in Northern Serengeti, the Mara River region," she says. "The herds often spill over to the Maasai Mara side [in Kenya], so the best time to be in the Maasai Mara is August and September. It's not black and white, though. The herds continually graze between Serengeti National Park and Maasai Mara. They can cross and re-cross the Mara River, which flows from Kenya into Tanzania, because 'the grass is always greener on the other side.'"
In terms of visiting, lodges, campsites and glamping sites are available all across the Serengeti. Guides typically take guests from one campsite to the next every few days while traversing the Serengeti. Temba and her husband hand-built their dream glamp sites, Aurari Camp in Northern Serengeti and Cherero Camp between Central and Western Serengeti, to provide optimal migration lodging throughout the year. Luxe, larger lodge options — including a Four Seasons with an infinity pool — are available as well.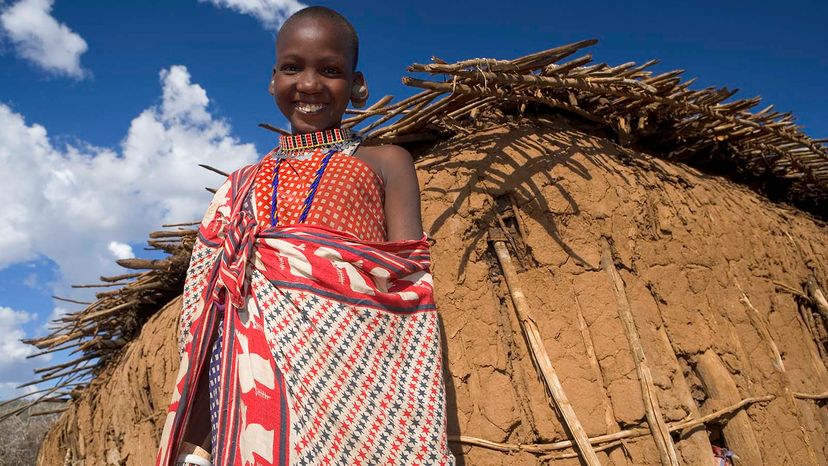 The Maasai (a young Maasai girl is seen here) is one of the most famous tribes in the Serengeti; they live across northern Tanzania and southern Kenya.
Peter Adams/Getty Images
Do People Live in the Serengeti?
Serengeti National Park itself does not have residents since it has national park status, but many tribes do call the greater Serengeti home. The Maasai is one of the most famous tribes in the area; they live across northern Tanzania and southern Kenya, including areas surrounding the Ngorongoro Crater. Many safari outfitters offer a stop at a Maasai village as part of their tour package, but Temba, whose husband was born and raised near the Serengeti, says these "cultural experiences" are a bit contrived.
"Unfortunately, the Maasai villages along the tourist path are quite commercial in nature," she says. "If one is interested in meeting 'real Maasai,' they need to go off the tourist path. For Ngorongoro, it's possible to take an extended trip to camp at certain Maasai villages for an actually authentic experience. You can take a guided trek and have Maasai donkeys help with moving from camp to camp for about six days of hiking."
Maasai aren't the only ones to call this 12,000-square-mile (31,079 square kilometers) ecosystem home. Other indigenous groups, including Sonjo, Kuria, Ikoma and Hadzabe — the bushmen tribes — live throughout the greater Serengeti.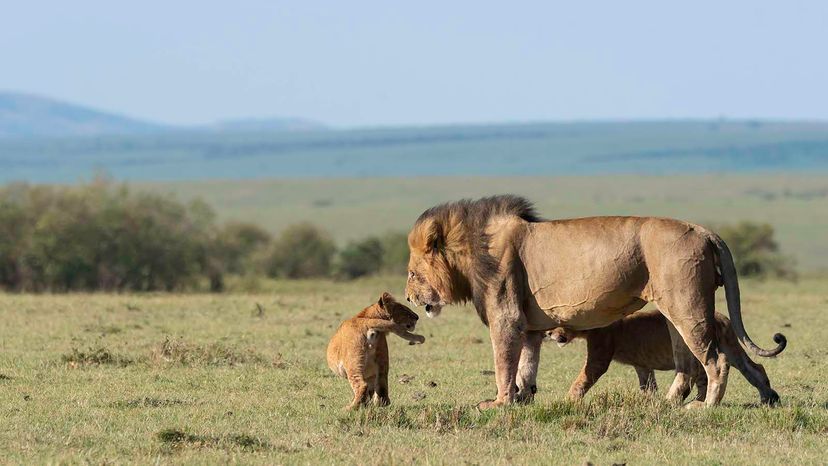 A young cub playing with its father was photographed inside Masai Mara National Reserve.
Chaithanya Krishnan/Getty Images