The Pacific Coast Scenic Byway trots along the full length of the Oregon coast. The northern end starts in the shadow of the impressive Astoria-Megler Bridge, where the mouth of the Columbia River gapes wide (Astoria is the oldest U.S. settlement west of the Rockies). Shining beaches and temperate rain forests govern the following dozens of miles.
Paralleling the Lewis and Clark Trail, the route stops by attractive places, such as the resort town of Seaside, famous for its two-mile beachfront promenade, and the busy Garibaldi fishing port on Tillamook Bay.
The southern portion of the Pacific Coast Scenic Byway changes a little because it is dominated by rugged cliffs, farms, and sandy beaches. This segment maintains some of the most photographed areas in Oregon; photographers often capture Siletz and Depoe Bays, the colorful Oregon skies, lots of dairy land, and the city of Tillamook (where the famous brand of cheese is produced).
Archaeological Qualities of the Pacific Coast Scenic Byway
The relics and structures located in this area indicate that people have lived and prospered here for several millennia. The Pacific Coast Scenic Byway's archaeological residue fits into two main categories: relics of a native people that reveal a paradiselike past (such as ancient campsites) and evidence of the activities of a more recent people.
Of the ancient people, scientists have found remnants of spears, knives, and other hunting equipment. Discoveries of bones near campsites indicate the type of food these people ate: fish, large animals (elk and deer), and some birds. The people were largely industrious and thrived in this area for thousands of years.
The sites from a more recent people are mostly historic bridges and lighthouses, such as Yaquina Head's 125-year-old lighthouse, the 125-foot Astoria Column in Astoria, and the occasional shipwreck, including the one known as Peter Iredale at Fort Stevens State Park. Some of these impressive structures still stand as landmarks to help guide travelers, while others function as attractions for tourists.
Cultural Qualities of the Pacific Coast Scenic Byway
Appreciate this area more by taking part in everyday activities to familiarize yourself with the culture. For instance, go to Lincoln City to soar a colorful kite alongside the locals; after that, visit some of Lincoln City's many art galleries. Another popular destination is Bandon, a charming town famous for its lighthouse, its giant sea stacks, its cheese factory, and the cranberry harvest.
You might stop in Tillamook and see Oregon's largest cheese factory for a taste-testing tour -- something even residents like to do every now and then. This impressive factory has been around for more than 100 years. It boasts of continuing to use the time-tested recipe that has made its cheese famous.
Other areas of note include North Bend and Coos Bay, cities that comprise the coast's largest urban area; here, you can find cultural activities galore, such as fantastic symphonies,
art galleries, and restaurants.
Historical Qualities of the Pacific Coast Scenic Byway
The gorgeous and rich Oregon coast has drawn and sustained native people for centuries, and it has done likewise for sightseers and settlers ever since Lewis and Clark praised the area. Each new wave of people who came to live around the route added a new facet of culture and history to it and left their mark through historical and archaeological remains.
These remains, shadows of the past, are waiting in places such as Astoria. Other important historical sites on the byway include Fort Clatsop National Memorial, a life-size replica of Lewis and Clark's 1805-1806 winter outpost; historic Battle Rock Park in Port Orford, one of Oregon's oldest incorporated towns; and Yaquina Head's lighthouse, a testament to the area's historical shipping industry.
The area's history is also evidenced in the many Victorian homes that scale the hillside, the 1883 Flavel House, and the shipwreck of the Peter Iredale at Fort Stevens State Park.
Natural Qualities of the Pacific Coast Scenic Byway
The Pacific Coast Scenic Byway runs along the coastline, bringing highway travelers to the sea and away again, winding by estuarine marshes, clinging to exposed seaside cliffs, passing through gentle agricultural valleys, and brushing against wind-sculpted dunes. Travelers encounter the scenic splendor of sea-stack rock formations that are eroding under constant surf, as well as a plethora of unusual plants and animals that provide natural wonder.
The highest waterfall in the Coast Range is an easy side trip from the byway. To find this waterfall, go seven miles south of Tillamook, and then watch for a small sign to Munson Creek Falls. Follow the narrow road 11/2 miles to the parking area. A short stroll takes you to the base of this 266-foot cataract.
Many travelers enjoy watching water wildlife along this byway. Waysides and state parks along the coast make excellent vantage points for observing gray whales that migrate between December and May.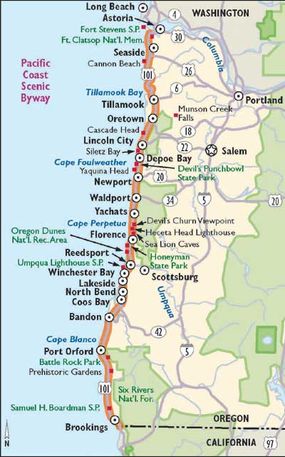 Recreational Qualities of the Pacific Coast Scenic Byway
Beaches along the byway are open to public use. In addition, many state parks can be found on the byway and provide public access to beaches. An abundance of public campsites, motel rooms, beach houses, and eateries along the byway corridor ensure a delightful extended stay along Oregon's Pacific Coast Scenic Byway.
Florence is the gateway to the Oregon Dunes National Recreation Area, a 47-mile sandbox with areas designated for bird-watching and dune riding. Honeyman State Park is a popular place to water ski and camp. As you travel on through the dunes, take a side trip to the Dean Creek Elk Viewing Area at Reedsport.
The Oregon Dunes National Recreation Area has more than 31,000 acres. Visitors can camp, arrange a tour, take an exhilarating off-highway vehicle ride, or just walk along tranquil lakes, forest trails, and beaches.
Tucked in among some of the highest coastal dunes in the world, you'll find plenty of fishing and boating opportunities in small communities such as Winchester Bay and Lakeside. The dunes end near the cities of North Bend and Coos Bay, the coast's largest urban area. As Oregon's deepest natural harbor, Coos Bay has long been a major shipping port for the timber industry and a haven for sport-fishing enthusiasts.
Depoe Bay also offers fishing and whale-watching excursions from the world's smallest navigable harbor.
Flying large, beautiful kites is a common practice all along the coast and is especially popular in Lincoln City, which was recognized by KiteLines magazine as one of the best places to fly a kite in North America. Annual spring and fall kite festivals draw kite enthusiasts from all over. Get out your kite, and watch with the crowds as the delicate crafts are lofted up into the sky by the strong coastal winds.
Find more useful information related to Oregon's Pacific Coast Scenic Byway:
Oregon Scenic Drives: Pacific Coast Scenic Byway is just one of the scenic byways in Alaska. Check out the others.
How to Drive Economically: Fuel economy is a major concern when you're on a driving trip. Learn how to get better gas mileage.