Oregon's Hells Canyon Scenic Byway is a scenic drive you won't forget.
Leave the fast pace and fenced-in views of Interstate 84, and follow the contours of the land into slower times and wilder places. Travel this 218-mile journey from river's edge to mountaintop and down to valley floor. Share a canyon road with a cattle drive. Pass through lush valleys rimmed by the snow-tipped Wallowa Mountains.
Savor the scent of pine. Enjoy panoramic views of rugged basalt cliffs and grassy open ridges. Stand next to the majestic Snake River as it begins its tumbling course through North America's deepest canyon. Place your hand in the weathered track of a wagon wheel.
Archaeological Qualities of Hells Canyon Scenic Byway
Extremes in the land have dictated the course of the area's natural and cultural history. Relatively mild winters and abundant wildlife drew people to the canyon more than 7,000 years ago. Archaeological evidence, ranging from rock art to winter "pithouse" villages, can be found in the Snake River corridor. Pictographs and petroglyphs are scattered along the river where Native Americans spent their winters.
Cultural Qualities of Hells Canyon Scenic Byway
On the map, northeastern Oregon looks far removed from metropolitan area amenities. However, you may be surprised by the availability of arts and culture.
Musical events along the byway range from old-time fiddling to blues to Beethoven. Plays, concerts, and living-history productions can be enjoyed in Baker City.
The small town of Joseph has earned a national reputation for its bronze foundries and galleries. Eastern Oregon University, located in La Grande, offers theatrical productions and concerts, including a full season of music from the Grande Ronde Symphony Orchestra. The Historic Elgin Opera House in Elgin is also a crowd-pleaser for concerts, movies, and plays.
Historical Qualities of Hells Canyone Scenic Byway
For many centuries, the Grande Ronde Valley was used seasonally by Native Americans. Covered largely by wetlands, the beautiful valley was lush with grass and alive with game. Herds of elk summered in the surrounding high country and wintered in the milder valley. Mule deer, pronghorn antelope, and bighorn sheep browsed the hills and meadows.
This bountiful scene was a neutral meeting place for members of the Umatilla, Yakima, Shoshone, Cayuse, and Bannock nations, who came to enjoy the hot springs, hunt, graze their horses, and gather plants for food.
The picturesque Wallowa Valley was the beloved home of the Nez Perce Indians. By winter of 1877, settlement conflicts drove young Chief Joseph to make a harrowing attempt to reach Canada with a group of 250 men, women, and children. They struggled to within 24 miles of safety before being captured in Montana and sent to reservations.
This area remains a significant religious and cultural center for the Nez Perce, Umatilla, and Cayuse Indians.
Natural Qualities of Hells Canyon Scenic Byway
Millions of years ago, the Wallowa Mountains formed the coast of what would eventually be called Oregon. Uplifted layers of limestone on the peaks harbor fossilized shells that once sat at the bottom of the ocean. Eons of volcanic action and faulting pushed the masses of rock upward while new land formed to the west.
The Coast Range, Cascade Mountains, and upland desert of central Oregon now separate the Wallowas from the ocean by hundreds of miles. Flows of plateau basalt, batholiths of granite, and layers of shale were buckled and folded to form the mountain range. Raging rivers and gigantic glaciers carved the peaks and canyons. In short, nature took a long time to sculpt the dramatic beauty you see along the byway.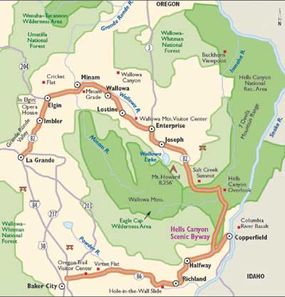 Recreational Qualities of Hells Canyon Scenic Byway
Recreational opportunities along the Hells Canyon Scenic Byway are seemingly endless and range from tranquil to thrilling. Four distinct seasons alter the scenery and determine the activities.
Spring and summer are great times to fish for steelhead or trout on the Grande Ronde, Minam, Wallowa, and Imnaha Rivers.
The Wallowa-Whitman National Forest, along with county and state parks departments, operates numerous campgrounds, trail systems, viewpoints, and picnic facilities along or near the route. Hike or mountain bike into the high country. Hire a private outfitter to experience horseback riding and pack trips, rafting, parasailing, or jet boat adventures. Watch hang gliders and hot air balloonists catch the breeze high above the Wallowa and Grande Ronde Valleys.
In autumn, watch and listen for Canada geese filling the air with melancholy calls. Hunt for deer, elk, bear, cougar, and bighorn sheep, or capture them on film. Fall is also the time for cattle drives, harvesting, and blue-sky days crisp with the smell of winter.
Winter's dry, powdery snow adorns area ski resorts and turns backcountry side trips and hiking trails into a giant playground for adventurers. The FS Road 39 section of the byway between Joseph and Halfway is closed to auto and truck traffic in winter, when it becomes an especially popular route for snowmobilers. Enjoy winter raptor viewing in Minam and Hells Canyons, a horse-drawn sleigh ride in Joseph, or ice fishing on Wallowa Lake.
Find more useful information related to Oregon's Hells Canyon Scenic Byway:
Oregon Scenic Drives: Hells Canyon Scenic Byway is just one of the scenic byways in Oregon. Check out the others.

How to Drive Economically: Fuel economy is a major concern when you're on a driving trip. Learn how to get better gas mileage.