The Sheyenne River Valley Scenic Byway is distinguished by its small-town hospitality and a mixture of scenic hills and grassy flatlands. Pastoral scenery catches travelers' attention, featuring wildflowers, wild grasses, quaint farms, grassy hills, and wildlife. Old prairie churches, one-room schoolhouses, quaint farms, and historical towns allow the traveler to experience a little of the old frontier.
Archaeological Qualities of the Sheyenne River Valley Scenic Byway
Archaeological studies show that the Sheyenne River Valley may have been intermittently occupied for more than 11,000 years.
Located in Valley City, Medicine Wheel Park includes a reproduction of a medicine wheel (a stone solar calendar) and an extensive Native American burial mound complex dating around 15,000 years ago. The Standing Rock, known as Inyun Bosndata by the Sioux Indians who consider it sacred, is also found at the park. The four-foot-tall Standing Rock is an inverted cone shape that sits on a complex of prehistoric burial mounds.
Hosting the Viking sculpture at Fort Ransom, Pyramid Hill measures 650 feet long, 520 feet wide, approximately 100 feet high, and is level on top, with the north, west, and south sides of uniform shape. Although geologists consider this to be a natural geologic formation, some think that humans made about one-third of the mound, which was built an estimated 5,000 to 9,000 years ago by an ancient civilization. Native American tradition holds this site to be a place of emergence.
Cultural Qualities of the Sheyenne River Valley Scenic Byway
The cultural heritage of the Sheyenne River Valley Scenic Byway has been strongly influenced by a mixture of customs and traditions passed on from the region's first settlers. The unaltered natural settings and rustic outdoor facilities of the region's most remote areas are a short distance from modern and sophisticated art centers, museums, restaurants, and hotels.
The cultural quality found in the Sheyenne River Valley Scenic Byway corridor is a result of this surprising diversity and contrast, as well as the number of cultural attractions and events.
Among these cultural attractions are pioneer cemeteries, historic churches, antique shops, guest inns, museums, monuments, and community concerts and theaters. Cultural events include farmers' markets, horse shows and rodeos, county fairs, community days, antique and art shows, vintage tractor and car shows, and ethnic festivals.
Historical Qualities of the Sheyenne River Valley Scenic Byway
About 15,000 years ago Native Americans began to filter from the north and west into the area east of the Rocky Mountains, foraging for food. The region's earliest inhabitants were members of these prehistoric cultures.
The first written records for the region surrounding the Sheyenne River Valley came from the explorers Joseph Nicolas Nicollet and John C. Fremont, who noted the landmark Standing Rock on their maps during their exploration of 1839. They also recorded their experiences with the local Native Americans while camping in the area now known as Clausen Springs. The next written account
from the area does not take place until James L. Fisk passed through, leading an emigrant train to the gold fields of Montana in 1862 and 1863.
In 1867, the Fort Ransom military post was established on the Fort Abercrombie to Fort Totten Trail, to protect wagon trains on their way to the gold fields of Montana and to guard pioneer settlers and railroad workers passing through. Today, the Fort Ransom Historic Site recalls the importance of the original outpost.
With the advance of the Northern Pacific Railroad in 1872 came the first permanent European settlers to the area. The Great Dakota Boom, beginning in 1878, marked the influx of a stream of mostly Norwegian immigrants.
Dramatic changes to the Sheyenne River Valley landscape resulted from the agricultural activities, urban development, and construction of transportation routes that accompanied the region's settlement. Sections of the river were dammed for mills, water supply regulation, pollution abatement during low-flow periods, and recreational purposes; and dikes were constructed to reduce flooding in river valleys. But through it all, the Sheyenne River Valley, its many historical structures, and its citizens have continued to share the valley's rich history and to provide visitors with memorable experiences.
Natural Qualities of the Sheyenne River Valley Scenic Byway
Much of the Sheyenne River Valley's uniqueness can be attributed to the oak savannah riparian forest, a zone whose wide variety of vegetation supports the existing wildlife diversity. This rolling sand-dune landscape of oak savannah along the Sheyenne River is perhaps the most remarkable scenic quality of the area.
Other unique areas include Clausen Springs Recreational Area, Little Yellowstone Park, Mooringstone Pond at the Writing Rock site, and Sheyenne State Forest. For the angler, the Sheyenne River offers an abundance of game fish, from catfish to walleye. The river contains around 50 different fish species.
Although forests and river are the defining features along the Sheyenne River Valley Scenic Byway, the traveler longing to see undisturbed prairie lands will not be disappointed. A fine sample can be found within the boundaries of Fort Ransom State Park, a 900-acre site with a 1-1/2 mile segment of certified North Country Scenic Trail. If that's not enough, the Sheyenne National Grassland area is only about ten miles east of the byway and represents some of the most pristine, untouched grasslands in the nation.
Recreational Qualities of the Sheyenne River Valley Scenic Byway
Recreational activities include hiking, biking, and horseback riding all along the byway in spring, summer, and fall. The area's river and lake provide great opportunities for canoeing, boating, and kayaking.
In the winter, cross-country and downhill skiing, snowshoeing, and snowmobiling are popular. Fishing is a year-round pastime that can be enjoyed all along the corridor, as is bird-watching. The Sheyenne River Valley Scenic Byway is also a great location for hunting, whether it be for waterfowl, upland bird, deer, moose, or fur-bearing species.
Standing out on the basically lakeless landscapes of the North Dakota plains, Lake Ashtabula in the Sheyenne River Valley has several resort areas located along its 27-mile length, providing a plethora of recreational opportunities. There are resorts, camping areas, swimming areas, restaurants, fish-cleaning stations, boat-rental locations, and cabin rentals.
Fort Ransom State Park provides a wealth of outdoor activities, including educational programs, camping, fishing, picnicking, horseback riding, canoeing, cross-country skiing, hiking, birding, and nature photography. Amenities include an outdoor amphitheater, canoe landing, campsites, nature trails, playground, picnic shelters, visitor center, and horse corrals.
There is also a farm that demonstrates pioneer farming methods. It's called the Sunne Farm and is home to the Fort Ransom Sodbusters Association.
A ski resort, Bears Den Mountain, is not something you would expect to see on the flat plains of North Dakota, but you can find it at Fort Ransom. This site offers a chairlift and T-bar, two beginner rope tows, snowmaking, grooming, a cafeteria, and rental equipment. The 285-mile Sheyenne Valley Snowmobile Trail system has a wide variety of riding areas, such as flat ditches, shelterbelts, national grasslands, and the Sheyenne River bottom.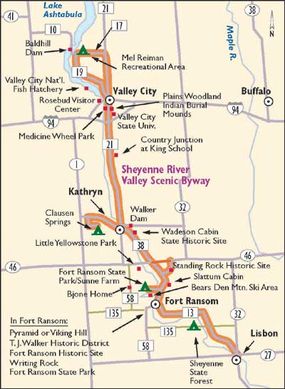 Find more useful information related to North Dakota's Sheyenne River Valley Scenic Byway:
How to Drive Economically: Fuel economy is a major concern when you're on a driving trip. Learn how to get better gas mileage.