At first, the Natchez Trace Parkway was probably a series of hunters' paths that slowly came together to form a trail that led from the Mississippi River over the low hills into the Tennessee Valley. By 1785, Ohio River Valley farmers searching for markets had begun floating their crops and products down the rivers to Natchez or New Orleans. Since the late 1930s, the National Park Service has been constructing a modern parkway that closely follows the course of
the original trail.
Come take a drive down this scenic parkway, featuring many historic sites in the devlopment of the American South.
Archaeological Qualities of Natchez Trace Parkway
Archaeological sites in this area date from the Paleo-Indian period (12,000-8,000 B.C.) through historic Natchez, Choctaw, and Chickasaw settlements (A.D. 1540-1837). Campsites, village sites, stone quarry sites, rock shelters, shell heaps, and burial sites are among the archaeological treasures here.
Cultural Qualities of Natchez Trace Parkway
The people who live along this parkway embody its rich culture. Southern traditions and hospitality are apparent as you meander through the heart of Dixie. From Natchez to Memphis, you'll enjoy the people you meet along the Natchez Trace Parkway.
Historical Qualities of Natchez Trace Parkway
The Natchez Trace Parkway was established to commemorate the historical significance of the Old Natchez Trace as a primitive trail that stretched some 500 miles through the wilderness from Natchez, Mississippi, to Nashville, Tennessee.
Although generally thought of as one trail, the Old Natchez Trace was actually a number of closely parallel routes. It probably evolved from the repeated use of meandering game trails by the earliest human inhabitants. Over time, these paths were gradually linked and used for transportation, communication, and trade.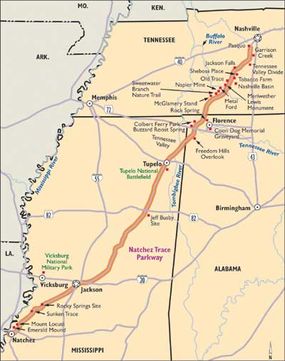 Natural Qualities of Natchez Trace Parkway
The Natchez Trace Parkway encompasses a diversity of natural resources. The motor road cuts through six major forest types and four major watersheds. Within the park, approximately 900 species of plants help to support 57 species of mammals, 216 species of birds, 57 species of reptiles, 36 species of amphibians, and a variety of other animals.
Recreational Qualities of Natchez Trace Parkway
Take in one of the many museums located throughout the byway or take a walk among the dogwoods. The byway has many historic battlefields, allowing you the chance to reminisce about the past. Pack a picnic and see the many Southern mansions along the route or hunt for souvenirs in one of the many quaint shops along the way.
Find more useful information related to Mississippi's Natchez Trace Parkway:
Natchez, Jackson, Tupelo: Find out what there is to do in these cities along Natchez Trace Parkway.

Scenic Drives: Are you interested in scenic drives beyond Mississippi? Here are more than 100 scenic drives throughout the United States.

How to Drive Economically: Fuel economy is a major concern when you're on a driving trip. Learn how to get better gas mileage.