Fog is a common sight along Acadia byway, muting the landscape with its romantic gray mists. In the midday sun, the sea's bright blue surface is studded with colorful lobster buoys. Seen at sundown from Cadillac Mountain, the sea glows in soft pinks, mauves, and golds.
As the name suggests, the Acadia area was French before it was American. French explorer Samuel de Champlain sailed into Frenchman Bay in 1604, naming the area Mount Desert Island because of its landmark bare top. Today, the National Park Service owns approximately half of the island that makes up Acadia National Park. The island boasts lush forests, tranquil ponds, and granite-capped mountains, where exploring is made easy by an extensive system of carriage roads and hiking trails. This alternate transportation network provides access to all areas of the park for walkers, equestrians, bicyclists, and cross-country skiers.
Villages on Mount Desert Island present a variety of lifestyles. Bar Harbor offers many accommodations and amusements. Northeast Harbor shelters sailboats, both large and small, and a summer colony.
Archaeological Qualities of Acadia Byway
Deep shell heaps suggest Native American encampments dating back 6,000 years in Acadia National Park. The first written descriptions of Maine coast Native Americans were recorded 100 years after European trade contacts began. In these records, Native Americans were described as people who lived off the land by hunting, fishing, collecting shellfish, and gathering plants and berries.
The Wabanaki Indians called Mount Desert Island Pemetic, or "the sloping land." They built bark-covered conical shelters and traveled in delicately designed birch bark canoes. Archaeological evidence suggests that the Wabanaki wintered on the coast and summered inland in order to take advantage of salmon runs upstream in the winter and avoid harsh inland weather.
Qualities of Acadia Byway
While Maine is rich in culture, perhaps the best-known sights along the coast are the lobster traps and colorful buoys. Catching lobster has been a profitable activity in Maine since the 1840s. Today, the sight of a lobster fisher reeling in a trap is common.
While the lobster boats are not the same wooden dories originally used, they are still a unique sight along the waters. They generally have a round bottom and a double wedge hull, ranging from 20 to 40 feet. The actual lobster traps come in various designs. Two of the best known are the parlor trap and the double-header trap, and they're set anywhere from 50 feet to miles apart. During the summer, lobster can be found in shallow waters (60 to 100 feet), but during the winter, lobsters descend to depths of more than 200 feet.
Qualities of Acadia Byway
Acadia's long history of settlement and colonization began with Samuel de Champlain, who led the expedition that landed on Mount Desert on September 5, 1604. Because de Champlain, who made the first important contribution to the historical record of Mount Desert Island, visited 16 years before the Pilgrims landed at Plymouth Rock, this land was known as New France before it became New England.
The land was in dispute between the French to the north and the English to the south. After a century and a half of conflict, British troops triumphed at Quebec, ending French dominion in Acadia. Hence, lands along the Maine coast opened for English settlement. Soon, an increasing number of settlers homesteaded on Mount Desert Island. By 1820, farming and lumbering vied with fishing and shipbuilding as major occupations. Outsiders -- artists and journalists -- revealed and popularized the island to the world in the mid-1800s. Painters, then called rusticators, inspired patrons and friends to flock to the island. Tourism became a major industry.
For a handful of Americans, the 1880s and Gay Nineties meant affluence on a scale without precedent. Mount Desert, still remote from the cities of the east, became a retreat for prominent people of the times. The Rockefellers, Morgans, Fords, Vanderbilts, Carnegies, and Astors chose to spend their summers on the island. They transformed the area with elegant estates, euphemistically called "cottages." For more than 40 years, the wealthy held sway at Mount Desert until the Great Depression, World War II, and the fire of 1947 marked the end of such extravagance.
Although the wealthy came to the island to play, they also helped to preserve the landscape. George B. Dorr, in particular, was a tireless crusader for conservation. Dorr and others established the Hancock County Trustees of Public Reservations. This corporation's sole purpose was to preserve land for the perpetual use of the public, and it acquired some 6,000 acres by 1913. In 1916, the land became the Sieur de Monts National Monument, and in 1919 it became the first national park east of the Mississippi, with Dorr as the first park superintendent. In 1929, the name changed to Acadia, and today the park encompasses 35,000 acres of land.
Qualities of Acadia Byway
Acadia Byway runs right along Acadia National Park, where the sights are outstanding. Acadia is home to a menagerie of wildlife that captivates the most experienced nature watcher. Whether you yearn to catch a glimpse of whales and seals or native and migratory birds, Acadia offers it all.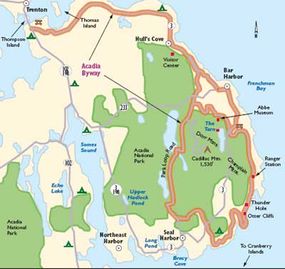 This map will guide you along Acadia Byway.
A variety of whales can be seen in the Gulf of Maine with antics that bring a smile, along with a sense of awe. Although finback, minke, and right whales can be seen, humpbacks are among the most playful of the whales. They are known for spy hopping (sticking their heads out of the water to look around), lobe tailing (throwing the lower half of their bodies out of the water), and tail slapping. To witness a humpback whale breaching (jumping completely out of the water) is a particularly amazing sight. Pay attention to the humpback's tail during its aerobatics -- each whale's tail is unique.
Acadia is an especially fertile area for bird sightings. In fact, 338 species -- some migratory and some native -- frequent the area. The peregrine falcon, once nearly extinct, can be seen winging overhead. They seem to circle lazily, but these raptors can attack prey at speeds of more than 100 miles per hour. They are most active at dawn and dusk in open areas. Puffins, also once nearly extinct, are making a comeback on islands along the Maine coast. Visitors may see this clown of the sea during offshore excursions.
Qualities of Acadia Byway
Relatively small at only 13 miles wide and 16 miles long, Acadia National Park offers a multitude of activities. Acadia maintains 45 miles of carriage roads for walking, riding, biking, and skiing and more than 100 miles of trails just for hiking. Situated right along the coast, the area is perfect for boating, sailing, and kayaking.
Hiking is one of the best ways to see all that Acadia has to offer. Trails crisscross the entire island. Take time to steal softly through a still forest, skip along the thundering coast, or meander through a swaying meadow. Up Cadillac Mountain is a particularly inspiring hike; its summit is the highest point on the Atlantic coast north of Rio de Janeiro. If you reach it before dawn and stand at the summit, you will be the first person in the continental United States to see the sun begin its journey across the sky and witness the beginning of a brand new day.
Want to see as much of the park as possible? Try cycling. If you prefer paved roads, you'll find Acadia's smooth rides beckoning, while mountain bikers are in for a pleasant surprise: 45 miles of carriage roads wind around rippling lakes, through tunnels of leafy branches, over hills, and under a number of stone bridges.
For water enthusiasts, Acadia offers a number of alternatives. Ocean canoeing and kayaking are drawing new converts every day. The thrill of gliding on the surface of the rolling sea is an experience never to be forgotten. You can immerse yourself more fully in the ocean experience by swimming at one of the beaches, although water temperatures rarely exceed 55 degrees. Echo Lake, a freshwater lake, is somewhat warmer. Take a trip on one of the schooners for a glimpse into sailing experiences of the late 1800s. Relax in the gentle breeze, try your hand at deep-sea fishing, or help the crew with the lines.
Find more useful information related to Maine's Acadia Byway:
Bar Harbor: Find out what there is to do in this city along Acadia Byway.

Scenic Drives: Are you interested in scenic drives beyond Maine? Here are more than 100 scenic drives throughout the United States.
How to Drive Economically: Fuel economy is a major concern when you're on a driving trip. Learn how to get better gas mileage.