The Santa Fe Trail Scenic Byway is a rich legacy of the many people who made their way across southeastern Colorado. This transportation route served as a corridor to the West and resulted in the meshing of many cultures and traditions.
Today along the byway, festivals and museums honor the many men and women who left a distinctive mark on the area, including early Native Americans, military personnel, ranchers, miners, and railroad passengers.
Archaeological Qualities of the Santa Fe Trail Scenic Byway
Early people left signs of habitation along the Santa Fe Trail Scenic Byway in many forms, including rock art, Native American tepee rings and fire circles, and other evidence of prehistoric and settlement-era activities.
Southeastern Colorado has many sites that have both petroglyphs and pictographs. These images speak of days long past, and part of the enjoyment of viewing rock art is hypothesizing about what the images may mean. Perhaps these symbols were religious in meaning, were used as calendars, or conveyed information about natural resources.
Visitors to the Santa Fe Trail Scenic Byway will find sites where this rock art is located. Archaeological sites exist at Picket Wire Canyonlands and Comanche National Grassland. A 1997 archaeological survey documented more than 70 sites in the Timpas Creek (Comanche National Grassland) area alone. Loudon-Henritzie Archaeological Museum in Trinidad features exhibits on the area's geology, fossils, and archaeology.
Cultural Qualities of the Santa Fe Trail Scenic Byway
Southeastern Colorado is embedded with Mexican culture; the area was a Mexican territory longer than it has been a part of the United States. Even after the United States acquired Mexico's northern provinces in 1848, the Santa Fe Trail served as a conduit for exchange among Spanish, Native American, and American cultures.
Communities along the Santa Fe Trail Scenic Byway continue to celebrate the diverse inhabitants through traditional celebrations, culturally representative architecture (such as adobe structures), religious folk art, and Hispanic culture at Trinidad's Baca House Museum (located in the Trinidad History Museum) and other museums. Large murals depicting the Santa Fe Trail and Western history are painted on the exterior of commercial buildings as reminders of cultural contributions.
Qualities of the Santa Fe Trail Scenic Byway
The Santa Fe Trail Scenic Byway parallels the Santa Fe Trail, which served as a trade route between Missouri and the Mexican frontiers from 1821 to 1880. Traders, miners, military, and settlers all used this route. Even during the Civil War, the area saw action as Colorado volunteers fought against Confederate troops. With the coming of the railroad, the Santa Fe Trail entered a new phase of its history.
The Santa Fe Trail extended for 900 miles from Missouri to Santa Fe and was instrumental in carrying people and goods across the land. The Mountain Route of the Santa Fe Trail was traveled by caravans of traders, often journeying four horses abreast. Although the Mountain Route was 100 miles longer than the Cimarron Route and included the difficult climb over Raton Pass, the Mountain Route was preferred because water was more accessible and the area was less vulnerable to attacks from Native Americans.
Travel on the trail was beneficial but dangerous for those making the journey. In 1834, Charles and William Bent and Ceran St. Vrain built a fort to protect trading activities among the Americans, Mexicans, and Native Americans. Visitors can go to Bent's Old Fort today and see what fort life was like. Miners heading to California in search of gold often chose the shorter, although more dangerous, route of the Santa Fe Trail rather than the Oregon Trail.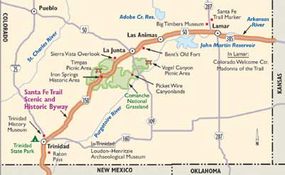 After the railroad came through the area, the nature of the Santa Fe Trail changed, and in 1861, the Barlow-Sanderson stage line was established with Trinidad as a major stop. With America embroiled in the Civil War, the Colorado Territory also saw an increase in military traffic.
Visitors traveling the route today can view existing historic sites, including trading posts (Bent's Old Fort), stage stops, visible wagon ruts, graves, ruins of Trail-era ranches, and statues commemorating pioneers.
Qualities of the Santa Fe Trail Scenic Byway
The Santa Fe Trail corridor provides an opportunity to discover an undisturbed, pristine landscape while observing the wide diversity of wildlife habitats. Southeastern Colorado varies from prime agricultural land to expanses of native grassland; four state wildlife areas in the corridor cover more than 10,000 acres. Rivers have carved canyons and valleys, where striking geology and unusual rock formations can be found.
Wildlife consists of free-ranging antelope, mule deer, bighorn sheep, bobcats, foxes, coyotes, and mountain lions, as well as small mammals, amphibians, reptiles, fish, and birds.
The Comanche National Grassland offers an area of rich natural qualities. The features of this landscape vary from short and midgrass prairies to deep canyons and arroyos, or waterways. This area was once the site of a sea, and today fossils of prehistoric sea creatures have been found in the Comanche National Grassland. In addition to these fossils, there is a set of dinosaur tracks south of La Junta that is the longest set of tracks in North America.
Qualities of the Santa Fe Trail Scenic Byway
The Santa Fe Trail Scenic Byway offers more than 30,000 acres of public land that supports a variety of recreational activities.
The Arkansas River follows the byway for a good portion of the route, providing many opportunities to enjoy the riverbanks. In addition, the John Martin Reservoir's blue waters give you a chance to enjoy a fun day of swimming, picnicking, camping, boating, water-skiing, sailing, or windsurfing. Fishing is another popular activity both on the lake and in nearby rivers.
An abundance of other wildlife is located along the Santa Fe Trail Scenic Byway. Desert bighorn sheep, eagles, cranes, pelicans, lesser prairie chickens, and hummingbirds can often be spotted in the area. Hunters come to southeastern Colorado for prime hunting opportunities; in fact, Prowers County is known as the goose hunting capital of the nation.
Find more useful information related to Colorado's Santa Fe Trail Scenic Byway:
Colorado Scenic Drives: The Santa Fe Trail Scenic Byway is just one of the scenic byways in Colorado. Check out the others.

La Junta, Lamar, Las Animas, Trinidad: Find out what there is to do in these cities along the Santa Fe Trail Scenic Byway.

Scenic Drives: Are you interested in scenic drives beyond Colorado? Here are more than 100 scenic drives throughout the United States.

How to Drive Economically: Fuel economy is a major concern when you're on a driving trip. Learn how to get better gas mileage.