The Seward Highway, linking Anchorage with Seward, passes through some of the most spectacular scenery in the country. For 127 miles, the road winds through a land of remarkable beauty, a land of saltwater bays, frigid blue glaciers, knife-edged ridges, and alpine valleys.
From the reflective waters of Turnagain Arm, you rapidly ascend 1,000 feet above sea level to an alpine meadow. Within the hour, you find yourself back at sea level surrounded by fjords, having just passed through a district of rivers and lakes.
Historical Qualities of Seward Highway
The route from Resurrection Bay to the interior has been in existence for thousands of years of Alaska's history; even Russian explorers searched the area for gold and fur in the 1700s. Following the same early routes used by native Alaskans, the Seward Highway has evolved into a modern transportation system.
Natives first used an area along the Seward Highway 9,000 years ago as a hunting camp. In this area, now known as Beluga Point on Turnagain Arm, Tanaina Indians also discovered abundant game in the region more than 8,000 years after the first natives inhabited the area.
The region finally received its name in 1778. When shallow water forced James Cook to turn around in his quest for the Northwest Passage, he christened the sound Turnagain River. South of Anchorage, Highway 1 now follows the shore of Turnagain Arm.
In 1895, prospectors discovered gold in Hope in the Kenai Peninsula, and the rush began. Suddenly, the tiny towns of Hope and Sunrise grew into booming gold-mining towns. Sunrise was even considered as a potential state capital.
Scattered findings of gold all over the Kenai Mountains established the need for improved transportation routes from the ice-free port of Seward to Turnagain Arm.
By 1910, most miners had left the area in order to follow prospects of gold farther north. Sunrise dwindled into nothing more than a few residences, and mining activity in Hope came almost to a standstill.
However, Cooper Landing's economy was soon influenced not by mining but by interest in big game hunting and fishing.
Today, the mining legacy of the Kenai Peninsula lives on through stories, museum photos, and weathered wood remains scattered throughout the Kenai Mountains. The privately owned town site of Sunrise is a historic archaeological district. The Hope Historical Society operates a small museum that displays items from the gold rush.
Natural Qualities of Seward Highway
Along the highway, you may hear the honking of Canada geese in the wetlands, the whistle of hoary marmots in the alpine valleys, and the cry of bald eagles in the dense coastal forests.
Along Turnagain Arm, you may spot Dall sheep as they scale rugged mountainsides or bring their young near the highway to forage. Moose, bears, mountain goats, salmon, and a variety of birds thrive along the highway as well. Many species of wildflowers help beautify the road corridor.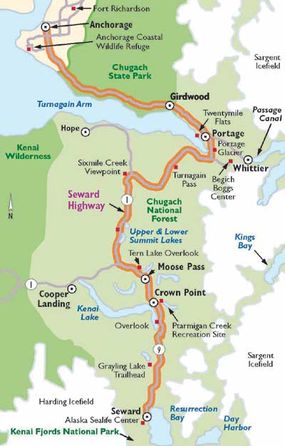 This map will guide your travels along Seward Highway.
Recreational Qualities of Seward Highway
The section of the Seward Highway adjacent to Turnagain Arm provides scenic vistas across to the Kenai Mountains. Most of the lands above the highway are within Chugach State Park and provide you with a collection of things to see and ways to see them: windsurfing on Turnagain Arm, rock climbing on roadside rock cuts, rafting or canoeing on rivers, kite flying at Beluga Point, angling at creeks, and bicycling the highway. Two hundred miles of trails are in the forest alone.
Once a mining town, Girdwood is now home to a world-famous ski resort that offers excellent scenery and plenty of challenges. This town combines the best of today's recreation with classic activities of the past, such as panning for gold.
Other byway towns including Hope and Cooper Landing offer havens for fishing. In Anchorage, you can browse in shops or visitor centers.
For more useful information related to Alaska's Seward Highway, see:
Alaska Scenic Drives: Seward Highway is just one of the scenic byways in Alaska. Check out the others.

Seward, Moose Pass, Girdwood, Anchorage: Find out what there is to do in these cities along Seward Highway.

Scenic Drives: Are you interested in scenic drives beyond Alaska? Here are more than 100 scenic drives throughout the United States.
How to Drive Economically: Fuel economy is a major concern when you're on a driving trip. Learn how to get better gas mileage.