Suggested Itineraries for Visiting San Francisco
With so many things to do in San Francisco, planning your time can be difficult. That's why we've included the suggested itineraries below. Each set focuses on a particular area of interest and is divided into one day, two days, or three days.
1-, 2-, and 3-Day Suggested Itineraries for Special Events & Attractions in San Francisco
1-, 2-, and 3-Day Suggested Itineraries for Special Events & Attractions in San Francisco
Remember to check out the seasonal events when you visit San Francisco, as there's often a festival or two to be found. Here's an outline for experiencing the must-see attractions in San Francisco:
1 day: Because of its compactness, you can actually see a fair amount of San Francisco in one day. Even though you're pressed for time, the best way to get as much as possible out of the city in a limited amount of time is to ditch the car and go for a mix of public transportation and hoofing it. But first get on a boat.
Book a morning ferry out to Alcatraz Island (in San Francisco Bay) and spend a couple of hours. Get to the ferry docks a little early to wander around Fisherman's Wharf (Embarcadero and Jefferson St) and check out the jugglers. When you get back, wander up Columbus Avenue, which will take you to North Beach in about five blocks. Continue up Columbus past Washington Square, and take a left on Vallejo to Caffe Trieste (601 Vallejo St). Order a coffee and a pastry, sit down and relax for a bit. Once you've caught your breath, head up to Telegraph Hill (Lombard and Kearny Sts) to a 21-foot, fire-nozzle-shaped building called Coit Tower (1 Telegraph Hill Blvd) and take in the views.
Head back to Columbus and take a right anywhere to go up to Stockton Street, the heart of Chinatown (Bush and Grant Sts). Take a left on Stockton and follow it down to Union Square (bounded by Geary, Powell, Post, and Stockton). Here you can grab lunch and meander around, but don't go too far north of the square or you'll hit the Tenderloin. If you hit Leavenworth, it's best to loop back around. The Tenderloin is safe during the day, but probably not where you want to spend your one day in town.
At night you can take the Cable Car to the top of Nob Hill (Sacramento and Jones Sts), snap a photo, and ride the car all the way to Russian Hill for dinner in a charming San Francisco neighborhood restaurant or make a reservation at one of the city's restaurants, such as Mobil Three-Star Fifth Floor (12 Fourth St) for modern French fare like veal tournedos or Mobil Four-Star Aqua (252 California St) for French and California-style cuisine and fresh seafood, and make a night out of eating well.
2 days: Rent bikes at Blazing Saddles Bike Rentals (1095 Columbus Ave) then get on the ferry to Angel Island State Park in the morning. Stop at Coffee Adventures (1331 Columbus Ave) on the way for a coffee, and grab sandwiches and snacks to take with you because no concessions are available on the island. The ferry leaves from Pier 41 near Fisherman's Wharf (Embarcadero and Jefferson St). Spend the day riding around the Island, and have a lunchtime picnic on the shore.
When you get back to the pier, check out the Aquarium of the Bay (Pier 39, Embarcadero at Beach Street), a tube in the Bay under Pier 39 where you can get a peek at what's swimming around beneath the Wharf. Then take a taxi to Crissy Field (near 603 Mason St at Halleck) in the Marina District, and enjoy a sunset stroll through the beautiful wooded tract of Presidio (102 Montgomery St). Continue walking along the waterfront to the base of The Golden Gate Bridge (Highway 101). Then walk up two blocks away from the ocean for dinner at one of the dozens of restaurants on Union, Chestnut, or Fillmore. Mayor Gavin Newsom is a co-owner of Plumpjack Café (3127 Fillmore St), a local favorite, and try a Crawfish Etouffee on rice or an old-fashioned bar burger on a bun.
3 days: Get up early and head to the infamous Mobil One-Star Dottie's True Blue Café (522 Jones St) downtown to fuel up on homemade cinnamon-streusel coffeecake or cornmeal-raspberry pancakes (a frequent special). Wander around Union Square to work off those amazing pastries, then hop on Muni (take the N-Judah light rail train) to Cole Valley. Turn right down Cole Street and walk a few blocks to Haight Street. Make a right on Haight to visit the storied corner of Haight-Ashbury, then walk back up Haight, past Cole, and continue until the street dead-ends at Golden Gate Park (101 California St). You can spend hours in the park doing whatever you like, but we recommend The Conservatory of Flowers, Japanese Tea Garden, Stowe Lake and, of course, the bison! At night take in an MLB Giants' game at their stadium in China Basin.
1-, 2-, and 3-Day Suggested Itineraries for Arts & Culture in San Francisco
1-, 2-, and 3-Day Suggested Itineraries for Arts & Culture in San Francisco
San Francisco has so much in the way of arts, be it performing or visual, that you could easily spend a week taking it all in. Here are some things you won't want to miss: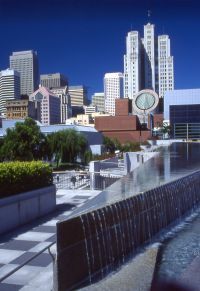 ©2006 Tom Bross           The SF-MOMA, or San Francisco          Museum of Modern Art, includes          important works by Jackson Pollock,          Paul Klee, Marcel Duchamp,          and Ansel Adams.
1 day: Start at the San Francisco Museum of Modern Art (151 Third St), spend your morning there, grab a tasty lunch in its café, and shop for excellent and unique gifts in the museum store.
Head next door to Yerba Buena Gardens (760 Howard St), after lunch, then go up 3rd to Mission, take a peek at the future home of the Contemporary Jewish Museum (282 2nd St), a Daniel Libeskind design currently taking shape across from Yerba Buena Gardens on Mission, and make a right on Mission to find the new Museum of the African Diaspora (685 Mission St).
At night, grab dinner in Union Square and take in a play at American Conservatory Theater (415 Geary St) or The Curran (445 Geary St).
2 days: Spend the morning at 49 Geary St in Union Square, which houses several excellent galleries in its five floors. Grab lunch at Café de la Presse (352 Grant Ave), where you can check out vintage Visionaire issues and stock up on hard-to-find foreign art mags, then head over to the De Young Museum in Golden Gate Park for the afternoon.
Take a break at Canvas Gallery and Café (1200 9th Ave), just outside the park. At night, get tickets for the San Francisco Opera, the San Francisco Symphony, or the San Francisco Ballet. Make reservations to dine in Hayes Valley before the performance at Mobil Two-Star Indigo (687 McCallister St), Absinthe (398 Hayes St) or Mobil Three-Star Jardinière (300 Grove St).
3 days: Wax poetic at Caffe Trieste (601 Vallejo St) in North Beach for your morning coffee, then head to the illustrious City Lights Bookstore (261 Columbus Ave), a favorite haunt of the Beat Poets, and on to Kayo Books (814 Post St) in the Tendernob (between Nob Hill and the Tenderloin), one of the only places in the country to find vintage pulp fiction and erotica (we're talking Victorian-era).
Take a cab to 826 Valencia, a Dave Eggers learning center and home of storied literary journal McSweeney's, and wander around to check out the neighborhood's murals, especially on Balmy Street.
Then you should head North on Van Ness to end up at A Clean Well-Lighted Place for Books (601 Van Ness) for an author reading. Take a cab to Town Hall (342 Howard St) for dinner, where they'll bring you your check in a hard-bound classic novel. If you've still got some energy left, party at one of the city's gallery/bar/clubs – 111 Minna (111 Minna St), Rx Gallery (132 Eddy St), or Mighty (119 Utah St).
1-, 2-, and 3-Day Suggested Itineraries for Architecture & Landmarks in San Francisco
1-, 2-, and 3-Day Suggested Itineraries for Architecture & Landmarks in San Francisco
If you're an architectural buff, then San Francisco is the place to be. Here's a guide to the city's astonishing landmarks and buildings: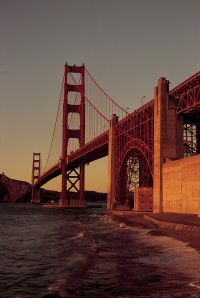 ©2006 Jerry Lee Hayes           From Coit Tower, visitors get a          spectacular view of the famous          Golden Gate Bridge.
1 day: Take one of the San Francisco Public Library's architecture tours. The "Rising Steel" tour guides you to 30 landmark buildings downtown in two hours, while other tours highlight Victorian architecture, Art Deco, or the mansions of Pacific Heights. Most tours begin and end downtown, so head up Kearny to North Beach to check out the Gold-Rush-era homes on Telegraph Hill and little Napier Lane, the only wooden street in San Francisco.
On your way, take a detour through Maiden Lane (a two-block long street off of Union Square) to check out the only Frank Lloyd Wright building in San Francisco at 140 Maiden Lane. The current tenant is Xanadu Gallery, so pop in to take a look at the art and the interesting interior of the building.
While in North Beach, check out the infamous Filbert Steps, filled with charming gardens, amazing views and history (Armistad Maupin set his classic Tales of the City here), and Coit Tower (1 Telegraph Hill Blvd) from which you can catch a view of another famous San Francisco landmark, the Golden Gate Bridge (Highway 101).
At night, head back down the hill to Tadich's Grill, a landmark restaurant in the Financial District. Built as the cafeteria for the TransAmerica Building in 1865, in 1967 Tadich's moved to this 1920s California Street location. After dinner, take Muni to Church Street station and walk two blocks west down Market for karaoke at "The Mint" (1942 Market St) which sits at the base of yet another landmark, the San Francisco Mint.
2 days: Have brunch at the Mobil Three-Star Palace Hotel (2 Montgomery St), then take Muni to Cole Valley/Haight, and walk a few blocks to Golden Gate Park (101 California St). Begin at the Conservatory of Flowers, then move around the park to The De Young Museum, The Japanese Tea Garden, the Dutch Windmill, ending finally at Ocean Beach, where the historic Cliff House (1090 Point Lobos Ave) awaits. The Cliff House was once a hotel that hosted U.S. presidents and local celebrities.
Explore the ruins of the early 1900s Sutro Baths next door or the 1940s Giant Camera on the back observation deck of the Cliff House (the last remnant of a huge beachside Coney-Island-style1930s "Playland" that closed back in the 1970s) before dining at either the Cliff House Bistro or more upscale Sutro's.
3 days: Start at the Legion of Honor (100 34th Ave), in Lincoln Park, for beautiful views of the city, a landmark building, and a piece of cinematic history -- Janet Leigh roamed its halls in Hitchcock's classic Vertigo, then head to the Presidio, home of several landmark buildings and gateway to one of San Francisco's best known landmarks, the Golden Gate Bridge. Ride over to Sausalito and dine at one of the waterfront restaurants, then catch the last ferry back to San Francisco to see the city's skyline twinkling at night.
1-, 2-, and 3-Day Suggested Itineraries for Shopping in San Francisco
Shoppers, get your walking shoes on, because there are scads of shops to visit in San Francisco. Whether you're buying or just looking, here are some ways to organize your shopping expeditions:
1 day: Ogle the racks at Dior, Gucci, and Hermes, the heirloom jewels at Lang Antiques (323 Sutter St), and the ridiculously overpriced baubles at old-school Gump's (250 Post St) around Union Square, then pop down Maiden Lane for Marc Jacobs (125 Maiden Lane), Wolford (115 Maiden Lane), and Chanel (155 Maiden Lane).
Refuel on fancy lemonade and tea sandwiches with the ladies who lunch at the Rotunda in Neiman Marcus (150 Stockton St) before catching a cab to Jeremy's (2 South Park) to search for Dior, Marc Jacobs, and Gucci that's actually affordable. Then it's back to Union Square to hit up Loehmann's (222 Sutter St), they're open until 8 pm, and Jeremy's closes at 6 pm. And don't forget to check out the new Agent Provocateur (54 Geary St) store on the other side of the square for saucy (but expensive) lingerie.
At night, throw on your new designer duds and head to the Mobil Three-Star Clift Hotel (495 Geary St), where even the doormen are outfitted in designer uniforms, for a drink in their see-and-be-seen Philippe Starck-designed Redwood Room.  
2 days: Having had your fill of labels and San Francisco finery, explore the indie side of the city. Start at RAG (541 Octavia St) in Hayes Valley for choice local designer clothes and accessories (men and women), then grab a cup of the best coffee you've ever had at the Blue Bottle Coffee Company (315 Linden St). Take some beans home if you like.
Head to American Rag (1305 Van Ness) – bypass the front of the store unless they're having a sale and pounce on the assortment of mint vintage finds in the back. Make a quick stop at Venus Superstar (1112 Sutter St) and scan their small but well-selected collection of local and international indie designs before heading to the Mission for the rest of the day, starting with Candy Store (3153 16th St), where you'll find more racks of local designer wares (love the Gytha Mander tees!) along with a smattering of home accents and accessories.
Scour thrift and vintage shops like Schauplatz (791 Valencia St), Virginia Howells (2839 24th St), and Community Thrift (625 Valencia St) for clothing and home finds. Check out home stores like Den (849 Valencia St) for beautiful but expensive modern classics, or Lost Art Salon (245 S. Van Ness) for cool and reasonable artworks, then wander around the boutiques on Valencia, Dolores, Mission, and Guerrero.
Don't forget to look up the numbered streets for hidden finds like local designer Sunhee Moon's (3167 16th St) retail outlet, local collective Fabric8's (3318 22nd St) shop of silk-screened tees and wind-up toys, Nisa's (3610 19th St) funky T-shirt dresses, and Needles & Pens' (3253 16th St) punk-y zines and local artwork.
Also not to be missed in the Mission are Paxton Gate (824 Valencia St) for the quirkiest possible gift (a stuffed Amarillo perhaps?), Aquarius Records (1055 Valencia St) for excellent and hard-to-find CDs, and Chamalyn (3491 19th St) for all things cute and Japanese.
Take a load off in the midst with a coffee and croissant at local favorite Tartine (600 Guerrero St) – if there's nowhere to sit, take it to go and hang out at Dolores Park for awhile. At night, play Mission hipster and head to Emmy's Spaghetti Shack (3355 Mission St) for dinner, then go to a free outdoor movie at Dolores Park (if it's summer), or check out whatever's on at the Victoria Theatre (2961 16th St).
3 days: You should visit the Alemany Flea Market (100 Alemany Blvd) in Bernal Heights, a warm and cozy neighborhood just south of the Mission. This market is all about quality over quantity – lots of good antique and vintage finds at amazing prices.
Take the Bay Area Rapid Transit to Van Ness, then transfer to Muni to get to Cole Valley. Spend the afternoon meandering through the neighborhood's home and gift stores (don't miss Stumasa - 515 Frederick St), then head down the hill to Haight Street and prepare to spend at least an hour at Amoeba (1855 Haight St), the world's greatest music store. They sell both albums and CDs, new and used, plenty of rare finds, plus DVDs and posters.
When you've had your fill, take Muni back downtown and get out at Embarcadero to visit the Ferry Building Marketplace, where you can stock up on "only in the Bay Area" foodstuffs and wine before leaving town.
1-, 2-, and 3-Day Suggested Itineraries for Nightlife & Entertainment in San Francisco
1-, 2-, and 3-Day Suggested Itineraries for Nightlife & Entertainment in San Francisco
Live music and unusual adventures are the name of the game in San Francisco's nightlife. For the best of both, follow these tips:
1 day: Start the day off right with brunch at Home (2100 Market St, and 2032 Union St), where a build-your-own Bloody Mary bar and assortment of comfort-food breakfast options will prepare you for a day of revelry.
Head to Stern Grove in the afternoon to check out a free outdoor concert amongst the redwoods, and at night, return to the city and The Plush Room (940 Sutter St), a quintessentially San Francisco spot equal parts elegance, history, and camp. During Prohibition, it was a speakeasy reached via a maze of underground passageways that still exists. Today it's a classed up cabaret that plays host to an assortment of jazzy entertainers like Rita Moreno, Sam Harris, and local favorite Paula West, and a weekly, racy/campy burlesque show, "Dirty Little Secret," presented at 11 pm every Saturday night for only $25.
After the show, catch a late-night drink at Mobil Three-Star Hotel Rex (562 Sutter St) to keep the old-school elegance vibe, or the Owl Tree (601 Post St) for a classic San Francisco dive bar.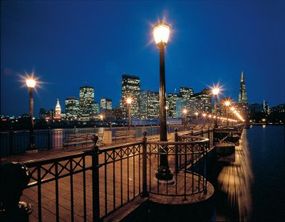 ©2006 Philip H. Coblentz           Pier 7, located north of Ferry Building along the Embarcadero,          is a fishing pier with fabulous views of the city and the bay.
2 days: After champagne brunch with the cool kids in the Mission on Medjool's (2516 Mission St) rooftop deck, head over to Glide Memorial (333 Taylor St), for an amazing Gospel Mass. After church, head over to Fisherman's Wharf where the Musee Mechanique (Pier 45) will totally creep you out as only musical carnival machines can.
At night splurge for an all-inclusive feast and nighttime carnival at recently opened Supperclub (657 Harrison St), the San Francisco outpost of an infamous Amsterdam nightspot. If you're still in the mood to party when dinner and the show are over, head up the street to the End Up (401 6th St) where you can dance on into the morning.
3 days: Go for dim sum at City View (662 Commercial St, 415-398-2838) in Chinatown, Mobil Two-Star Yank Sing (101 Spear St) in South of Market, Ton Kiang (5821 Geary) in the Richmond, or get it to go from Good Luck Dim Sum (736 Clement St) in the Richmond. Or if you're really serious about your dim sum, take the subway (Bay Area Rapid Transit, aka BART) to Daly City and go to Koi Palace (365 Gellert Blvd).
When you're good and stuffed, head to Zeitgeist (199 Valencia St) for a lazy afternoon drink in San Francisco's best beer garden. When night falls head out for a free comedy show at The San Francisco Comedy College (315 Sutter St), the BATS Improv at the Bayfront Theater (Fort Mason Center, Building B, third floor) in Fort Mason (near the Marina), Cobb's Comedy Club (915 Columbus Ave), The Punchline (444 Battery St) or the Purple Onion (140 Columbus Ave).
1-, 2-, and 3-Day Suggested Itineraries for Relaxing & Unwinding in San Francisco
1-, 2-, and 3-Day Suggested Itineraries for Relaxing & Unwinding in San Francisco
A little R & R is the best medicine after a hectic day of sightseeing or an unexpected layover on your way to San Francisco. The city's got plenty to offer, and we've it mapped out below.
1 day: Start off with a tasty French brunch outside on the patio at Metro Café (311 Divisadero St), a neighborhood gem on Divisadero then catch the bus up Fulton Street to Café Abir (on the corner of Fulton and Divisadero) if you need a cup of coffee and a good magazine from their stand, then head to Golden Gate Park.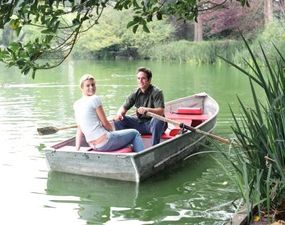 ©2006 Jack Hollingsworth           Visitors can rent paddleboats in Golden Gate Park's          Stowe Lake for an idyllic afternoon.
Head to Golden Gate Bridge Park's Stowe Lake and rent a paddleboat or just walk around the lake, then visit the Japanese Tea Garden for afternoon tea. Next, grab a cab to SenSpa (1161 Gorgas Ave, Presidio) in the Presidio for a massage before going to dinner at one of the first restaurants to cop on to the whole vegetarian, organic healthy gourmet craze, Mobil Two-Star Greens. Enjoy a gourmet meal and an amazing view from this San Francisco legend in Fort Mason.  
2 days: Spend the morning at a café (Atlas Café -- 3049 20th St and Ritual -- 1026 Valencia St in the Mission, Momi Toby's -- 528 Laguna St, in Hayes Valley, Café Organica -- 562 Central Ave in Haight, Café de la Presse -- 352 Grant Ave in Union Square, Moto Java -- 498 9th St in SoMa, Simple Pleasures -- 3434 Balboa St in the Outer Sunset are among some of the best, but there are plenty to choose from), then it's time for another pampering session, this time at the Nob Hill Spa in the Mobil Three-Star Huntington Hotel (1075 California St). It's a little pricey, but worth it and here's why -- in addition to providing incredible services, if you book a spa treatment you get access to the spa's rooftop pool all day. The pool is on top of the tallest building on Nob Hill (Sacramento and Jones Sts), so you get these incredible views and you can lounge in peace next to a soothing, heated pool.
Head down the hill through China Town and North Beach for a pleasant and easy walk to the Embarcadero, then spend the afternoon weaving through the Ferry Building (One Ferry Building), finishing with a glass of wine at the outdoor Wine Bar.
At night, make a trip across the bay to legendary Mobil Three-Star Chez Panisse (1517 Shattuck Ave) in Berkeley for an unforgettable meal prepared by legendary organic and slow-food guru Alice Waters.
3 days: Spend the morning in the Presidio (102 Montgomery St), golfing at the Arnold-Palmer-renovated Presidio Golf Course, biking and/or hiking, and bowling at Presidio Lanes. Grab lunch at The Grove (2250 Chestnut St), an outdoor café in the nearby Marina, then head over to Oakland in the evening to the Parkway Theater (1834 Park Blvd), where you can watch a quality film on the big screen while sitting in a comfy couch enjoying pizza and beer.
For the high-class version of that night, head to Foreign Cinema (2534 Mission St) in the Mission where you can watch a foreign film projected on their outdoor screen while sipping fine wine and eating a gourmet meal.
The "City by the Bay," as San Francisco is known, attracts nearly 16 million visitors each year. And when you consider all that San Francisco has to offer, it's easy to see why. Although you might not meet "gentle people with flowers in their hair," as Scott McKenzie's song San Francisco suggests, you're sure to encounter some of the friendliest natives of any big city. So be sure to bring an open mind (and a sweatshirt) when you go to San Francisco.
©Publications International, Ltd.
ABOUT THE AUTHOR:
Amy Westervelt is a freelance writer who grew up in Southern California and now divides her time between San Francisco and the rest of the world, writing about travel, food, and entertainment for publications such as Travel + Leisure, Modern Bride, and The San Francisco Chronicle.
Related Links
BATS Improv at the Bayfront Theater
Bay Area Transit Info and Trip Planner
California Academy of Sciences
Light Rail, Buses, and Cable Cars
Mineta San Jose International Airport
Museum of the African Diaspora
San Francisco Convention and Visitors Bureau
San Francisco Museum of Modern Art