Suggested Itineraries for Visiting San Diego
There are an amazing number of things to do in San Diego, from visiting great museums to lounging on sunny beaches. In order to help you hit the best spots during your visit to San Diego, we've put together several suggested itineraries that apply to various areas of interest -- including special events and attractions, arts and culture, architecture and landmarks, shopping, nightlife and entertainment, and relaxing and unwinding.
1-, 2-, and 3-Day Suggested Itineraries for Special Events & Attractions in San Diego
1-, 2-, and 3-Day Suggested Itineraries for Special Events & Attractions in San Diego
Whether you sightsee by land or by sea, you'll meet up with plenty of great special events and must-see attractions in San Diego. Use these suggested itineraries to sort out your options.
1 day: Take in San Diego's picture-postcard skyline from its greatest vantage point: the Big Bay. Tool around on a rented sailboat, or hop the ferry to Coronado (an adjacent peninsula) and spend the day strolling the quaint village streets, browsing shops, and playing on the sand. The "island" has one of the area's three dog-friendly beaches.
Cross back over to the mainland for an early dinner in the historic Gaslamp Quarter, a 161/2 block historic district in San Diego's downtown near the waterfront. When it's time for lunch, don't miss the spicy popcorn shrimp at Mobil Two-Star Croce's Restaurant (813 5th Ave), a jazz club/lounge/restaurant run by Jim Croce's widow, Ingrid.
Continue the marine theme by heading over to Birch Aquarium (2300 Expedition Way, La Jolla) to watch the sharks, fish, and other marine animals in realistic aquatic museum habitats. While there, explore the outdoor tide-pool plaza and take a ride on the simulator to feel what it's like to be a dolphin frolicking in the surf.
Then make your way to SeaWorld San Diego (500 Sea World Dr) to witness the polar bears and walruses in their special settings, or catch Shamu's tricks during a special show. Make sure your wardrobe is waterproof before taking a seat in the "Soak Zone."
For dinner, grab a table at Mobil Three-Star Nick's at the Beach (809 Thomas Ave). You can order the best catch of the day, but popular dishes include the salmon baked with spiced rum pepper glaze and ahi rolled in sesame seeds and served with oriental citrus vinaigrette.
2 days: Step back into old-school Southern California (SoCal) with a drive down coastal Highway 101, which connects a string of quaint, historic beach communities that seem lifted right out of a Beach Boys song.
Start your trip in Oceanside and head south, where 101 doubles as the main drag in low-key Encinitas and upscale Del Mar before becoming Torrey Pines Road in La Jolla.
Make your way south to Mission Beach's Belmont Park (3146 Mission Blvd), home to the Giant Dipper, one of only two original oceanfront roller coasters still in operation on the West Coast, and The Plunge, a public pool dating back to 1925, where Tarzan's Johnny Weissmuller and Esther Williams once splashed. Try your luck riding one of two endless-wave simulators: the mellower FlowRider, or its bigger, badder cousin, Bruticus Maximus, which can generate barrels (waves) up to 10 feet high.
Then take a stroll down the Mission Beach Boardwalk (runs the length of the beach from South Mission Jetty to Crystal Pier) and gawk at all the eye candy -- and maybe catch a glimpse of Flash, the festively and scantily-attired Mission Beach staple, who can often be found Rollerblading through the neighborhood.
You can head to the Aerospace Museum and Hall of Fame (2001 Pan American Plaza) to learn about the extraordinary accomplishments of the world's leading aviation pioneers. More than 50 aircrafts hang from the rafters, and several galleries showcase milestones in aviation history. Don't miss "Wings," a motion simulator ride that takes on different planes through time.
For dinner, a good neighborhood choice is the Mobil Two-Star Panda Inn (506 Horton Plaza), which has several dining rooms with pandas depicted on stained-glass windows and Chinese art on the walls. A Mandarin and Szechuan menu is served, and you should try the Panda Shrimp or Peking duck.
3 days: Spend a day getting acquainted with San Diego's wildlife. First, pay a visit to the San Diego Zoo (2920 Zoo Drive, Balboa Park), which has extended summertime hours and after-dark activities, exhibits, live music, and performances.
Take a break at nearby Rimel's (1030 Torrey Pines Rd), which has a kid-friendly patio and the most addictively tasty rotisserie chicken and green chile salsa in town.
Then drive 35 miles north of the San Diego Zoo to the Wild Animal Park (15500 San Pasqual Valley Road, Escondido) and climb aboard the Wgasa Bush Line Railway, a 45-minute train tour of the park's cage-free open spaces and the rhinos, elephants, giraffes, zebras, and other animals that roam there. It's even more thrilling during Park at Dark, when the park has extended summer hours.
1-, 2-, and 3-Day Suggested Itineraries for Arts & Culture in San Diego
1-, 2-, and 3-Day Suggested Itineraries for Arts & Culture in San Diego
San Diego has a wide array of museums. And if you're more interested in the performing arts, there are plenty of theater groups and music organizations from which to choose. If you follow these suggested itineraries, you won't miss a thing.
1 day: Spend the day in Balboa Park (1549 El Prado) visiting its less-traditional museums, like the San Diego Hall of Champions Sports Museum (featuring multi-sport memorabilia of the city's sporting legacy), Centro Cultural de la Raza (dedicated to Latino and Chicano art and culture), and the World Beat Center (dedicated to promoting African-American art, music, dance, etc), which is housed in a former water tower now painted with an eye-catching mural. In the summer, hear organist Carol Williams work her magic on the 4,446 pipes of the Spreckels Organ, or pay homage to the Bard at the Old Globe Theatre, a replica of Shakespeare's original.
In the evening, take in a happy hour at Mobil Two-Star The Prado (1549 El Prado), Balboa Park's culinary crown jewel and the place to go on a date. Make sure you try the Brazilian Caipirinha, made with real cachaca, and chili-lime calamari or panko-crusted jumbo lump crab cakes.
Or grab a glass of wine in nearby Hillcrest before catching a play at the tiny, cutting-edge, Sixth at Penn Theatre (3704 6th Ave).
2 days: While San Diego is rich in racial and cultural diversity, you wouldn't know it considering the level of homogenization in certain neighborhoods. Take a day to get acquainted with the history of the many ethnic enclaves that give San Diego its character; start with a morning ristretto at Caffe Italia (1704 India St) in Little Italy, whose main drag, India Street, is packed with quaint bistros, wine bars, boutiques and delis.
You can then head to the Chinese Historical Museum (404 3rd Ave) in downtown, where you can visit the tranquil on-site garden or join a walking tour of the Asian Pacific Historic District and Old Chinatown.
Next, stop in at the lobby of the Gaslamp Plaza Suites Hotel (520 E St) in downtown, where the Black Historical Society's weekly Harlem of the West tours will get you acquainted with legendary jazz sites in San Diego. These places hosted talents like Louie Armstrong and Billie Holiday.
Finally, drive to Barrio Logan to pay a visit to the murals in Chicano Park (Interstate 5, exit Cesar Chavez Parkway), including one that was painted by elementary school students at nearby Lowell School. While you're in the neighborhood, indulge in a chorizo burrito at Las Cuatros Milpas (1857 Logan Ave).
3 days: Go on a visual art tour of the San Diego area, starting way up north at the Oceanside Museum of Art (704 Pier View Way), housed in a 1930s-era building designed by Irving Gill, which is a work of art in itself. Its permanent exhibits showcase some of the finest art of regional and international artists. You will see classical landscape paintings, studio furniture, art quilts, and architectural glass made into art.
Head south to La Jolla's Museum of Contemporary Art (700 Prospect St, La Jolla), whose galleries overlook the Pacific Ocean through giant floor-to-ceiling windows. You'll see some of the best contemporary paintings, sculpture, photography, and architecture around.
Remember to include the University of California San Diego (9500 Gilman Dr, La Jolla) on your agenda. Check out Terry Allen's singing "Trees," along with the many other sculptures regaling the campus as part of the university's Stuart Collection, which specializes in site-specific art by contemporary artists.
Wind down your La Jolla art tour with a visit to Mobil Three-Star Roppongi Restaurant and Sushi Bar (875 Prospect St). This tranquil setting of wooden tables, modern lights, and elegant decorations serves Asian cuisine with an all-you-can-eat sushi bar. Try the Mongolian chopped duck salad with vegetables and crisp won tons followed with a lemon creme brulee with lemon cookies.
1-, 2-, and 3-Day Suggested Itineraries for Architecture & Landmarks in San Diego
1-, 2-, and 3-Day Suggested Itineraries for Architecture & Landmarks in San Diego
Architecture in San Diego dates back to Spanish missionaries, but you'll find some landmark modern buildings, too. Here are three days worth of suggestions for viewing the architecture and landmarks in San Diego.
1 day: Take a tour of San Diego's historic hotels, beginning downtown with a visit to the rooftop of the St. James (830 6th Ave, now a Ramada), which at 11 stories tall claimed to be San Diego's first "high-rise luxury hotel" when it was built in 1919.
Take high tea at the elegant, grandiose U.S. Grant Hotel (326 Broadway) and stroll by Mobil Two-Star Horton Grand Hotel (311 Island Ave), which is actually comprised of two 1886 Victorian hotels that were dismantled brick by brick and reformed in 1986.
Have lunch across the bay at one of the many restaurants and lounges at the Mobil Three-Star Hotel Del Coronado ("The Del," to locals, 1500 Orange Ave), whose unmistakable red roof has sheltered everyone from Marilyn Monroe to Madonna.
Finish the evening with dinner at the intimate Mobil Three-Star Sky Room at Mobil Three-Star La Valencia (1132 Prospect St, La Jolla), a 1920s luxury property that was once popular with the Marx Brothers.
2 days: Spend a day touring the sights of Mission-era San Diego, working westward from your starting point at Mission Basilica San Diego de Alcala (10818 San Diego Mission Rd). California's first mission, Mission San Diego dates back to 1769 and is still an active church.
A few miles down Interstate 8 in Old Town State Park (4002 Wallace St), you'll find the Casa de Estudillo, a preserved pueblo of Mexican adobes dating back to the 1820s.
Next, head up the hill toward Balboa Park (1549 El Prado), whose museums were mainly built in the Spanish Colonial Revival style around 1915.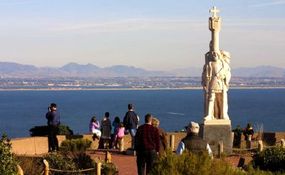 ©2006 San Diego CVB The Cabrillo National Monument commemoratesJuan Rodriguez Cabrillo's arrival in San Diego in 1542.
Wind down the tour by taking in the sweeping ocean views off Point Loma at Cabrillo National Monument (1800 Cabrillo Memorial Dr), which commemorates Juan Rodriguez Cabrillo's arrival in San Diego in 1542, marking the first visit of a European explorer to the West Coast.
3 days: Southern California's beach communities will probably fight over rights to the name Surf City, USA, but there's no disputing that San Diego's in the running for the title. Spend a day hanging out at the town's historic piers and surfing landmarks.
Start with breakfast at The Tin Fish (170 6th Ave) near Imperial Beach Pier in San Diego's South County before strolling down the pier in Ocean Beach (off Interstate 8 and Sunset Cliffs Blvd). In Pacific Beach (off Interstate 5 at Garnett Ave), you'll find Crystal Pier, which also houses a few dozen over-water bungalows occupied by guests of the Crystal Pier Hotel.
Up the road in La Jolla is the shack at Windansea Beach (6800 Neptune Place), where Tom Wolfe found inspiration for his book, The Pumphouse Gang. End the day with a stroll down Oceanside Pier, which at 1,940 feet is the longest wooden pier in Southern California. While you're in Oceanside, stop at the California Surfing Museum (223 N Coast Highway).
Finish up the day with some chicken fried steak at Oceanside's oldest diner, 101 Cafe (631 S Coast Highway), which opened in 1928 and still serves breakfast all day.
1-, 2-, and 3-Day Suggested Itineraries for Shopping in San Diego
San Diego's shopping neighborhoods, like La Jolla and Del Mar, will help you get your retail fix. Plan your shopping excursions in San Diego by following these itneraries.
1 day: Spend most of your day looking at anchors and specialty chains at the Fashion Valley Mall (7007 Friars Rd), a two-level outdoor mall with upscale stores. Among its anchors are Neiman Marcus, Saks Fifth Avenue, Tiffany, and Lord & Taylor.
Continue looking for quality retail items at Westfield Horton Plaza (324 Horton Plaza), a multilevel shopping mall with 140 specialty shops, department stores, and several sit-down restaurants. Check out how the building is covered with 1 million, 1-inch tiles laid individually by hand. From the Fruits and Vegetables parking garage ("Honey, did we park on Avocado or Carrot?") to the MC Escher-esque walkways connecting the two sides of the split-level shopping center, Horton Plaza feels like it might've been designed by an architect with an extensive imagination.
For lunch, grab a table at the Samba Grill (Store 514 inside the Horton Plaza). This Brazilian Steakhouse is a good place to grab a salad, sandwich, or (if you've really worked up an appetite) a steak.
To unwind from your day of shopping, grab a bag of popcorn at the Regal United Artists 14 (located on Level 4 of Horton Plaza). This theater has 14 screens, but is the only screen in San Diego equipped to show movies in the Real D 3D format. For a listing of latest movies, check the theater's Web site.
2 days: San Diego is beginning to have an eye for design; for proof, look no further than Little Italy and the nearby Kettner Arts and Design District (Kettner between Laurel and B Sts and surrounding area). The district is home to several trendy stores like Mixture (2210 Kettner Blvd), which specializes in modern furniture, Cathedral (611 W Fir St), which has chic rugs and retro pottery, and Igloo (640 W Beech St), which carries a lot of inventory by independent designers. Keep your eyes open for once-a-quarter open houses called Kettner Nights, when local businesses stay open late with wine, appetizers, and socializing.
The Indigo Grill (1536 India St) is a great place to find West Coast cuisine in the Little Italy neighborhood. The alder-grilled salmon with squid ink pasta is one of the popular and aromatic dishes. The Vercruz maize tamale stuffed with shrimp, white cheddar, and garlic sauce is another crowd pleaser.
Spend some time searching for designer goods at The Shops at Las Americas (4211 Camino De La Plaza, San Ysidro), a sprawling complex with more than 75 stores like Neiman Marcus, Kenneth Cole, and Polo.
If you have time, swing over to Viejas Outlet Center (5000 Willows Rd, Alpine), the country's first of the dressed up outlet centers with shops like Eddie Bauer, Tommy Hilfiger, and Nike.
3 days: The glitzy, sparkling neighborhood of La Jolla has long been a haven for the world's monied elite, so it's no surprise to see high-end retailers and boutiques clustered in the village's downtown, mostly along Girard Avenue and Prospect Street. Panache (7636 Girard Ave) features elegant items for the home, including fine linens, china, and silverware. Gallery Eight (7464 Girard Ave at Pearl St) has contemporary crafts, ceramics, jewelry, and clothing.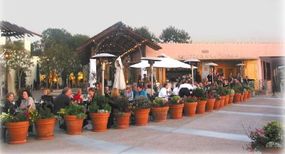 ©2006 Joanne DiBona/San Diego CVB You'll find some of San Diego's ritziest shopping in Del Mar.
The same goes for the quaint community of Del Mar (Highway 101 between Del Mar Heights Road and Jimmy Durante Parkway) to the north, which is a great place to blow a thousand bucks on half an outfit, but not so nice for those prone to sticker shock. The Del Mar Plaza features more than 20 shops and boutiques in a relaxing backdrop of the Pacific. You'll find upscale apparel, fine jewelry and more.
A few more affordable boutiques have sprung up in the Bird Rock neighborhood (just south of La Jolla village on La Jolla Boulevard), where shoppers can find anything from shoes and French lingerie to imported bath products.
If it's all too much to take, there are also more traditional malls to shop, like sprawling Mission Valley Mall (1640 Camino del Rio North) and Fashion Valley (7007 Friars Rd), which has the usual suspects (Nordstrom's, Macy's, Banana Republic, etc.) plus a movie theater.
1-, 2-, and 3-Day Suggested Itineraries for Nightlife & Entertainment in San Diego
1-, 2-, and 3-Day Suggested Itineraries for Nightlife & Entertainment in San Diego
Things really get going in San Diego after the sun sets. These suggested itineraries will guide you to the hottest of the hotspots.
1 day: If you're only in San Diego for a day, you'll probably want to experience all that the Gaslamp Quarter has to offer, which, while touristy, is substantial. Start your evening with dinner at intimate Candelas (416 3rd Ave), which serves Nuevo Latino cuisine a few blocks away from the Fourth and Fifth Avenue madness.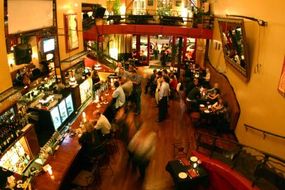 ©2006 San Diego CVB You can take salsa lessons and dance the night away at Cafe Sevilla.
Take a stroll up Fifth Street until you find a bar you like; there are tons, ranging from Irish pubs to supper clubs to sports bars, and then pick a place to go dancing. Megaclubs like On Broadway (615 Broadway), Stingaree (454 6th Ave) and Belo (919 4th Ave) all come complete with long lines, bouncers, and expensive drinks. Cafe Sevilla (555 4th Ave) is the place to go for salsa dancing, so show up early for lessons.
End the evening with a nightcap at Altitude (660 K St), the 22nd-floor bar atop The San Diego Marriott Gaslamp Quarter, which features a cozy fire pit and views into Petco Park.
2 days: If you like the amps turned up to 11, head for San Diego's best small-venue rock club, The Casbah (2501 Kettner Blvd), which is ground zero for all the best up-and-coming indie rock and hip-hop bands, as well as the town's considerable local talent.
Join the scenesters after the show at neighborhood bars like LiveWire (2103 El Cajon Blvd), Landlord Jim's (1546 Broadway) or The Whistle Stop (2236 Fern St).
North County's pristine-sounding Belly Up Tavern (143 S Cedros Ave, Solana Beach) books reggae and jam bands for an older-skewing crowd that likes to get rowdy, and the post-show at the nearby Surf & Saddle (123 W Plaza St, Solana Beach) caters to a mix of customers of all ages. Their roster of entertainment appeals to retirees and tourists during the day and to the younger crowd at night.
Looking for a quieter night out with the kids? Check out the all-ages Dizzy's (344 7th Ave), San Diego's main true jazz club, and Lestat's (3343 Adams Ave), a singer/songwriter haunt known for having the best sound in town -- but no liquor; for that you'll have to go down the street to the Ould Sod (3373 Adams Ave).
3 days: After a long day of surfside revelry, carry on the debauchery in one of the countless beach bars in Pacific and Mission Beach. Liar's Club (3844 Mission Blvd) has stellar onion rings and the best jukebox in town, while the bleach-blond co-eds stand in lines snaking around the block for Taco Tuesdays at Pacific Beach Bar and Grill (860 Garnet Ave). Never mind that the tacos have usually run out by the time you get to the front of the line. Mullet-rocking cover band Metal Skool is a longtime tradition Wednesdays at Typhoon Saloon (1165 Garnet Ave).
If you'd rather keep the college crowd at arm's length, indulge in some legalized gambling at one of San Diego's many nearby Indian casinos. Slots and tables games are in no short supply at places like Sycuan (5469 Casino Way, El Cajon) and Viejas (5000 Willows Rd, Alpine), which has recently opened a 48,000-square-foot expansion that includes the swanky new V Lounge aimed at attracting a younger, hipper crowd.
1-, 2-, and 3-Day Suggested Itineraries for Relaxing & Unwinding in San Diego
1-, 2-, and 3-Day Suggested Itineraries for Relaxing & Unwinding in San Diego
When you're visiting a town with such great weather, you just have to take advantage of its many outdoor activities. These itineraries will help you get into a relaxation mode.
1 day: San Diego is home to almost 100 golf courses, so you might as well take advantage of at least one while you're in town. One of the area's most prestigious courses is Torrey Pines (11480 N Torrey Pines Rd, La Jolla), which hosts PGA Tour big boys like Tiger Woods and Davis Love III when the Buick Invitational comes to down each year in January. Toast to a game well played with a glass of wine and five courses of excellent California cuisine via the "Mercy of the Chef" menu at Nine-Ten in La Jolla (910 Prospect St).
More affordable golfing and easier-to-book tee times can be had at the Mission Bay Golf Resort (2702 N Mission Bay Dr), one of the city's only night-lit courses. It also happens to be located less than a mile from understated Sushi Ota (4529 Mission Bay Dr), a strip-mall sushi restaurant roundly considered one of the best in town.
2 days: Spend a day working on your tan, without those telling tan lines, by lounging at clothing-optional Black's Beach in La Jolla (about 8.5 miles north of San Diego). It's a two-mile long, sandy strip as wide as 60 feet at the base of the cliffs up to 300 feet high. If you get tired of just sitting on the sand, you can take advantage of surfing, snorkeling, tide pooling near Mussel Rock, or swimming.
Since you're in La Jolla, head over to La Jolla Cove (1100 Coast Blvd), an ecologically protected area. The tiny beach, with its sand and extraordinary beauty, is a great place to watch harbor seals or take photos of plants and sea animals within caves, reefs, and kelp forests. More experienced divers can explore the submarine canyons.
When you get hungry, grab a table at Mobil Three-Star Top O' The Cove (1216 Prospect Pl), which overlooks the marina. Some favorites are the seared diver scallop appetizer with cream cheese mashed potatoes and roasted bananas in a Thai green curry sauce. After enjoying the fine food, you can sit back, watch the scenic cove, and try a Cuban cigar from their walk-in humidor.
3 days: It's no Napa or Sonoma, but San Diego does have its very own winemaking region in Temecula, which has dozens of wineries within an hour's drive of San Diego.
You can make up your own itinerary with stops at places like Frangipani Estate (39750 De Portola Rd), Thornton (32575 Rancho California Rd) and Wilson Creek (35960 Rancho California Rd), which makes an affordable almond champagne ideal for that sweet tooth. Or sign up with a company offering organized tours, complete with bus transportation to and from the wine country (handy for anyone that doesn't spit out those tasting samples like you're supposed to, and let's be honest, who does?).
Or make a night of it with a stay at the Inn at Churon (33233 Rancho California Rd). The Temecula Valley Balloon and Wine Festival, which features the somewhat dubious pairing of alcohol and flaming, flying wicker baskets -- er, hot air balloons -- takes place over a weekend in June.
Now you know about everything San Diego has to offer. It's time to pack up and hit the beaches!
©Publications International, Ltd.
ABOUT THE AUTHOR:
Maya Kroth's wanderlust has recently led her down dusty roads in rural Alabama in search of the South's best barbecue and through dimly lit corridors of West Coast rock clubs on a quest for good music. She currently lives and writes in La Jolla, California, where she prides herself on knowing the best places in town to get a dirty martini, a carne asada burrito, and a Brazilian wax (not necessarily at the same time).
Related Links
Aerospace Museum and Hall of Fame
Hotel Solamar
Hyatt Regency Islandia
Marriott San Diego Hotel and Marina
Omni Hotel San Diego
San Diego International Airport
University of California San Diego