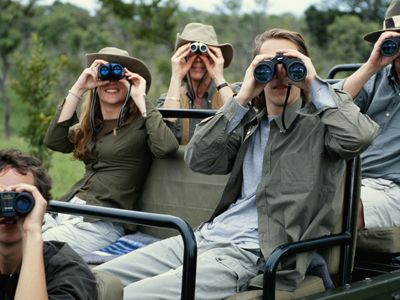 David De Lossy/Photodisc/Getty Images
If you're preparing to go on a safari, you'd better pack your binoculars. Come along and see what there is to see on a safari.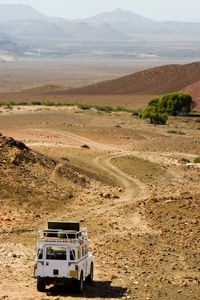 Jen Judge/Aurora/Getty Images
Safaris are all about exploring the exotic, but sometimes the road is hard, like here in the Namib Desert. But the face-to-face encounters with wildlife are worth the effort.
David De Lossy/Photodisc/Getty Images
These visitors are having an up-close visit with lions. Take an even closer view of lions having dinner in the next photo.
Dave Hamman/Gallo Images/Getty Images
This pride of lions feeds on a Zebra carcass in Botswana while the tourists sit just a few feet away in the 4x4. Of course, Africa isn't the only safari destination.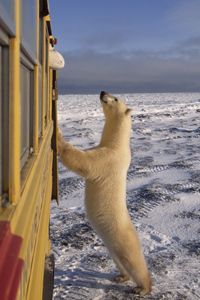 Paul Nicklen/National Geographic/Getty Images
Tundra buggies can take you deep into the Arctic. This curious polar bear investigates the vehicle while the tourists snap photos. You can also have more exposed travel with pack animals.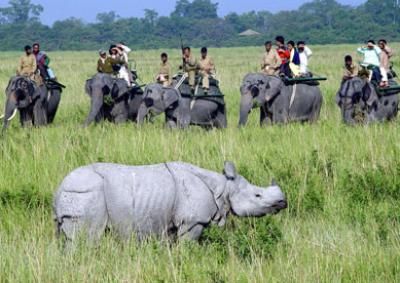 An elephant safari takes these tourists by a one-horned rhinoceros in Kaziranga National Park in northeastern India. Another benefit of elephant travel is that they are comfortable in the water.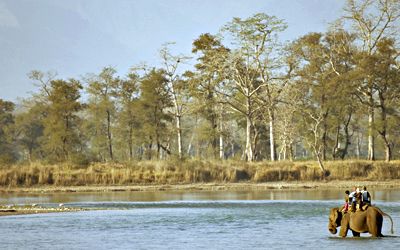 Don Smith/Robert Harding World Imagery/Getty Images
Who needs a boat? This elephant takes tourists across a river in Royal Chitwan National Park in Nepal. Camels are another popular way to get around.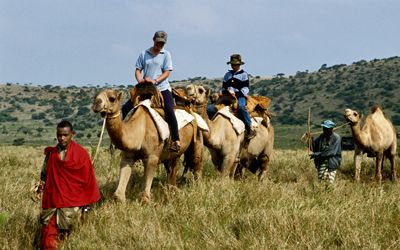 Tom Stoddart Archive/Contributor/Hulton Archive/Getty Images
This Massai guide leads tourists on camels through the bush in Kenya. And if you're tired of the ground-level view, you can always take a hot air balloon.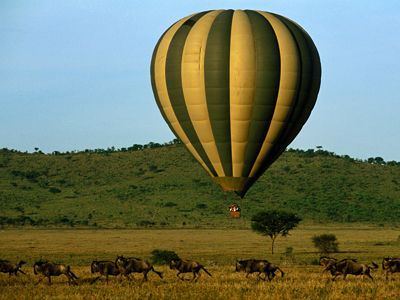 Anup Shah/Photodisc/Getty Images
The hot air balloon floats above a running herd of wildebeest in Serengeti National Park, Tanzania. Take a look from the basket in the next photo.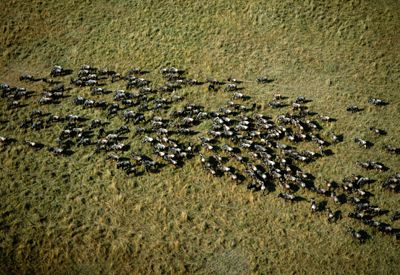 Anup Shah/Photodisc/Getty Images
This herd of wildebeest are migrating in Masai Mara, Kenya. A view from a hot air balloon is like nothing else, but boats are another popular way to get close to nature.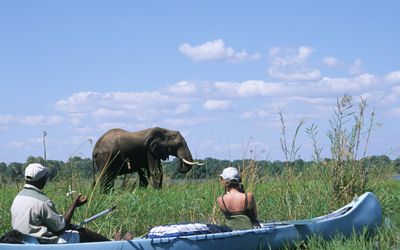 Fiona McIntosh/Gallo Images/Getty Images
This tourist and park ranger check out an elephant in Lower Zambezi National Park in Zambia. Some guides will even take you close to dangerous animals like hippos.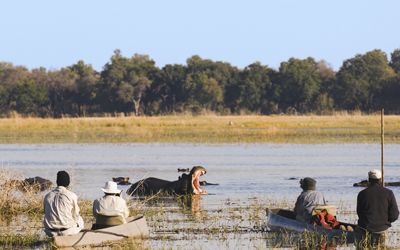 Daryl Balfour/Gallo Images/Getty Images
Though portly, hippos are among the most dangerous animals in Africa. By land, air or water, safari trips take you into the heart of nature. Learn more about safaris in How Safaris Work.