Rocky Mountain National Park
1000 Highway 36
Estes Park, CO 80517-8397
970-586-1206
Explore high country at the national park with the highest elevation of any other -- Rocky Mountain National Park in Colorado. Each year more than three million visitors flock to this spot, located just a couple of hours northwest of Denver. Whether you are an angler, a mountain climber, a day hiker, a photographer, or an artist, Rocky Mountain offers an incredibly diverse array of outdoor possibilities in the heart of the American West.
Entrance fees: $20/vehicle for 7 days or $10/individual for 7 days
Visitor centers: Beaver Meadows and Kawuneeche visitor centers are open daily except December 25. Fall River Visitor Center is open year-round on weekends.
Other services: Two museums and five campgrounds
Accommodations:
Longs Peak Campground. Open year-round. Some reservations are available. 800-365-CAMP.

Moraine Park Campground. Open year-round. Some reservations are available. 800-365-CAMP.

Timber Creek Campground. Open year-round. Some reservations are available. 800-365-CAMP.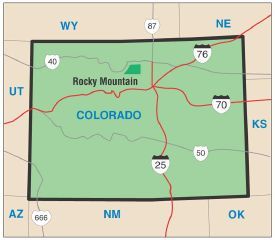 Visiting Rocky Mountain National Park
Much has changed about the world since pioneering writer and naturalist Isabella Byrd first climbed the 14,255-foot Long's Peak over a century ago. (Her book, A Lady's Life in the Rocky Mountains, is a must-read.) Thankfully, the magnificent peaks of Rocky Mountain National Park still remain unchanged.
Now, as it was then, this is high country, with sweeping vistas of a jagged skyline crowned by towering summits. Snow lingers year-round, and the highest cirques preserve remnants of glaciers left over from the last ice age.
Each year the park's visitors find such wonders as Glacier Gorge, where the mountain scenery rivals that of Switzerland; Trail Ridge Road, the highest continuous road in North America; and the hauntingly beautiful Kawuneeche Valley.
The park features 78 peaks that are more than 12,000 feet high; 20 of them reach above 13,000 feet. Contrasting with this jagged terrain, meadows come alive in spring and summer as wildflowers poke their way through the tundra. The park makes accessible a vast wonderland of alpine terrain, towering peaks, high mountain tarns, and glacial moraines.
In the southern Rockies, the summers are fairly long, the valleys are broad and inviting, and the mountains are crisscrossed by trails and roads left by miners a century ago, which makes these mountains more affable than other American ranges.
Read the next section to find out about more must-see spots in Rocky Mountain National Park, as well as how to take advantage of the many recreational activities the park has to offer.