With its ample parks and rivers, Portland is like a favorite green jacket, laced up with the ten bridges that crisscross the Willamette River. The many bridges, with their oft-confusing cat's cradle of on-ramps and off-ramps, may be a challenge to visitors, but they link the east to the west, providing easy access to the diverse parks, recreation, shopping, and culture.
In Portland, there's not much attention to what's proper or "in" -- but civility and courtesy rank high in a town that lives life on a human scale. The pace may be slower than in larger towns, but along with the relaxed attitude goes a keen appreciation for all the good things in life: good food, good drink, good books, and good fun.
A regular winner of "best places" polls, this environmentally conscious town has become a mecca for city planners trying to emulate its open and friendly feel. But, as the locals say, it's a Portland thing, and therefore can't be easily replicated anywhere else.
The Best of Portland
There's always something happening in Portland. Festivals celebrating roses, restaurants, beer, and even the blues fill downtown's Governor Tom McCall Waterfront Park with people all summer long.
At Pioneer Courthouse Square, known as the "living room" of the city, there are ethnic festivals, lunchtime concerts, sandcastle contests, and chilly winter beer celebrations held throughout the year. Visitors will also find parades, parties -- really any excuse for Portlanders to get together.
The restaurant scene is always buzzing, occasionally generating enough talk to land another great Portland chef on the Food Network or in Gourmet magazine. New restaurants pop up all the time, often in the most unexpected places.
You never know what neighborhood will be the next hot spot, attracting visitors with great new restaurants and wine bars, fun jazz clubs, and lively street fairs.
Portland has its sophisticated culture, with the Oregon Symphony, the Oregon Ballet, the Portland Opera, and several thriving theater companies. But there's also the fun and funky side of the city, with such oddball attractions as the open-all-night Voodoo Doughnut and Velveteria, the museum of velvet paintings.
And why do Portlanders get so pumped every time a new brewpub opens? It's because "We're No. 1!" Portland still houses more breweries within city limits than any city in the world. Eat your heart out, Munich!
Fast Facts & Info
Geography and landscape: Portland is a city of hills and rivers, within view of several snowcapped mountains that lie to the east as part of the Cascade Range. Just a 90-minute drive away, 11,235-foot Mount Hood is the closest.
The Willamette River, flowing to the north, cuts through the middle of town on its way to the Columbia River, which, on its way west to the Pacific Ocean, forms the border between Oregon and Washington. Cannon Beach and Seaside are the towns on the Pacific Ocean closest to Portland, both about a 90-minute drive away.
The east side of Portland is flat, with the exception of an inactive volcano, Mount Tabor, and various buttes that dot the landscape near the eastern city limits. West of downtown, a ridge known as the West Hills cradles the city center and, from the vantage point of attractions such as the International Rose Test Gardens and Pittock Mansion, provides the best city view.
General orientation: Portland is divided into five sections: Southwest, Northwest, Southeast, Northeast, and North. The Willamette River divides the city between west and east; Burnside Street, which crosses the river on the Burnside Bridge, divides the city into north and south. North Portland extends along the east bank of the Willamette River as far north as the Columbia River.
In the Northwest section, beginning with Burnside, street names run north in alphabetical order -- Burnside, Couch, Davis, Everett, and so on. Fun fact: Some of the street names (e.g., Flanders, Lovejoy, Quimby) were used by Portland native Matt Groening for characters in his TV show, The Simpsons. Blocks in Portland are relatively short. Usually, 20 blocks equal one mile.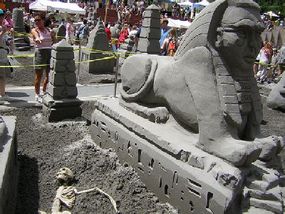 ©2006 Tim Jarrett Portland's sandcastle contest is quite a sight to behold.Don't miss it if you're in town during the event.
Safety: Portland is generally safe, and the city tries to keep it that way, with mounted police and bicycle patrols augmenting the usual police presence, and "i" (information) Sidewalk Ambassadors strolling downtown streets in their green uniforms, ready to answer any questions. As in any other city, be cautious when out after dark.
Be aware that you will see panhandlers downtown, at freeway exits, and in other parts of the city. Social services are available for people seeking help, so giving money to panhandlers is discouraged.
Population: Portland's population is 556,370, and the population of the metropolitan area is about 2 million.
Weather: Portland has a reputation of being waterlogged from rain, but summer visitors will be surprised by the perfect weather. Summers are usually sunny and mild, with very little humidity. Spring is lovely, with abundant and colorful new growth, and the leaves turning color for fall is beautiful as well.
Average temperatures are 62 degrees Fahrenheit in spring, 78 degrees Fahrenheit in summer, 64 degrees Fahrenheit in fall, and 48 degrees Fahrenheit in winter.
The famous rain can make winter a bit dreary, but if there's snow or ice, it rarely lasts more than a day. The average annual rainfall, 36.3 inches, is actually less than in Atlanta, Houston, and Seattle!
Portland is really best seen on foot, but the city has an excellent public transportation system for when your dogs are tired. On the next page, we'll give you the ins and outs of Portland transportation.