Phoenix rises from the floor of the northern tip of the great Sonoran Desert and offers much more than just cacti. Once a sleepy western town, Phoenix is now one of America's fastest-growing urban centers, with a melding of 22 communities.
"The Valley of the Sun" as it's popularly known, or simply "The Valley," boasts more than 325 days of sunshine each year. Azure skies, warm temperatures, rugged mountains, endless outdoor activities, world-class golf, fine dining, and numerous Mobil Five-Star mega-resorts lure 13 million travelers to The Valley annually. More than 20 major air carriers serve Sky Harbor International Airport, which is located within 10 minutes of the heart of downtown Phoenix.
The Best of Phoenix
The flavor of some cities can be described in single "indoor" words such as museums, shopping, dining, theater, and the arts. Phoenix, on the other hand, has a smattering of each and is best described with "outdoor" words like golf, sports, relaxing, hiking, horseback riding, and generally enjoying the natural beauty of Arizona.
Phoenix is a new city as cities go, and with it comes a young, upbeat attitude and a touch of sass that's evident in the lifestyle. It's a vibrant city that's bursting at the seams.
Modern-day Phoenix lies just about in the center of Arizona. Once outside The Valley, no matter in which direction you head, you'll find the flavorings of the Old West. And since Mexican and Spanish culture has been part of Arizona and the Sonoran Desert for centuries, you'll also find Mexican art, architecture, entertainment, and eateries, too.
What's the big attraction? Millions of visitors each year will tell you it's the weather. Though it's hot in the summer, it is indeed a "dry" heat with humidity rarely climbing above the single digit mark. There are well over 325 days of sunshine each year and little rain. That means you can almost predict that you'll not be stuck indoors during your visit.
Resorts, spas, relaxation, and golf are favorite pastimes, and that all boils down to pure enjoyment. The resorts are some of the world's finest. The dining is modern, cutting edge, and fun. Shopping runs the gamut from funky souvenirs to world-class fashion and art.
Is there a best time to visit? Lots of folks are perennial "snow birds" arriving at the first hint of frost in the north and departing as soon as the first robin is sighted. No matter when you visit, there's plenty to enjoy whether you're an active family, a single seeking nightlife, or someone who just can't sit still.
Fast Facts & Info
Geography & landscape: Phoenix resembles a large gold miner's pan: flat in the middle, surrounded by mountains on three sides, with 22 contiguous communities bordering downtown Phoenix. Those wide-open spaces are disappearing rapidly, making way for the new residents flocking to the area. In the past decade, Phoenix has expanded in every direction right into the hills and mountains that attempt to physically constrain the growth -- somewhat.
Maricopa County covers 9,127 square miles. It's a young city so don't expect old town neighborhoods, markets, and genuine ethnic shopping. It's become upscale, prosperous, and hip. Communities such as Tempe, home to Arizona State University, and upscale Scottsdale have their own personalities. Most of the well-known planned retirement communities, such as Sun City, are located at the western end of The Valley.
Since Phoenix is located near the very heart of Arizona, it would be a shame to miss the great opportunities to explore the rest of the state, including the Grand Canyon, Tucson, Tombstone, Flagstaff, Lake Powell, Prescott, Jerome, Payson, the Superstition Mountains, Sedona, Canyon de Chelly, and the vast Navajo Reservation, to name but a few.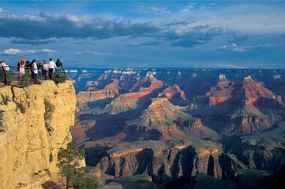 General orientation: Phoenix is divided into two east-west halves at Central Avenue, which runs north and south through the city. West of Central Avenue are the "Avenues," and the "West Valley;" East of Central Avenue are the "Streets" and the "East Valley." Each block further east or west of Central is one number higher. For example 7th Street is seven blocks east of Central Avenue, while 16th Avenue is 16 blocks west of Central Avenue.
In downtown Phoenix, the blocks are measured numerically from Washington Street -- thus, if you're at 3200 North 40th St, you are 32 blocks north of Washington and 40 blocks east of Central Avenue. If it helps, the city center is Central Avenue and Washington Street.
A word of caution is in order though; as you journey into surrounding communities, you'll find that there is often no continuity between street numbers within those communities and those numbers and distances that apply in Phoenix. It will be helpful if you have a map, which you can pick up at the tourist kiosk at the airport.
Safety: As in any city of this size, it's wise to stay in well-populated areas, especially at night. Most of the neighboring suburbs are pretty free of street crimes. Generally, you can feel at ease after dark where there are lots of people at clubs, shopping areas, and on the streets. Obviously, the resorts all have security personnel on duty around the clock.
Many folks visiting the desert for the first time underestimate the danger of dehydration. It's important to drink plenty of water -- up to a gallon a day in summer months. And keep a lookout for rattlesnakes if you're walking in desert areas. Some folks have lived in the region for years and have never seen one, but don't assume the same will happen to you. If you're hiking, be careful, wear high boots, and stay on trails as much as possible.
Population: The Phoenix metro area is one of the fastest growing in the United States and is recognized as the fifth largest city in the nation. The U.S. Census Bureau estimates the current metro population at nearly 4 million and growing rapidly. Between 1990 and 2000, the population in The Valley increased 45 percent.
Climate/weather: A desert climate with an altitude of just over 1,100 feet defines the warm and sunny weather in Phoenix. The sun shines brightly about 325 days each year, and about 90 percent of daylight hours are without significant clouds.
The 100 degree Fahrenheit temperatures often begin in early to mid-May, and the regional monsoons begin in mid-July and typically last until the end of August. The monsoons sweep up from Mexico bringing rain, increased humidity, thunderstorms, lightning, and sometimes dust storms. When it occurs, the area can receive two to three inches of rain in a short time.
Even though summer temps are hot, commonly above 100 degrees for weeks on end, the humidity is often measured in single digits, so Phoenix remains more pleasant than some warm cities with higher humidity. Average rainfall is just over 7.5 inches per year.
The yearly average temperature is 72 degrees Fahrenheit. Dress is universally casual, and you'll rarely need more than a light jacket or sweater November through March. April through July the desert comes alive with blooming cacti.
Before you visit Phoenix, take a look at the next page for tips on the best ways to get around this sunny city.