Suggested Itineraries for Visiting Philadelphia
You've just read about the sights, sounds, tastes, and events that draw visitors to Philadelphia -- from historic landmarks like the Liberty Bell to the city's vibrant nightlife. But how can you fit everything into your visit? We've provided some suggested itineraries, divided into different areas of interest, that will help you hit the hightlights you most want to see.
1-, 2-, and 3-Day Suggested Itineraries for Philadelphia's Special Events & Attractions
1-, 2-, and 3-Day Suggested Itineraries for Philadelphia's Special Events & Attractions
A seemingly endless array of special events and attractions await you in Philadelphia. Here are some must-see suggestions:
1 day: With just one day in Philadelphia, make history your theme. Use the tremendous resources at the Independence Visitor Center (6th and Market Sts) to plan your whirlwind day.
Set the tone with quick visits to the Liberty Bell (Market and 6th Sts) and Independence Hall (5th and Chesnut Sts), just across the street in Independence Square where Americans first heard the Declaration of Independence.
Just east of the Liberty Bell, cross 5th Street and take a break in The Bourse (S 5th St), the 19th-century Philadelphia Stock Exchange, now restored and transformed into a small shopping mall and food court.
From here, take your pick of historic homes to browse: In Ben Franklin's Franklin Court (Chestnut St between 3rd and 4th sts), you'll see vivid displays depicting Ben's careers as a foreign diplomat, publisher, inventor, and statesman.
At the tiny, 250-year-old Betsy Ross House (239 Arch St), you're sure to learn much you didn't know about this working mother and entrepreneur. And you must stroll down Elfreth's Alley (126 Elfreth's Alley), the country's oldest street, at 2nd Street between Arch and Race streets.
After dark, take the high-tech Lights of Liberty interactive walking tour; you'll think it's 1776 again. Pick up headsets at the PECO Energy Center next to Independence Hall (5th and Chesnuts sts).
Have dinner that night at Mobil's Three-Star Moshulu Restaurant and Bar (401 S Columbus Blvd), a restored tall ship at Penn's Landing. The place is know for its seafood, so try the Jail Island Salmon with lump crabmeat, bail risotto cake, and roasted white corn.
2 days: It's tempting to see everything in the Franklin Institute (20th St and Benjamin Franklin Pkwy), where you can "watch yourself age" on a computer or play with synthesizers in the Jamming Room.
Just south is the Please Touch Museum (210 N 21st St), where younger kids can be television stars, operate the cameras, or frolic in a Maurice Sendak setting. Between the two museums is the unique CoreStates Science Park, where the family can relax, "shop" at a grocery, or make "rain" from a special cloud.
When it's playground time, try little Delancey Park (Delancey St between 3rd and 4th), with plenty of kid-friendly sculptures to climb. A good dinner choice with kids is Planet Hoagie (1211 Walnut St), with 60 different hoagies on its menu. Try the Chicken Corleone with roasted red peppers.
3 days: The "real Philly" is its neighborhoods, and much of Philadelphia's appeal is that people actually reside in every corner of the city, even sections better known as shopping or financial districts.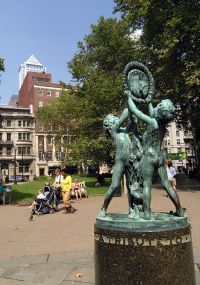 ©2006 Rittenhouse Square Bed & Breakfast Rittenhouse Square, in Philadelphia's"elegant hip" area, is a 1930s parkthat is surrounded by exclusiveshops and restaurants.
Center City is anchored on the west by Rittenhouse Square (1800 Walnut St), a beautifully maintained park built in the 1930s and surrounded by mansions and exclusive shops and restaurants known as Philly's "elegant hip" area.
On the eastern border, along the Delaware River, sit Old City -- where the city began, stomping grounds of the Founding Fathers, in recent years reclaimed by 20-somethings for hot new restaurants and clubs -- and Society Hill area (7th and Lombard sts), a residential district for the city's first (and many current) elite residents.
South Philly is the colorful Italian quarter, home to the boisterous Italian Market and where you'll find the most exquisite cannoli on the planet. South Street, "where all the hippies meet," was Philly's version of Haight-Ashbury in the 1960s and still is the funkiest area with New Age shops happily co-existing alongside tattoo parlors, bars, cafes, art galleries and artisan shops.
In adjacent Queen Village, some of the city's best cafes and bistros are tucked in between old homes. For a more "small-town Main Street" flavor, Manayunk and Chestnut Hill both offer sidewalk cafes, boutiques, galleries and great strolling areas.
When in Manayunk, stop for a taste of the "Big Easy" at Bourbon Blue (2 Rector St), just off Main Street. One of its best dishes is the blackened catfish, then try powdered-sugary beignets for dessert.
1-, 2-, and 3-Day Suggested Itineraries for Philadelphia's Arts & Culture
1-, 2-, and 3-Day Suggested Itineraries for Philadelphia's Arts & Culture
The thriving arts-and-culture scene in Philadelphia keeps visitors extremely busy. Here are a few sightseeing itineraries for you to consider:
1 day: You don't want to overlook great literature as you take in Philly's arts scene, and Poe was one of the best. The simply furnished Edgar Allan Poe National Historic Site (532 N 7th St) was Poe's home for two years, 1843-44; some of his best work, including "The Black Cat" and "The Tell-Tale Heart," was published when he lived here.
Rare manuscripts and first editions are archived in the Rosenbach Museum and Library, housed in a graceful Society Hill townhouse (2010 Delancey Pl), including the original manuscript of Ulysses as part of a remarkable James Joyce collection. Herman Melville's first editions are displayed in Melville's own bookcase, and Maurice Sendak drawings are among some 270,000 documents and 30,000 rare books housed here. You can always find old manuscripts and publishing artifacts displayed at the Free Library of Philadelphia (1901 Vine St), including early American hornbooks, early printings, and about 130,000 local maps.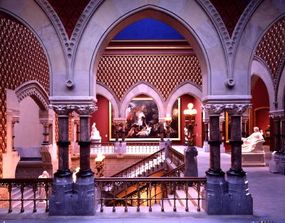 ©2006 Rick Echelmeyer The Pennsylvania Academy of Fine Arts is one of the city's many arts schools.
And when your eyes are tired of squinting, stop at a contemporary art exhibit hosted by one of Philadelphia's major art schools: Pennsylvania Academy of Fine Arts (118-128 N Broad St), Moore College of Art (20th St and Benjamin Franklin Pkwy), Temple University's Tyler School of Art (1801 N Broad St) and the University of the Arts (320 S Broad St). For a creative meal, try another classic dish at The Restaurant School (4207 Walnut St), where cooking students receive mentoring from Philadelphia's top chefs. Of the four restaurants, try the constantly changing prix fixe menu in the "Great Chefs of Philadelphia" atrium restaurant.
2 days: While you're roaming the city watching performance art, look for what Philadelphians call their "Calder family public art triple-play": The famous Alexander Calder mobile hangs at one end of the Benjamin Franklin Parkway in the Philadelphia Museum of Art's Great Stair Hall (26th St and Benjamin Franklin Parkway). A short walk down the Parkway brings you to dad Alexander Stirling Calder's Swann Fountain (Logan Square, 20th St and Benjamin Franklin Pkwy). And overseeing both atop City Hall is granddad Alexander Milne Calder's statue of city founder William Penn (Broad and Market Sts).
If you're feeling artistic yourself, drive down the Schuylkill (Interstate 76 West), exit at Kelly Drive and find a spot where you can sit and draw Boathouse Row (near Kelly Drive and 26th St), the much-photographed home of the area's most elite rowing clubs. By day, the boat houses make a colorful panorama against the water, but they're no less photogenic at night, trimmed in tiny lights that create a shimmering reflection on the river.
For dinner, try the Fazzoletti (pasta) with duck at Mobil Three-Star Vetri (1312 Spruce St), whose owner is a good friend of TV chef Mario Batali.
3 days: You haven't seen art in Philadelphia until you've been to the provocative Institute of Contemporary Art (118 S 36th St). Two years after the museum's opening in 1965, Andy Warhol's art -- his first museum show -- shocked the city's arts patrons. ICA's Robert Mapplethorpe photography exhibit in 1988 instigated a national debate over arts funding -- you never know what the next installation will spark.
Old City is home to a bevy of small, private galleries, and they're worth at least an afternoon of browsing. The Eyes Gallery (402 South St) specializes in colorful Latin American folk art -- santos, retablos, and hand-hewn sterling silver jewelry are popular items. Locks Gallery (600 Washington Sq South) couldn't be more different from The Eyes; although many pieces are from name artists like David Hockney and Francesco Clemente, you can always find more affordable choices, too. The city's oldest gallery, open since 1865, is Newman Galleries (1625 Walnut St), dealing in Bucks County artists and traditional painters, but don't be intimidated by the gallery's status; signed, limited-edition prints start as low as $200.
Even many Philadelphians are unaware that one of the city's largest art galleries is City Hall (Broad & Market Sts), with more than 250 sculptures by Alexander Milne Calder alone in its permanent collection. It's also a good place for browsing with no pressure to buy!
Digest the day's art with the signature mushroom soup at Friday Saturday Sunday (261 S 21st St), then dive into their Chile-rubbed strip steak and have a bottle of vino; the restaurant sells all wines at just $10 above cost. And don't be misled by the name because this restaurant is open every day of the week.
Architecture & Landmarks
Architecture & Landmarks
History is the name of the game in Philadelphia, so tourists flock to the city to see its architecture and landmarks. Here's some help in planning what to see: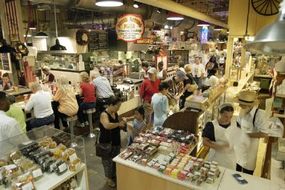 ©2006 Larry Laszlo Philadelphia's Reading Terminal Market is a"gastronomic bazaar" with hundreds of vendors.
1 day: Start with a hearty breakfast at the Down Home Diner in Reading Terminal Market (12th and Arch Sts), the massive "gastronomic bazaar" that once housed 800 purveyors of meats, produce, and baked goods. (Its refrigerator alone consisted of 52 separate, temperature-controlled rooms in 1892!) Today, the brick structure, now connected to the Convention Center, still is Philly's primary farmer's market. You can find goodies from Amish cheeses to European breads, fresh meats, and picked-this-morning produce.
Philadelphia's Masonic Temple (1 N Broad St) gives visitors a lot of architecture in one place. Seven large halls were designed to exhibit the world's "ideal" styles: Renaissance, Ionic, Oriental, Corinthian, Gothic, Egyptian, and Norman. It's one of the country's largest Masonic halls and among the most prominent because it archives letters and emblems of its most distinguished members -- George Washington and many other Founding Fathers.
In the afternoon, walk to Carpenters' Hall (320 Chestnut St), built in 1773 as the guildhall for the city's carpenters who, in spite of Philly's prolific stone and brick construction, had plenty of work building steeples, furnishings, and such features as doors and window frames. The carpenters wanted to showcase their talents with their hall, a fine example of Georgian-style architecture, built of 13-inch-thick brick walls with 10-inch cutouts at the corners and a "rubble foundation." Important tenants have included Ben Franklin's Library Company -- America's first lending library -- and the First Continental Congress.
After so much discourse with the Founding Fathers, you'll want a steak for dinner, at The Prime Rib (1701 Locust St), known for what else? Their prime ribs. If red meat isn't your thing, try their award-winning crab cakes.
2 days: Spend a day with Philly's upper crust, starting with the Powel House in Old City (244 S 3rd St), which is named after a colonial dignitary. Chances are if you were a dignitary in those days, you attended one of Mayor Samuel Powel's "sinful dinners," as John Adams called them, at this 1765 mansion. Saved from demolition by a preservation society, the house shows the affluent life in such restored spaces as the 18th-century garden and the huge upstairs ballroom featuring a 1790 crystal chandelier.
The Physick House (321 S 4th St), one-time residence of Philip Syng Physick, father of American surgery, is another gracious mansion, this one was built in the 1780s by a wine importer. It's the last remaining freestanding Federal townhouse in Society Hill and reflects the clean tastes of the physician who once treated Dolly Madison, and told President Andrew Jackson to quit smoking. Don't miss the 19th-century garden with its period plantings, grotto, and winding paths.
In the afternoon, drive to Fairmount Park (4231 N Concourse Dr), the 9,200-acre park system starting at the Benjamin Franklin Parkway and continuing northeast to see the 29 Colonial mansions sprinkling the landscape; most are overseen by the Museum of Art. If you plan to tour any, four are generally regarded as most beautiful: Lemon Hill Mansion (Kelly Drive and Sedgeley Drive) is full of curves in its generous archways, huge windows, and sumptuous oval parlors.
Mount Pleasant Manion (located in Fairmount Park) was once owned by Benedict Arnold. Its carved woodwork and ornate inlays prompted John Adams to describe it as, "the most elegant seat in Pennsylvania." Strawberry Mansion is Fairmount Park's largest home, featuring a Federal-style main section and Greek Revival wings. And Woodford Mansion, the Tory headquarters during their occupation of Philadelphia in 1779, is known for its collection of Colonial housewares.
Let Buddha calm you during dinner at Mobil Three-Star Buddakan (325 Chestnut St), where the dining hall is graced by a 10-foot Buddha and a soothing water-wall. Try the pan-seared Chilean sea bass with butternut squash and sake truffle jus.
3 days: Given the fire hazards of early homes, it's a miracle that any Colonial Row Houses still survives in the city. Several streets are particularly good for seeing them up-close, including Walnut Street between 3rd and 4th Streets. The old shutters, paneled doors, brick or stone demarcations between floors, and fire-insurance markers -- helping firemen identify homes with paid insurance -- distinguish the houses.
You'll also enjoy the newer, stone homes on the tree-named streets west of Broad Street. The best house-spotting, though, is on tiny Delancey Street, where almost all display the sure giveaway that it's an authentic historic house -- i.e., the boot scraper outside the front door. You'll also note that in Old City, most homes sport a plaque noting that it's a designated Historical Place.
For an affordable but delicious dinner, head to Beau Monde (624 S 6th St) for a savory buckwheat crepe. One of the best is the scallop crepe with chives and seafood sauce.
1-, 2-, and 3-Day Suggested Itineraries for Philadelphia's Shopping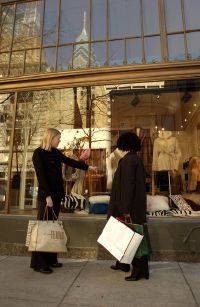 ©2006 Anthony Sinagoga Philadelphia's shopping opportunities range from funky and hip to elegant.
Shopping in Philadelphia encompasses all kinds of goods, from the funky and unusual in the South Street District to antiques, jewelry, and high-end housewares. Here are a few shopping itineraries you'll want to consider:
1 day: What finer way to spend the morning than browsing antiques? Philly's Antique Row, the stretch of Pine Street from 9th to 12th, is small enough to knock off in one morning. About 25 antiques stores line the street; a favorite is M. Finkel and Daughters (936 Pine St), specializing in fine folk art and antique needlework samplers.
Not all shops along Pine sell antiques; you'll also find several quality handicrafts shops and a fascinating handmade-linen shop called Linu (1036 Pine St). Look here for rare linens from Latvia, where the owner once lived.
It's a short walk then to South Street (from the Center City area, it's five blocks south of Market Street), a funky, six-block corridor of shops, bars, and restaurants where you'll find jewelry, antiques, books, clothing, music, and unmentionables -- but don't expect to shop here before noon.
If there's a book or poster you haven't been able to find, chances are you'll find it in Book Trader (510 South St). Shop for unusual jewelry and home accessories at the Eyes Gallery (402 South St) and Mineralistic (319 South St,). The most famous shop is Zipperhead (407 South St), where leather rules.
Mobil's Two-Star Cafe Spice (35 S 2nd St) is a good choice for dinner in this neighborhood, with its large portions and an ambience more elegant than the prices. Try the Lamb Vindaloo, a spicy lamb dish cooked with potatoes.
2 days: It's easy to spend an entire day shopping the Rittenhouse Square District (1800 Walnut St, roughly defined by Broad, Spruce, 20th and Market Streets). Generally, the shops along Chestnut are discount stores, and those along Walnut are more upscale retail shops.
One little-known treasure is the AIA Bookstore and Design Center (117 S 17th), a book and design store selling books, unusual home accessories, jewelry, and stationery. At 17th and Chestnut is deep-deep-discount Daffy's (1700 Chestnut St), where prices are up to 75 percent off on numerous items ranging from house wares to high-end wardrobe staples.
Along fashionable Walnut Street are stores such as Anthropologie (1801 Walnut St), Born Yesterday (1901 Walnut St) for upscale baby gifts; Knit Wit (1721 Walnut St) for women's designer fashions; and Lagos (1735 Walnut St), where Oprah is said to shop for gems.
3 days: The one-hour drive to New Hope in Bucks County is one of the prettiest drives in the state, following State Route 32 along the Delaware River. One of New Hope's strongest draws (and that of Lambertville, N.J., just across the bridge in New Hope's little downtown) is antiques. Some good choices are A Stage in Time Antiques (12 W Bridge St), selling arts and crafts furnishings (think Stickley), as well as accent pieces inspired by the Frank Lloyd Wright Prairie School; and Cockamamie's (6 W Bridge St), specializing in Art Deco lighting.
While you're there, check out New Hope's eclectic assemblage of gift shops, too, including Bow Wow (102C S Main St), where you can buy gifts "in more than 200 breeds" of dogs -- mugs, throws, ornaments, cookies -- dogs everywhere. A different kind of place is the Medieval Gallery (86 S Main St), selling all things medieval such as armour, jewelry, home decor, and "alchemy Gothic." Craving normalcy? Stop into the Jonathan Rice Collection (102B S Main St) for luxury American- and European-designed jewelry and gifts.
A real Bucks County classic is Marsha Brown's, a Creole-and-steak eatery located in a restored stone church (15 S Main St, New Hope), serving Marsha's family recipes. Try the Bourbon Street Sauteed Catfish for a real Southern treat.
1-, 2-, and 3-Day Suggested Itineraries for Philadelphia's Nightlife & Entertainment
1-, 2-, and 3-Day Suggested Itineraries for Philadelphia's Nightlife & Entertainment
Philadelphia's BYOB restaurants, dance clubs, and jazz scene can keep you entertained no matter how long your stay in the city. Here are a few venues you won't want to miss:
1 day: If you're in Philadelphia, you're in a great jazz town; John Coltrane, favorite son Grover Washington Jr., and other jazz legends all played here. Start at Mobil Three-Star Zanzibar Blue (200 S Broad St), downstairs in the Bellevue, where the surroundings are elegant and the big names play.
If you don't feel like dressing up, head for the smoky, always-busy Ortlieb's Jazzhaus (847 N 3rd St) in Northern Liberties, housed in a former brewery and charging no cover Sunday to Thursday.
Wrap up the evening with some blues at Warmdaddy's (Front and Market Sts), featuring performers the caliber of Koko Taylor and Murali Coryell. Especially enjoyable is Monday night "gumbo" of comedy, music, and speaking.
If you enjoy oysters, no place does them better than Sansom Street Oyster House (1516 Sansom St), a moderately priced spot with specials on the chalkboard and shuckers shucking fresh oysters behind the bar at lunchtime. If you're not crazy about oysters, there's a full seafood menu as well; the Grilled Marinated Bluefish is quite tasty.
2 days: On any given night, a lot of business travelers are visiting Philly, and they love their lounges. One of the finest is Alma de Cuba (1623 Walnut St), whose first-floor lounge is a sultry, alluring spot serving wonderful tapas.
Another interesting place is the Denim Lounge (1712 Walnut St), whose rooms are all decorated in a different style -- but all with low, sexy lighting.
If you want to see and be seen, get thee to Mobil Three-Star Le Bar Lyonnais (1523 Walnut St), downstairs from the renowned Mobil Five-Star French restaurant Le Bec-Fin. The celebrated owner, Georges Perrier, usually makes an appearance.
The best celebrity-spotting, though, happens at 32 Degrees (16 S 2nd St). But you'll probably have to indulge in the high-priced "bottle service" if you want to rub elbows with pro athletes and rock stars here.
It's already a dress-up night, so have dinner at the fabulous Mobil Four-Star Lacroix At The Rittenhouse Hotel (210 W Rittenhouse Square). Diners choose several items from a menu of interchangeable courses. Try the Young Rabbit Fricassee with creamed carrots and "pillow pastry."
3 days: Philly is a down-and-dirty city at heart, so don't leave without hitting some good bars and brewpubs. For Guinness fans, Fado (1500 Locust St) is the place for good Irish and European draft beers, and on Tuesdays and Thursdays, live Irish music.
If you're staying near the Convention Center, Independence Brewpub at the Terminal (1150 Filbert St) will be just a short walk, and they're open until 2 am for fresh-brewed beer and munchies.
Monk's Cafe (274 S 16th St) is a small brewpub, but it also imports kegs of Belgian ales.
Popular with locals is the Nodding Head Brewery and Restaurant (1516 Sansom St), and you can always choose between a light ale, an amber ale, and a dark porter.
A good place to down some chow before sampling the pubs is Marra's in South Philly (1734 E Passyunk Ave), the oldest restaurant in the neighborhood. All things Italian rule the menu: if it's Friday, the squid is delicious.
1-, 2-, and 3-Day Suggested Itineraries for Relaxing & Unwinding in Philadelphia
1-, 2-, and 3-Day Suggested Itineraries for Relaxing & Unwinding in Philadelphia
Philadelphia is a great place for visitors to kick back and enjoy life's simple pleasures, such as good food, a nice spa treatment, or a stroll in the park. Here are some ways to plan your time if you're looking to relax and unwind:
1 day: If it's Sunday, start with a long, leisurely brunch at the Mobil Three-Star Fountain Restaurant (Mobil Four-Star Four Seasons Hotel, 1 Logan Square), chosen Philly's "Top Table" by Gourmet magazine. You won't regret the splurge.
Then take a 10-minute walk to Rittenhouse Square (1800 Walnut St), find a comfy park bench in the shade, and kick back for some of the best people-watching in the city: rich society matrons walking their poodles, backpackers relaxing, and couples snuggling or quarreling.
For an even more serene setting, visit the Japanese Exhibition House and Gardens in Fairmount Park (4231 N Concourse Dr), a typical 17th-century Japanese scholar's home with walls of paper and a garden, pond, and bridge.
If you crave even more silence, go north of the park to Wissahickon and Pennsylvania Creeks, but keep in mind you'll have to park your car and walk, or ride a bicycle. The primeval trees block all city noise, even though it's within the city limits. Keep walking and eventually you'll come to the only covered bridge remaining in an American city.
Keeping it casual, have dinner at the New Deck Tavern (3408 Sansom St) in University City. It's a comfortable neighborhood hangout. The soups are meals in themselves, but heartier appetites might want the Shepherd's Pie.
2 days: Bikers and bladers visiting the city stop at Drive Sports at the edge of Fairmount Park, the southernmost Boathouse Row building (2601 Pennsylvania Ave) to rent their bikes and rollerblades. There are no better paths than those along the Schuylkill on Kelly Drive.
If you'd rather be on foot, Philadelphia's municipal golf courses are renowned for their challenges and beauty. The John F. Byrne Club Golf Course (9500 Leon St) is an 18-hole, par-67 public course with elevation and rolling fairways designed by Alex Findlay. Make sure to bring an extra ball or two in your bag prior to teeing off because water hazards come into play on six holes. Karakung Golf Course (7200 Lansdowne Ave), adjacent to Cobbs Creek, has is an 18-hole, par-71 public course with terrain changes and water hazards coming into play on at least eight holes.
Keep relaxing at Mobil Two-Star Zocalo (36th St and Lancaster Ave), serving authentic contemporary Mexican dishes. In summer, ask to sit on the back deck and enjoy some Cochinita-pulled pork in a citrus reduction with corn tortillas and red rice.
3 days: If unwinding means more vigorous exercise to you, try one of the 115 tennis courts in Fairmount Park -- but call first (215-686-0152) for a tourist's permit. Joggers, too, will find all the beautiful trails they need in Fairmount Park, including an 8.25-mile loop starting in front of the Museum of Art. Hikers will appreciate the park's trails and dirt roads. If an indoor workout is called for, the Sporting Club (220 S Broad St) sells day passes to guests of most hotels.
If all that moving around wears you out, step into the Curtis Center (601 Walnut St) and allow the magnificent Favrile glass mosaic, The Dream Garden, to energize you. The "hidden" artwork was assembled by Louis Comfort Tiffany in 1916 and was inspired by a Maxfield Parrish painting.
Somehow, a good workout calls for a tangy meal in Chinatown. Sang Kee Peking Duck House (238 N 9th St) is famous for its Peking duck, but you can also try the "Happy Family Bean Curd" with shrimp, pork, chicken, squid, scallops, tofu, and veggies.
That's just a small sampling of the many ways you fill your days while visiting Philadelphia. With its shopping, fine dining, nightlife, and outdoor activities, Philadelphia has much to offer in addition to its historic landmarks.
© Publications International, Ltd.
Related Links
Annenberg Center for the Performing Arts
Edgar Allan Poe National Historic Site
Fairmount Park
Kimmel Center for the Performing Arts
Mann Center for the Performing Arts
Pennsylvania Academy of Fine Arts
Philadelphia International Airport
Philadelphia Parking Authority
Physick House
Powel House
Southeastern Pennyslvania Transportation Authority
Temple University's Theater Program