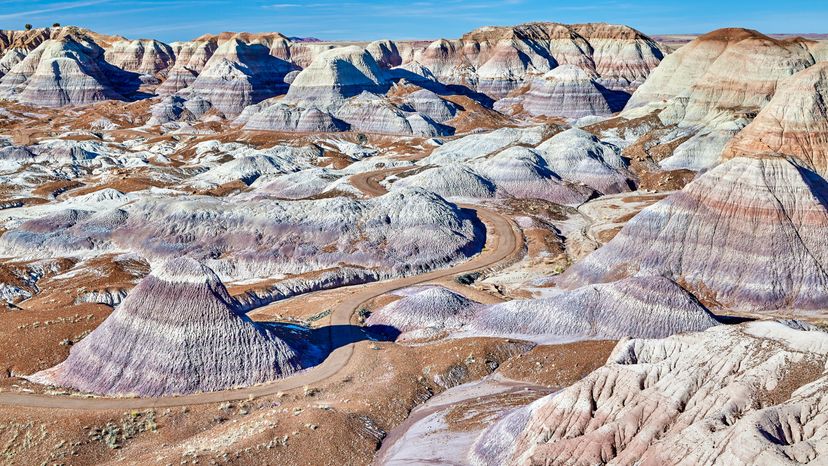 Petrified Forest National Park
PO Box 2217
Petrified Forest, AZ 86028
928-524-6228
Petrified Forest National Park offers one of the world's largest and most colorful concentrations of petrified wood, as well as incredible 225-
million-year-old fossils from the Late Triassic period. Located in northeastern Arizona, the park is about 31/2 hours from both Phoenix and Albuquerque.
Driving through the park takes 45 minutes, but to get a real look at its many treasures, visitors can go hiking or even horseback riding through the forest. And don't miss out on the museums and visitor center to get an in-depth history lesson about this natural wonder.
Entrance fees: $10/vehicle for 7 days or $5/individual for 7 days
Visitor center: Painted Desert Visitor Center is open daily except December 25.
Other services: Museum and food service
Accommodations: Camping or lodging is not available in the park.
Visiting the Petrified Forest
Most travelers come to the Petrified Forest to see both its colorful badlands and its rich paleontological treasures. Quite often on cross-country airline trips, an hour or so east of Los Angeles, the pilot will come on the intercom and direct the passengers' attention to a colorful stretch of desert on the ground below.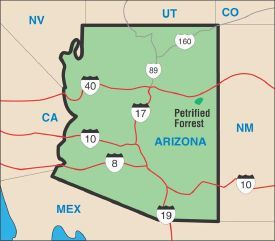 People will crowd to the windows, and there will be considerable oohing and ahhing. Much of this spectacularly eroded landscape of red, pink, yellow, bluish-gray, purple, brown, and black sand dunes and badlands is contained within Petrified Forest National Park.
The columns of petrified wood scattered across the desert date from 200 million years ago. Floods and lava flows originally uprooted the trees, washing them down the surrounding highlands and burying them in silt and volcanic ash. Water seeped through the wood and replaced decaying organic material, cell by cell, with multicolored silica.
The fossils, some of which can be seen literally littering the ground, include petrified conifers (up to three feet in diameter) and fossilized Metoposaurs (a kind of amphibian), Phytosaurs (something like a crocodile), and Placerias (a rhinoceroslike animal).
Find out how to get up close and personal with all the amazing sights and activities this park has to offer by going to the next section.