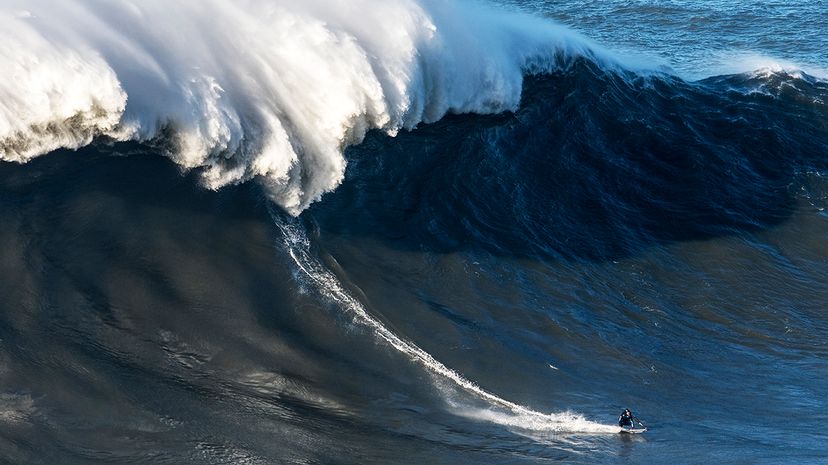 When a human takes on nature, nature always seems to get the upper hand. That is unless you're Rodrigo Koxa, a Brazilian surfer who, according to Guinness World Records, tamed the largest wave ever surfed. Koxa surfed the 80-foot (24-meter) wave on Nov. 8, 2017 in Nazaré, Portugal and the World Surf League named it the Quiksilver XXL Biggest Wave Award at its 2018 Big Wave Awards on April 28, 2018 in Santa Monica, California. Koxa took home a $25,000 prize. So not only did Koxa top the field at the Big Wave Awards, he also set the world record for the biggest wave ever surfed.
Koxa's 80-footer (that's about the equivalent of an eight-story building!) dwarfed the previous record, which was still pretty massive at 78 feet (23 meters) and surfed by American professional big wave surfer Garrett McNamara at the same location in 2011.
The video of the ride is jaw-dropping, as Koxa streaks the down the monster wave at the infamous Praia do Norte in Portugal. A similar ride in 2014 almost cost Koxa his life. "I had an amazing dream the night before," Koxa told Surfline, recounting his record-setting ride. "Where I was talking to myself, 'You gotta go straight down. You gotta go straight down.' I didn't really know what it meant. But I figured somebody was talking to me."
Nazaré is world renowned for these monster waves, caused in part, by a deep underwater canyon that generates waves on steroids as they approach the shallow shore. That canyon is 10,000 feet (3,048 meters) deeper than the 6,000-foot (1,828-meter) Grand Canyon. If there's a storm off in the distance, the waves can grow to astronomical heights, which is what happened in 2011 when McNamara became the world-record holder.
After his last encounter at Nazaré, where a wave almost pushed Koxa into the craggy rocks, the surfer spent his days studying and training, hoping for a rematch with the ocean. The time was well spent. He waited for he right wave to bite, and just as he was towed out to the waves by a Jet Ski, it finally did.
"When I got my wave, I let go of the rope," Koxa continued in his Surfline interview. "And then I remembered: 'Go straight down.' When I said it, I remembered my dream. I turned, and I almost fell, but then I got my feet again and went super-fast. It was amazing."
So how do surfers measure the height of waves? There are a few ways. One is according to the Hawaiian Scale, which measures the backside of waves. The size corresponds to roughly half the wave's height. So, a wave that measures 20 feet (6 meters) is actually a 40-foot (12-meter) wave. Others measure waves by looking at the part of the wave the surfers actually ride on. Legendary big wave surfer the late Buzzy Trent had another theory and apparently once said, "...waves are not measured in feet and inches, but in increments of fear." However, Guinness World Records gathers a panel of experts and photographers to look over photographs to come up with a final wave height.