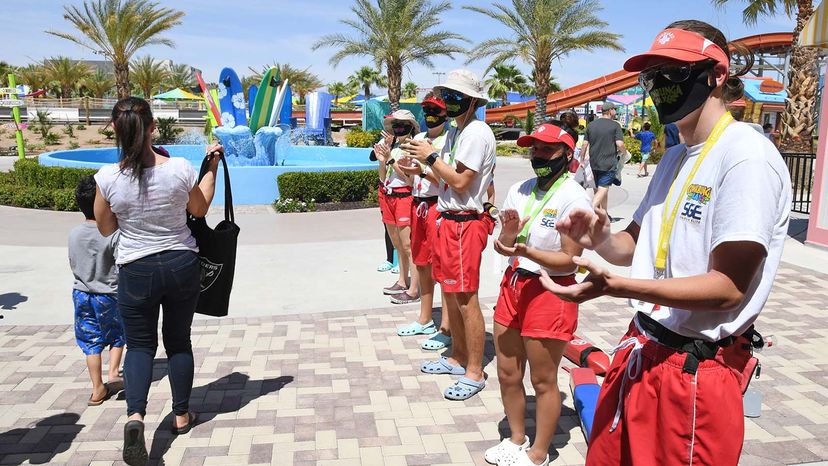 Lifeguards applaud as guests are let into Cowabunga Bay Water Park in Las Vegas, which opened for the first time on May 30, 2020, since the coronavirus pandemic.
Ethan Miller/Getty Images
With summer here and states easing coronavirus lockdowns , many people are longing for days by the pool. But social distancing recommendations still remain, so is swimming in public pools or lounging on the deck — especially if they're packed with strangers — safe?
The Centers for Disease Control and Prevention (CDC) says "there is no evidence that COVID-19 can spread to people through the water used in pools, hot tubs or water playgrounds. Additionally, proper operation of these aquatic venues and disinfection of the water (with chlorine or bromine) should inactivate the virus." That means, the correct use and disinfection of these spaces should kill the coronavirus that causes COVID-19. Filtration systems are effective whether it is a chlorine or saltwater pool.
That's great news, but swimming in the pool isn't the whole story when it comes to diving into summer fun. Public pools are public spaces, so social distancing practices are still necessary.
What Does a Safe Public Pool Look Like?
Hopefully, the pool or aquatic venue you visit is following CDC guidelines for these types of settings. These recommendations include:
frequent cleaning and disinfecting of surfaces

maintaining good ventilation of indoor areas

spacing the seating and standing areas so that visitors can stay 6 feet (2 meters) apart

marking lanes and areas in the pool

limiting or discouraging the use of shared items like goggles and kickboards
Signage or regular announcements by staff reminding visitors about safe practices is a good indication the public pool or water venue is making COVID-19 safety a priority. This holds true for apartment complexes, city pools and water theme parks alike.
For example, although Six Flags White Water in Marietta, Georgia, remains closed as of the publish date of this article, the park has created and shared its health and safety re-opening plan, which it developed in coordination with epidemiologists. The plan includes requiring guests and team members to wear masks and temperature checks for both groups.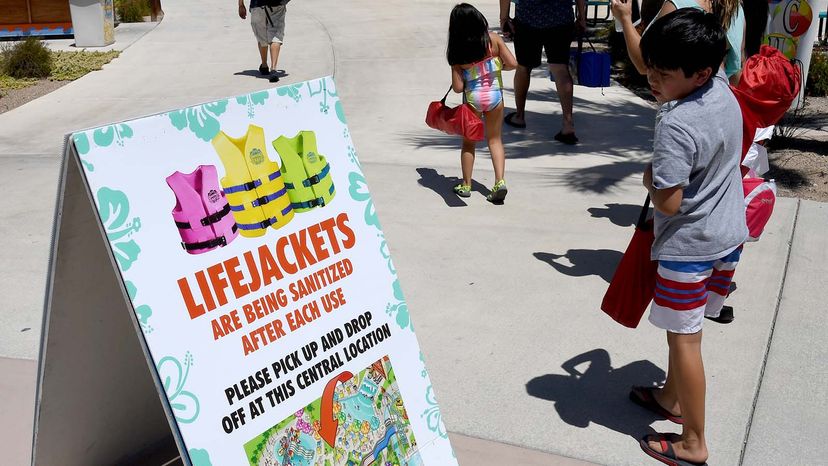 Signage, like this one at Cowabunga Bay Water Park in Las Vegas, is a good indication that the venue is making COVID-19 safety a priority.
Ethan Miller/Getty Images
How to Stay Safe at Public Pools
Heading to the pool, just like visiting any other space indoors or outdoors, requires the practice of safe behaviors. For starters, anyone who has shown symptoms of COVID-19, tested positive for COVID-19 or been exposed to someone with COVID-19 within the last two weeks, should stay home.
If you choose to go to the pool, wash or sanitize your hands while you're there, cover your coughs and sneezes, and social distance as much as possible. Wear your mask. The CDC reminds that a cloth face covering is most important at times when it is difficult to maintain physical distance from people outside your household. However, you should not wear a mask in the water because it's hard to breathe through a wet cloth.
You should also practice this same safe pool behavior if you're at the beach or lake vacation, too.