Getting the Perfect Mix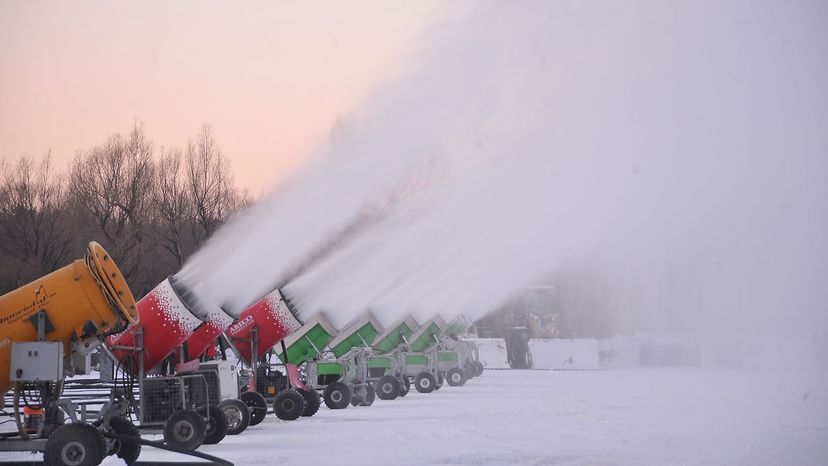 So, we've seen that the basic idea of snow guns is pretty simple. Actually making snow can be a bit more complex, however. The wet bulb temperature has to be low enough, and snow-makers must carefully balance the levels of water and air to get the desired results.
There are all different kinds of snow. The main difference between snow types is how much water a certain volume of snow holds. Snow-makers often talk about dry snow and wet snow. Dry snow has a relatively low amount of water, so it is very light and powdery. This type of snow is excellent for skiing because skis glide over it easily without getting stuck in wet slush.
Wet snow also plays an important role on ski slopes, however. Resort owners use this denser snow to build up the snow level on well-traveled trails. Many resorts build up the snow depth this way once or twice a year, and then regularly coat the trails with a layer of dry snow throughout the winter. Natural snow tends to be drier and more powdery than machine-made snow, but most ski runs are a mix of both.
The density, or wetness, of snow is dependent on the temperature and humidity outside, as well as the size of the water droplets launched by the gun. Snow-makers have to adjust the proportions of water and air in their snow guns to get the perfect snow consistency for the outdoor weather conditions. Since temperature and humidity levels vary considerably from point to point on a ski slope, snow-makers have to adjust each machine accordingly.
This process has gotten a little bit easier recently with the introduction of new technology. Many ski slopes now control their snow guns with a central computer system that is hooked up to weather-reading stations all over the slope. The computers make a determination of the best snow-and-air mix based on the temperature and relative humidity at a given point. These systems do not always get the mix right, of course, but they are a great snow-making aid.