Getting Ready for the Race
Racing sled dogs need to eat around 10,000 calories per day. During the Iditarod race, that translates to about 2,000 pounds (907 kg) of food for one team for the entire race. Meat is the main ingredient, but they also consume other fats, oils, dry dog foods and vitamin supplements. Dogs eat at each of the more than two dozen checkpoints on the Iditarod route, but they also get snacks every few hours. Gear for dogs includes fabric booties to protect their feet from the elements, and a sled team may go through 2,000 booties during a race.
The number of dogs pulling the sled varies by race and by musher. In the Iditarod, there are a maximum of 16 dogs on a team. At the race's start, there must be between 12 and 16 dogs per entrant. At the race's end, at least six dogs must be part of the team that crosses the finish line.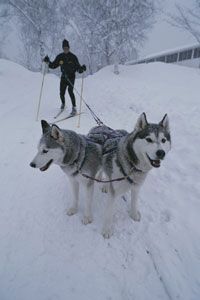 The dogs are attached to the sled with a series of lines called rigging. This includes the tow line (or gang line), tug lines and neck lines. Each dog wears a collar and a harness. The tow line connects the dogs to the sled, and a tug line rigs the dogs' harnesses to the tow line. The dogs' collars are attached to the tow line by the neck line. There are no reins, and dogs respond to the musher's vocal commands.
A musher says "hike," "let's go," or "all right," to get his or her team going; "easy" to slow down; "gee" to turn right; "haw" to turn left; "come gee" or "come haw" to turn 180 degrees right or left; "straight on" to go straight ahead; and "whoa" to stop.
During the Iditarod, teams typically travel in the 5 to12 miles per hour (8 to 16 kph) range and might run for six or eight hours straight. When dogs fail to work together as a team, or a musher can't properly direct his or her team, the lines can become tangled and cause problems.
For more information on sled dogs and related articles, please see the next page.
Related HowStuffWorks Articles
More Great Links
Sources
2007 Media Guide. http://www.iditarod.com.

2008 Iditarod Race Rules. http://www.iditarod.com.

Casey, Brigid;­ ­Haugh, Wendy. "Sled Dogs." 1983. Dodd Mead & Company.

Coppinger, Raymond, Coppinger, Lorna. "Dogs: A Startling New Understanding of Canine Origin, Behavior and Evolution." 2001. Scribner.

Regenold, Stephen. "Answering the Call of the Wild, Minus the Snow." December 1, 2006. New York Times.

Regenold, Stephen. "Clip on Skis, Hitch Rover, and Go." January 5, 2006. New York Times.

Ring, Elizabeth. "Sled Dogs: Arctic Athletes." 1994. Millbrook Press.

Schultz, Jeff, Sherwonit, Bill. "Iditarod: The Great Race to Nome." 1991. Alaska Northwest Books.

"Two Famous Dogs Dead; Baldy of Nome Dies of Old Age and Providence Edna Is Killed by Car." New York Times. April 15, 1922.

Ward, Alex. "A Classic Race: Man and Dog Vs. Alaska." New York Times. February 24, 1985.