The Training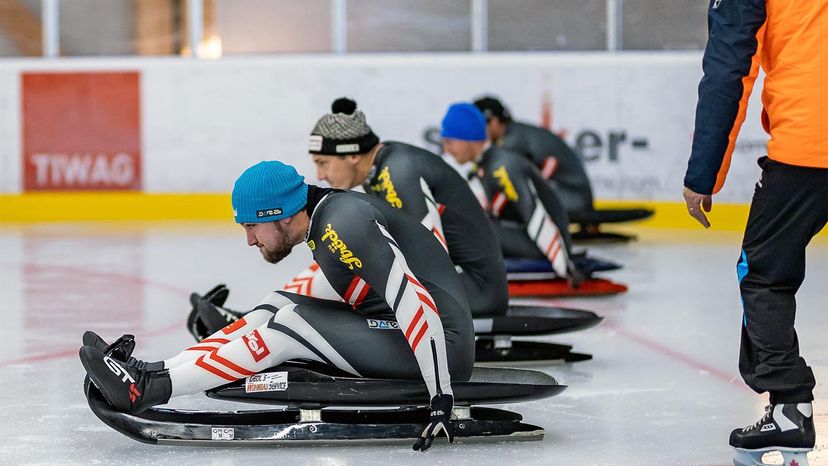 Because luge is one of the few Olympic sports timed to 1/1000 of a second, the start is the most important part of the race. It's the time when the slider is most in control, so his or her training can have the greatest effect on the outcome.
Luge athletes build tremendous upper body strength for the start, when they'll propel themselves, their sled and any extra weights onto the course. Hand strength is also required for the start, when the slider paddles as quickly as possible for the first several feet of the course.
During the offseason, luge athletes train to build upper body muscles through swimming, weight training and calisthenics. When tracks are open, they practice runs as often as possible, sometimes focusing only starts, developing strength, agility and technique.
While the athletes are doing practice runs and starts, coaches are analyzing them all using footage from digital cameras, specialized software and prior reports from athletes about what they're feeling on the course. Luge coaches have a deep understanding of sleds and luge physics, and they use all of this information to make tiny adjustments to the sleds to maximize speed and control for each slider.
Luge training also involves sessions in wind tunnels, during which athletes figure out the form that achieves minimum aerodynamic drag. Monitors above the slider's head and at their feet display a number that represents the amount of drag they're experiencing. These sessions allow them to make minute adjustments to their position to lower drag.
Training for luge is about strength and precision, but a slider has to have a certain temperament, too. In luge, adrenaline junkies win.
"The run might only be 50 seconds long, not more than a minute, and you're absolutely knackered after the run because you're focusing mentally and physically," British luger Rosen told the IOC. "You're putting your body through so much and you're doing all this while taking the bumps and steering precisely through all these curves going down. But the more you do it, the more you get used to it, you're constantly navigating the sled."
Originally Published: Feb 15, 2006
Related Articles
More Great Links
Sources
BBC News. "Digital gear gives luge the edge." http://news.bbc.co.uk/1/hi/sci/tech/1795747.stm

BBC News. "The wrong side of the tracks." Jan. 11, 2002. http://news.bbc.co.uk/winterolympics2002/hi/english/luge_and_skeleton/newsid_1750000/1750493.stm

Booton, Jen, "How Dow Chemical Is Prepping Team USA For Luge In PyeongChang." Sport Techie. (Feb. 13, 2018) https://www.sporttechie.com/dows-engineers-helping-team-usa-luge-pyeongchang-olympics/

Boyle, Alan. "The high-tech race for Olympic gold." MSNBC. Feb. 1, 2002. http://www.msnbc.com/news/693675.asp?0si=-&cp1=1

CBC.ca. "Torino 2006 - Luge." http://www.cbc.ca/olympics/sports/luge/essentials/index.shtml

Cowan, Micki. "This kid tried the luge track in his hometown before the 2010 Olympics. Now he's on Team Canada." CBC. Feb. 27, 2020. (Jan. 25, 2022) https://www.cbc.ca/news/canada/british-columbia/reid-watts-legacy-baby-2010-games-luge-1.5468871

Great Britain Luge Association. https://gbla.co.uk/

International Olympic Committee, "Adam Rosen's Guide to Luge at PyeongChang 2018" (Feb. 13, 2018) https://www.olympic.org/news/adam-rosen-s-guide-to-luge-at-pyeongchang-2018

NBC Olympics. "Luge 101" (Feb. 13, 2018) http://www.nbcolympics.com/news/luge-101-rules

Olympics.com. "Luge events at Beijing 2022." Jan. 25, 2022. https://olympics.com/en/news/watch-luge-olympic-winter-games-beijing

Olympics.com. "Luge" Jan. 25, 2022. https://olympics.com/en/beijing-2022/sports/luge/

Olympics.com. "What is luge?" Jan. 25, 2022. https://olympics.com/en/news/luge-rules-equipment-history-winter-olympics

Olympiandatabase.com. "Women's Singles - Luge; Nagano 1998 Winter Olympics." (Jan. 25, 2022) https://www.olympiandatabase.com/index.php?id=11714&L=1

ReachOutMichigan.org. "Luge: How do engineering and technology play a role in the Olympics?" http://www.reachoutmichigan.org/funexperiments/agesubject/lessons/newton/luge.html

Real-world-physics-problems.com. "The Physics of Luge." (Jan. 25, 2022) https://www.real-world-physics-problems.com/physics-of-luge.html

Roberts, Selena. "Luge." The New York Times Online. Feb. 5, 2002. http://www.nytimes.com/2002/02/05/olympics/05LUGE.html

Root, Tik. "How to watch luge at the 2018 Winter Olympics in PyeongChang." Washington Post. Feb. 8, 2018 (Jan. 25, 2022) https://www.washingtonpost.com/news/sports/wp/2018/02/08/how-to-watch-luge-at-the-2018-winter-olympics-in-pyeongchang/

Shichen, Hu. "Winter Sports 101: Luge." Feb. 11, 2018. (Jan. 25, 2022) https://news.cgtn.com/news/7949444f32677a6333566d54/share_p.html

Technology Award: Olympic Bobsled and Luge Track. ASHRAE. August 2000. http://resourcecenter.ashrae.org/store/ashrae/newstore.cgi? itemid=6040&view=item&categoryid=134&categoryparent=134&page=1&loginid=4497344

Torino 2006 - Cesana Pariol - Bobsleigh, Skeleton, Luge http://www.torino2006.org/ENG/OlympicGames/vieni_a_torino2006/cesana_pariol.html

"US Steel Team with USA Luge Team to Build Faster Sled." AZoM. http://www.azom.com/details.asp?newsID=1572

USALuge.org. http://www.usaluge.org/TeamInfo/aboutluge.htm

Washingtonpost.com. "Everything You Need to Know About Luge." http://www.washingtonpost.com/wp-srv/sports/olympics/longterm/2002/howitplays/text/luge.htm#critical