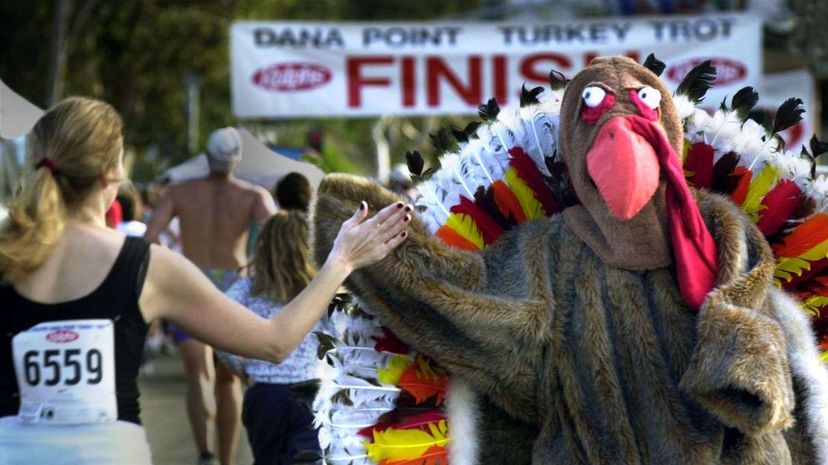 The average American consumes about 4,500 calories and 229 grams of fat on Thanksgiving Day. If only someone would come up with an activity to mitigate the caloric onslaught ... Oh, right. Exercise. Enter the turkey trot.
Surprisingly, Thanksgiving Day has become the biggest American race day of the year. According to Running USA, more than 786,000 runners completed a turkey trot, generally defined just as a race held on or around Thanksgiving Day, in 2014. Since 2011, that's a 16 percent increase in the number of people willing to walk or run a 5-kilometer (3.1-mile) race pre- or post-Thanksgiving dinner — usually while supporting a charity, and even sometimes while wearing a costume. 
Could turkey trots act as a gateway race, leaving participants craving more exercise milestones and boosting community wellness over time?
For Mike Norman, the answer is "yes." Norman, co-founder of Chicago Endurance Sports, trains thousands of runners a year, from beginners to elite triathletes. He's seen clients enter a training program in the most casual sense and then blossom as they work toward a 5K race.
"They've put self-imposed limits on what they are capable of doing, but toward the end of the training program a light bulb goes off and they realize what they've accomplished," Norman says. "The biggest change is in their confidence."
It's a gain Norman has experienced personally, too. A Division I competitive swimmer, Norman turned to running when his wife took up the sport after completing a fun run. Along the way, Thanksgiving Day races have become a family — and neighborhood — tradition.
"We've been doing turkey trots for 20 years," Norman says. "When we first started, it took a little time to talk some of my family members into it. Last year, 16 of us went. It's fun to see other people from your community. It adds a positive element to what could potentially be a day full of gorging."
The Washington D.C. metropolitan area tops the American College of Sports Medicine's 2015 American Fitness Index, and has about a dozen turkey trot races within easy reach of Thanksgiving Day. The Minneapolis-St. Paul metropolitan area, which ranked second, has at least eight fun runs in the same time frame.
"Fun runs are a distance that is easily attainable for the majority of the population, and they are a great way for people to get active," says Aimee Shilling of Canton, Ohio-based Forty by Forty Fitness. Shilling's currently on track to finish her 40th marathon. "They are typically very non-judgmental, and accepting of all fitness levels."
And fun run events can lead to greater physical fitness for a community as a whole. "Communities that tie a fun and social component to exercise can become collectively healthier, especially if they take their 'fun run' beyond Thanksgiving," says Shane Allen, a Dallas-based certified personal trainer and sports nutritionist. "After the fun run is over, get a neighborhood walking group together that meets every day."