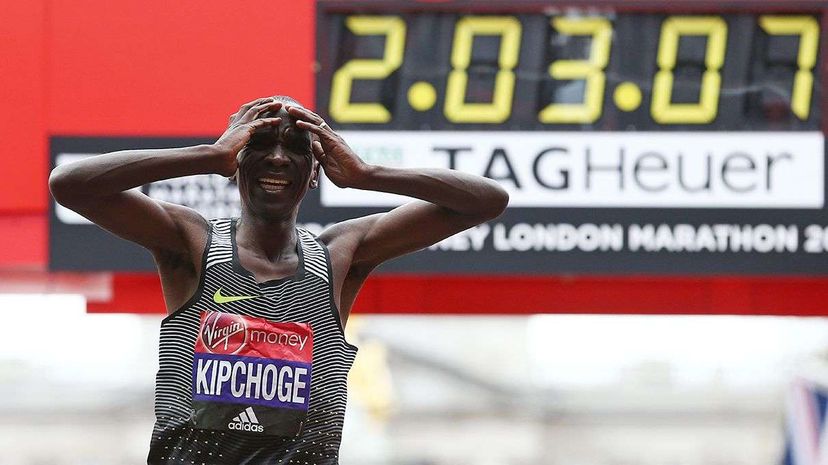 The New York City Marathon saw some impressive finishes in 2016. In the Nov. 6 race, women's winner Mary Keitany of Kenya crossed the finish line in 2:24:26, and Eritrea's Ghirmay Ghebreslassie took the men's division with 2:07:51. Ghebreslassie earned a $25,000 bonus for breaking the 2:08:00 mark.
The world records, however, were perfectly safe. No woman has come within three minutes of Paula Radcliffe's 2:15:25 at the London Marathon in 2003 (Radcliffe is British). In the 26.2-mile (42.2-kilometer) stretch that is the marathon, a minute is an "exceptionally long time," writes Noah Davis on Pacific Standard. "Losing by five minutes to a 2:15 marathoner," he explains, "is to be almost a mile [1.6 kilometer] behind when she crosses the finish line."
The men's marathon record of 2:02:57, established by Kenya's Dennis Kimetto at the 2014 Berlin Marathon, may be approaching the limits of human physiology.
The Two-hour Barrier
In marathon science, two hours is the "golden ticket." It's really just the next-lowest round number in marathon times, explains Dr. Peter Weyand, professor of applied physiology and biomechanics at Southern Methodist University in Dallas, but "[t]he progression toward the [two-hour] barrier has for some time marked it as a milestone in the history of athletics and human performance — one of great symbolic and functional significance."
Marathon times have plummeted in the last few decades. The men's record fell by almost four minutes between 1998 and 2014, and the women's dropped by more than five minutes. At this point, most experts predict a runner will eventually break the two-hour-hour mark. When and how it will happen is more controversial.  
"The number of variables involved that will need to align simultaneously to break the two-hour barrier are numerous," writes Weyand, "making specific predictions highly uncertain." However, he says five years is "not unrealistic."
Five years is the time line set out by the Sub2Hr project, for which Weyand directs biomechanics and modelling. The consortium of researchers, doctors and trainers is trying to engineer the world's first sub-two-hour marathon without cheating.
This Is Your Body on Science
High-level distance running has a doping problem, which, while unfortunate, helps put the goal in some context. Even cheaters can't get close to two hours.
The Sub2Hr team, which worked with 2016 NYC Marathon winner Ghirmay Ghebreslassie (2:07:51), believes "unprecedented" expert collaboration might do it, though.   
"Simply, by breaking down the typical barriers to broad collaboration among scientists, coaches, sport management and medical professionals, the potential contributions to knowledge and organization in sport could be considerable," Weyand writes. 
Weyand calls it the "sporting equivalent of a moonshot project: highly ambitious, historic, broad and eclectic in encompassing the many scientific and professional disciplines involved in modern athletics."
No Stone Left Unturned
Dr. Andrew Bosch, associate professor of exercise science and sports medicine at the University of Cape Town in South Africa and head of nutrition for Sub2Hr, describes a throw-everything-you've-got-at-it approach to solving the problem.
"We plan to get the best athletes, apply scientific training programmes by working with the coaches, optimise recovery strategies, use nutritional recovery aids ... [and] optimal pre-race and in-race nutrition, apply race strategy to optimise benefit of drafting" and use monitoring "to optimise training load [and] prevent injury," Bosch writes in an email.
Weyand adds footwear, hydration and genomics to the list. Financial incentives, too, are in play: Appearances fees, in which runners are paid to participate in a race, and time bonuses, like Ghebreslassie's $25,000 for breaking the 2:08 mark, are believed to drive better times. (As Noah Davis points out on Pacific Standard, this may be why men's times keep dropping, and the women's record has stood since 2003. Female runners earn less.)
While many in sports science believe the sub-two-hour marathon is out there, few think five years is a realistic time frame. Some have estimated decades. Others, like Dr. Ross Tucker, professor of exercise physiology with the School of Medicine of the University of the Free State in New Zealand, think it may not even be out there.
By Tucker's estimation, only cheating and/or the discovery of a new gene pool could affect that kind of improvement in human endurance.
Have We Reached Our Limits?
The Sub2Hr approach appears to rest on the assumption that science has driven the decades of falling marathon times. But Tucker says expansion, not science, is responsible. Jamaicans and African-Americans now dominate sprinting; East Africans now dominate long distance.
"... [T]he world of sport is now flat," Tucker writes on SportsScientists.com, "and so the best athletes, genetically, are focused on their optimal events."
Tucker points to other species of endurance runners.
"Since the 1970s, horses have not gotten faster.  Since the [1960s], greyhounds have not gotten faster," despite significant financial incentives to increase speed. He believes "...a limit has been reached, because horses and greyhounds have always been bred with a specific purpose."
By this reasoning, unless a new population of runners shows up, humans are pretty close to the limit of what they can do in 26.2 miles.
Weyand's not so sure. He sees wiggle room in physiology, biomechanics, nutrition, genomics and biochemistry, for a start.
"Specific scientific advances are possible within and between all the scientific disciplines involved," he writes. The combined effect can be significant.
The Sub2Hr team doesn't know if it can accomplish what doping hasn't, but Bosch says it's looking good. In addition to Ghebreslassie, he writes, Sub2Hr has worked with Kenenisa Bekele, "which resulted in the second fastest time ever run in Berlin this year," and Zane Robertson, "who subsequently produced one of the fastest 10km road times" on record.
In the end, the two-hour quest is probably less about two hours than it is about finding out what science can really do, given the chance.
But it's kind of about two hours.
Sub2Hr, writes Bosch, "hope[s] to demonstrate that a comprehensive scientific approach can be sufficiently effective to achieve a major milestone in the history of human performance."