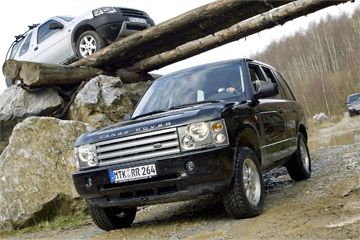 Cruising through the "Land Rover Experience Center" in Wuelfrath, Germany, looks pretty fun. These centers teach off-road driving skills to amateur and professional drivers. Next, see an SUV racing through the desert.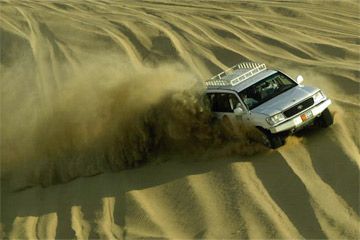 Hamish Blair/Getty Images
Driving on paved roads might be a snooze after climbing the sand dunes in the Wonder Desert of the United Arab Emirates. Find out how a Jeep gets through a muddy pond, next.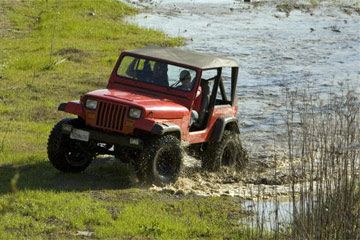 For a 4x4 vehicle equipped with mud-terrain tires, a drive through mud and water is a walk in the park. Next, see a piece of equipment that every off-road vehicle should have.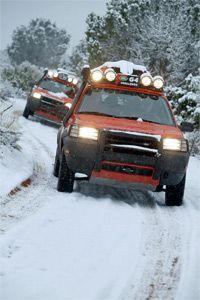 A snowy forecast is no match for a vehicle equipped with auxiliary lights. These lights can brighten your off-road adventures in the harshest weather conditions. Should a 4x4 have a winch? Find out next.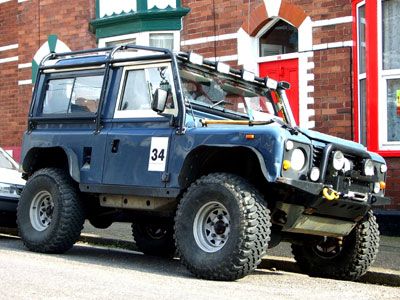 ©istockphoto.com/TACrafts
A winch is an indispensable piece of equipment for the professional off-roader. Installing a winch to the front of an off-road vehicle will require a specialty bumper. See what keeps a 4x4 riding as smooth as possible, next.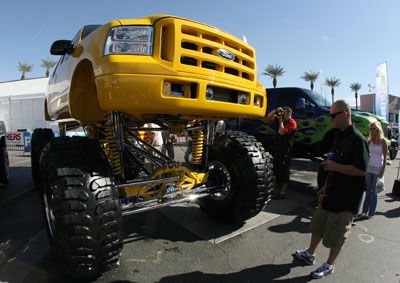 GABRIEL BOUYS/AFP/Getty Images
A custom Ford F-350 is shown at the SEMA show in Las Vegas, Nev. Its suspension has been upgraded to allow for larger tires. Is two-wheel drive enough for off-roading? Find out next.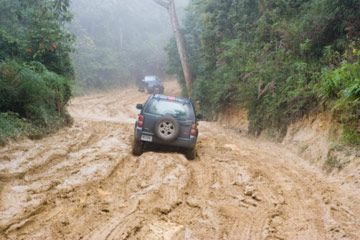 Two-wheel drive works well for paved roads but four-wheel drive is necessary for off-road terrain. Mud, rocks and steep inclines will challenge a 4x4 vehicle's capabilities. Next, see a different kind of off-roading.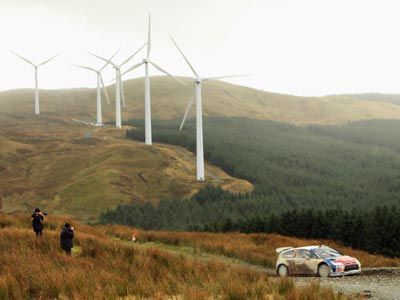 Rally racing is a popular sport for its unique terrain and fast speeds. In this photo; Dani Sordo drives past a wind farm during the Wales Rally GB in Llangurig, Wales. Find out how dirty off-roading can get, next.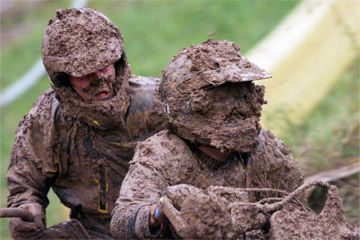 Michael Kienzler/Bongarts/Getty Images
Mudding on a dirt bike is a guaranteed way to get really, really dirty. See an ATV at home in the mud, next.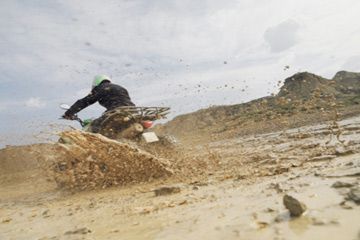 ATVs, or all terrain vehicles, are suited for off-roading because of their light weight and versatility. Next, see an ATV in action.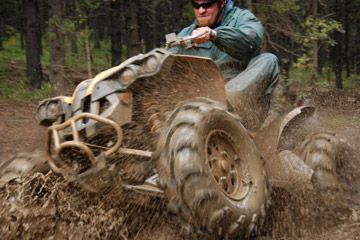 © iStockphoto.com/carebott
ATVs have several unique characteristics that enable it to go places other off-road vehicles only dream of going. Next, see how a vineyard uses an ATV.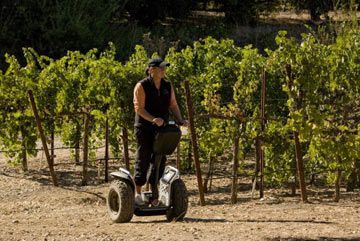 Most electric vehicles are designed to perform very simple tasks, but that's changing. This vineyard employee surveys rows of grapes with the help of her trusty electric ATV. See an off-road challenge, next.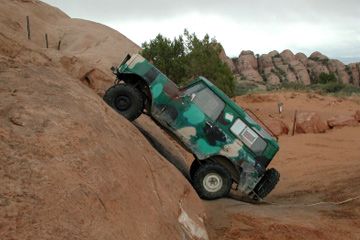 © iStockphoto.com/Chad Anderson
It looks like this driver could have used a hill-start control system. Newer SUVs have this system for these types of off-road situations. Find out what a typical off-road trip in Africa looks like, next.
David De Lossy/Photodisc/Getty Images
Going on a safari in Africa can be a picturesque off-road adventure. A group of friends on a 4x4 vehicle watch a lion and lioness. Next, see a Jeep Wrangler navigate a small trench.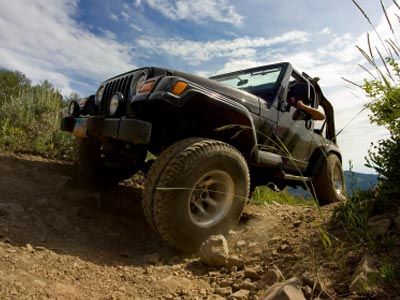 ©iStockphoto.com/Jacom Stephens
A Jeep is a highly coveted 4x4 machine that can be customized to meet an owner's off-road demands. Find out if a Land Rover has what it takes to be an elite off-road vehicle, next.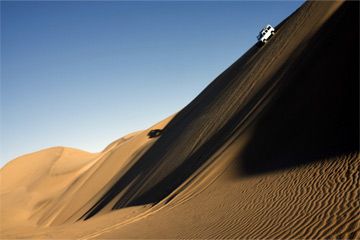 A Land Rover is as comfortable on the road as it is off the road. These well engineered vehicles have a loyal following and a rich heritage. Next, see an important component of the off-roading culture.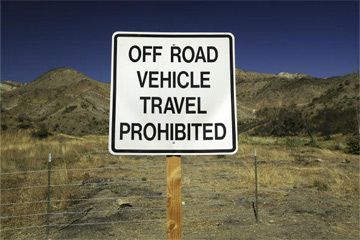 Off-roading can be fun, but it poses a major threat to many natural ecosystems. Practicing good off-roading habits and respecting the environment will help maintain the land for future off-road enthusiasts. To learn more about off-roading check out what's inside our off-roading library.