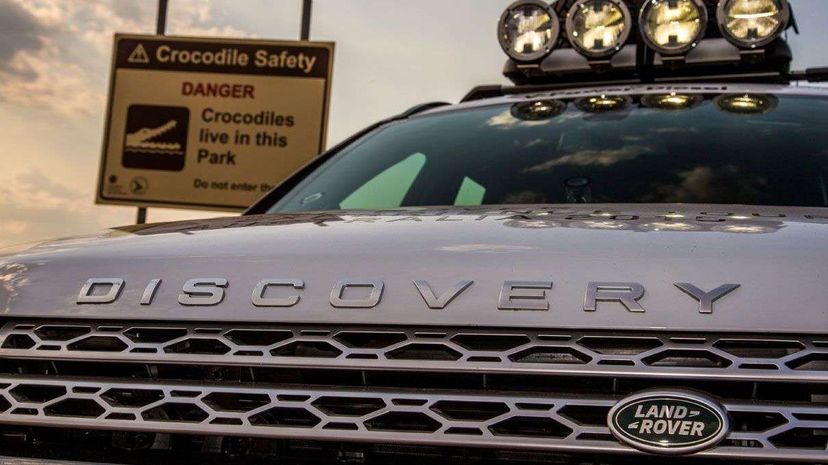 Auto shows are full of exciting new things, from high-tech infotainment systems to hydrogen-powered motors. Few auto shows, however, feature off-road vehicles with one wheel off the ground or their noses in the air. But the 2016 Portland Auto Show features just that, thanks to Land Rover Portland.
The local dealership set up the Discovery Sport Experience across the street from the Oregon Convention Center in the middle of the city. They built a short, yet terrifying, off-road course that showcases the capabilities of the new Land Rover Discovery Sport, including articulation and descent control. And the public gets to drive on it.
Land Rover Portland is not staffed by fools. They also brought a team of very capable instructors to guide people over the humps and bumps of the course "as slowly as possible and as fast as necessary," as they say in the off-road world. The head instructor is Tim Hensley, the first American to win the Camel Trophy in 1993. Two other instructors were Camel Trophy teammates in 1995: Tim Swett and Daphne Green, the first woman to represent the US in the off-road series known as "The Olympics of Four-Wheel Drive."
Between the Discovery's technology and the experience of the instructors, you'd probably feel pretty safe and sure of yourself on the course. After all, it's only one lap, right? And yet ...
Green, in the passenger seat, shows the driver that the vehicle is in "Sport" mode and set to "Mud and Ruts," which is entirely appropriate for a course in Portland, Oregon. (There are also settings for "Grass/Gravel/Snow" and "Sand," if you live in a less muddy part of the world, which might be everywhere.) Then she has him ease very gently off the brake and give the accelerator just a little juice. "The course was designed to be incrementally slow," Hensley explained. The rise that looked so gentle now has the Discovery pointed directly at the sky with no sign of the track in the driver's field of view. Green has the driver ease over the top and start down slowly — which leaves one of the rear wheels hanging in space for a few seconds. Traction and Hill Descent Control do most of the work to get the SUV to the bottom of the hill safely. And then you do it again.
One lap lasts five minutes — and a lifetime. It's the kind of thing a lot of Land Rover buyers don't ever get around to doing, but this urban off-road track gives city drivers a sense of what they might be missing when they commute to work each morning.