Joining the NRA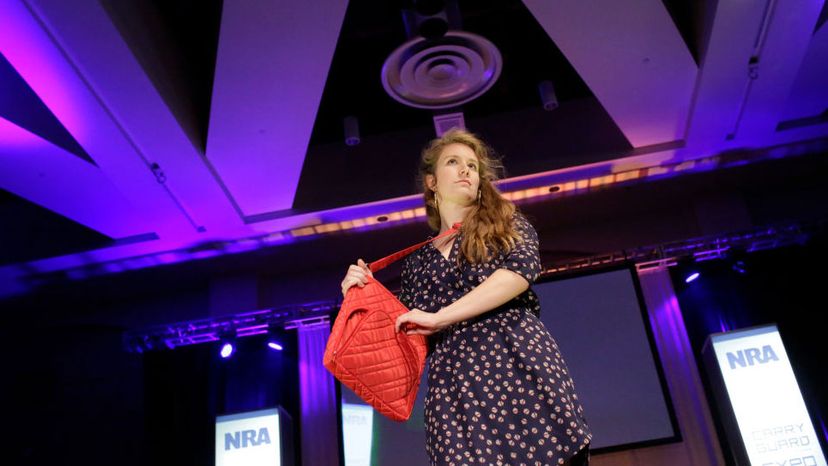 A model walks the runway during the NRA Concealed Carry Fashion Show on Aug. 25, 2017 in Milwaukee, Wisconsin.
JOSHUA LOTT/AFP/Getty Images
So, what is the NRA all about? Let's quote from the NRA's own membership webpage: "The NRA is America's preeminent gun rights organization, made up of nearly five million members. Together, we fight and win the toughest battles for the Second Amendment, all while offering the best firearms educational programs in the country.
Every day, the NRA fights back against politicians, judges, and bureaucrats who want to regulate, restrict, and ultimately, destroy your Second Amendment freedom."
As you can see, defending the Second Amendment is the NRA's primary mission, while other activities are secondary. If you agree with the NRA's mission and goals, joining is as simple as going to its website and filling out the online application. There are distinctions of membership to choose from:
One-, two-, three- or five-year memberships (2018 fees range from $40-$140)

Life membership (2018 cost is $1,500)

Associate membership

Youth membership
The NRA lists the following benefits for its members:
"24/7 defense of your gun rights"

Subscription to an NRA magazine of the member's choice

Membership card and decal

A $7,500 Gun Owner Protection Plan insurance policy
You also get to choose a thank-you gift, which may be a duffel bag, a cap or a knife — but no gun.
Related Articles
More Great Links
Sources
Achenbach, Joel; Higham, Scott; and Horowitz, Sari. "How NRA's true believers converted a marksmanship group into a mighty gun lobby." Washington Post. Jan. 12, 2013. (Dec. 3, 2017) http://wapo.st/2BG1XK3

BBC News. "US gun control: What is the NRA and why is it so powerful?" BBC.com. Jan. 8, 2016. (Dec. 3, 2017) http://bbc.in/2kkHp5t

Berkvist, Robert. "Charlton Heston, Epic Film Star and Voice of N.R.A., Dies at 84." New York Times. April 6, 2008. (Dec. 4, 2008). http://nyti.ms/2BHEVT7

Bureau of Alcohol, Tobacco, Firearms and Explosives. "National Firearms Act." Dec. 1, 2016. (Dec. 3, 2017) http://bit.ly/2BJHN1Y

Center for Responsive Politics. "National Rifle Assocation." Opensecrets.org. (Dec. 3, 2017) http://bit.ly/2kkJRsE

Chilson, Morgan. "National Association for Gun Rights vs. NRA: How Do They Differ?" Newsmax. Oct. 12, 2014. (Dec. 3, 2017) http://nws.mx/2kl4TYt

Church, W.C. "The National Guard." Army and Navy Journal. Aug. 12, 1971. (Dec. 4, 2017) http://bit.ly/2nr325f

Economic Research Institute. "Form 990" (National Rifle Association 2015). Erierni.com. (Dec. 3, 2017)

Ellis, Black and Hicken, Melanie. "The Money Powering the NRA." CNN.com. (Dec. 3, 2017) http://cnnmon.ie/2kiPQOQ

Elving, Ron. "The NRA Wasn't Always Against Gun Restrictions." National Public Radio. Oct. 10, 2017. (Dec. 3, 2017) http://n.pr/2kjn3JW

Fisher, Tyler; Frostenson, Sarah; and Mihalik, Lily. "The gun lobby: See how much your representative gets." Politico. Oct. 2, 2017. (Dec. 3, 2017) http://politi.co/2khq0ea

Frankel, Joseph. "The Government Won't Fund Research on Gun Violence Because of NRA Lobbying." Newsweek. Oct. 2, 2017. (Dec. 3, 2017) http://www.newsweek.com/government-wont-fund-gun-research-stop-violence-because-nra-lobbying-675794

Gallup News. "Guns." Gallup.com. (Dec. 3, 2017) http://news.gallup.com/poll/1645/guns.aspx

Government Accountability Office. "Personal Firearms: Programs that Promote Safe Storage and Research on Their Effectiveness." Gao.gov. September 2017 (Dec. 3, 2017) http://bit.ly/2kjqwYY

Guidestar.org. "National Rifle Association of America." Guidestar.org. (Dec. 3, 2017) https://www.guidestar.org/profile/53-0116130

Guidestar.org. IRS Form 990 for National Rifle Association, 2015. Guidestar.org. (Dec. 3, 2017) http://bit.ly/2khi3pf

Hickey, Walter. "How The Gun Industry Funnels Tens Of Millions Of Dollars To The NRA." Business Insider. Jan. 16, 2013. (Dec. 3, 2017) http://www.businessinsider.com/gun-industry-funds-nra-2013-1

Maguire, Robert. "Audit shows NRA spending surged $100 million amidst pro-Trump push in 2016." Opensecrets.org. Nov. 15, 2017. (Dec. 3, 2017) http://bit.ly/2kkMA5p

NRA. "Firearms Training." NRA. (Dec. 3, 2017) https://explore.NRA/interests/firearms-training/

NRA Carry Guard. "America's Most Complete Self-Defense Insurance Program and Training for Those Who Carry a Gun." Nracarryguard.com. (Dec. 3, 2017) https://www.nracarryguard.com/

NRA. National Rifle Association home page. NRA. (Dec. 3, 2017) https://home.NRA/

NRA. "A Brief History of the NRA." NRA. (Dec. 3, 2017) http://bit.ly/2kkGzFP

NRA. "Join the NRA." NRA. (Dec. 3, 2017) http://bit.ly/2kirTY4 12/09/2008).https://membership.nrahq.org/forms/signup.asp

NRA. "Recreational Shooting." NRA. (Dec. 3, 2017) https://explore.NRA/interests/competitive-shooting/

NRA. "Your NRA Benefits." NRA. (Dec. 3, 2017). http://bit.ly/2kj1SYy

NRA Foundation. "About the NRA Foundation." Nrafoundation.org. (Dec. 3, 2017) http://bit.ly/2kisn0k

NRA Institute for Legislative Action. "NRA-ILA." Nraila.org. March 9, 2008. (Dec. 3, 2017) https://www.nraila.org/articles/20080309/nra-ila-2

Parker, Kim. "Among gun owners, NRA members have a unique set of views and experiences." Pew Research Center. July 5, 2017. (Dec. 3, 2017) http://pewrsr.ch/2kj4Egq

Parks, Miles. "Trump Brings Campaign Rhetoric To NRA Speech, Pledging Gun-Rights Support." Npr.org. April 28, 2017. (Dec. 3, 2017) http://n.pr/2khCfax

ProPublica Nonprofit Explorer. "National Rifle Association of America." Projects.propublica.org. (Dec. 3, 2017) http://bit.ly/2kfsw4q

Rosenwald, Michael S. "The NRA once believed in gun control and had a leader who pushed for it." Washington Post, Oct. 6, 2017. (Dec. 3, 2017) http://wapo.st/2kjmi3y

Rothman, Lily. "The Original Reason the NRA Was Founded." Time. Nov. 17, 2015. (Dec. 3, 2017) http://time.com/4106381/nra-1871-history/

Rushe, Dominic. "The NRA is smaller than you'd think – so why does it wield such influence?" Guardian. Nov. 17, 2017. (Dec. 3, 2017) http://bit.ly/2kkA8mo

Saad, Lydia. "More Now Favor New Gun Laws Over Stricter Enforcement." Gallup.com. Nov. 9, 2017. (Dec. 3, 2017) http://bit.ly/2knhuug

Sag, Ansel; as told to Kerry Shaw. "The NRA Annoyed Me Into Quitting — But I Get Why Some Gun Owners See It as a 'Necessary Evil.'" The Trace. July 21, 2017. (Dec. 3, 2017) http://bit.ly/2kkvbKk

Senate Judiciary Committee. "Testimony of Wayne LaPierre." Senate.gov. Jan. 30, 2013. (Dec. 3, 2017) http://bit.ly/2BIRpcW

Shamaya, Angel. "NRA President's Testimony During Congressional Debate

of the National Firearms Act of 1934." Keepandbeararms.com. March 4, 2004. (Dec. 3, 2017) http://www.keepandbeararms.com/nra/nfa.asp

Skaggs, Adam. "The NRA's Congressional Influence Is Bad. Its Judicial Clout Could Be Worse." NBCnews.com. Nov. 8, 2017. (Dec. 3, 2017) http://nbcnews.to/2kgFejp

Sottile, Alexis. "Why the Gun-Control Lobby Is Playing Catch-Up With the NRA." Rolling Stone. July 7, 2016. (Dec. 3, 2017) http://rol.st/2kjrZPc

Spies, Mike and Balcerzak, Ashley. "The NRA Placed Big Bets on the 2016 Election, and Won Almost All of Them." Opensecrets.org. Nov. 9, 2016. (Dec. 3, 2017) http://bit.ly/2kk9tGd

Surowiecki, James. "Taking On the N.R.A." New Yorker. Oct. 19, 2015. (Dec. 3, 2017) http://bit.ly/2kjP983

Treene, Alayna. "NRA eyeing first big win of Trump presidency." Axios.com. (Dec. 3, 2017) http://bit.ly/2kkkIhV

Wheaton, Sarah. "NRA out with biggest ad buy yet to boost Trump." Politico. Oct. 5, 2016. (Dec. 3, 2017) http://politi.co/2khBUoh

White House. "Remarks by President Trump at the National Rifle Association Leadership Forum." Whitehouse.gov. April 28, 2017. (Dec. 3, 2017) http://bit.ly/2kixgGI

Winkler, Adam. "The Secret History of Guns." The Atlantic. Sept. 2011. (Dec. 3, 2017) http://theatln.tc/2kkDkhC

Yablon, Alex. "On NRA TV, Gun Companies Bankroll a Culture War." Thetrace.org. July 12, 2017. (Dec. 3, 2017) http://bit.ly/2khYrkT

Yablon, Alex. "The NRA's Gun Safety Program for Children Is Ineffective, Government Review Finds." The Trace. Oct. 18, 2017. (Dec. 3, 2017) http://bit.ly/2kncc1S

Yablon, Alex and Spies, Mike. "NRA Lobbying Spending Hits New High in 2017." Thetrace.org. Sept. 11, 2017. (Dec. 3, 2017) http://bit.ly/2kjaAGe

Yablon, Alex and Spies, Mike. "The NRA Is Selling Insurance to Gun Owners Willing to Shoot in Self Defense." The Trace. April 26, 2017. (Dec. 3, 2017) http://bit.ly/2kjFZs1

(Accessed 12/10/2008)http://www.commondreams.org/headlines03/1029-05.htm
­