History of the NRA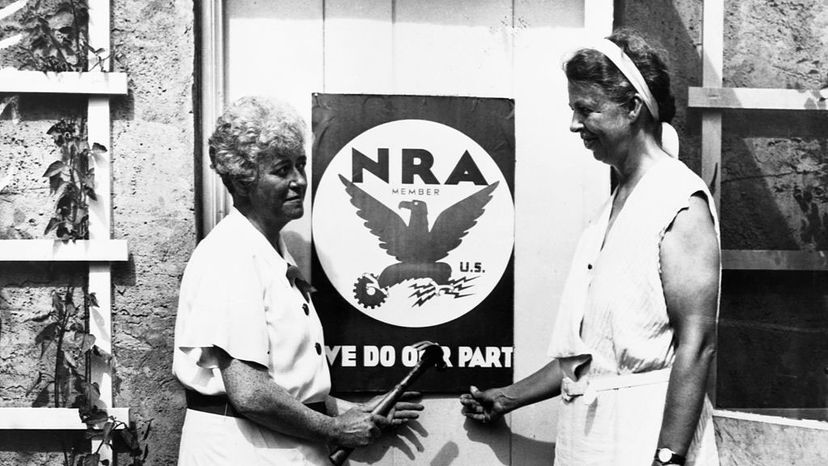 First Lady Eleanor Roosevelt (right) and Nancy Cook put up an NRA poster during World War II.
Corbis via Getty Images
Though today's NRA is strongly focused on protecting citizens' rights to own gun rights, the organization began with a different aim. Its founders were two Union Army veterans, Col. William C. Church and Gen. George Wingate, who were disturbed by the poor marksmanship skills of their troops during the Civil War. In an 1871 article for Army and Navy Journal, Church wrote that the National Guard wasn't doing enough to improve soldiers' shooting, and so he favored setting up an organization modeled after one in Great Britain — also called the National Rifle Association, interestingly — "to promote and encourage rifle-shooting on a scientific basis" [sources: Church, NRA, Rothman].
That same year, the American NRA was formed. Another former Union officer — Gen. Ambrose Burnside, who also served as Rhode Island governor and as a U.S. senator from that state, was the organization's first president [source: NRA].
The following year, with financial help from New York state, the NRA established a practice site at the Creed Farm in Long Island. Creedmoor, as the range was named, was the site of the organization's first annual shooting competition. But eventually, according to history on the NRA's website, political opposition to target shooting forced the NRA to find a new location. In 1892, Creedmoor was deeded back to the state, and the NRA moved its competitions to Sea Girt, New Jersey.
In the early 1900s, the NRA continued to promote shooting, with NRA Secretary Albert S. Jones urging universities and military academies to form rifle clubs. The organization also had its own youth program, and in the summer of 1906, 200 boys competed in matches at Sea Girt. With participation in the NRA's shooting programs growing, though, a bigger facility was needed, and Camp Perry, established on the shores of Lake Erie in Ohio by Gen. Ammon B. Crichfield, became the home of the National Matches, a shooting competition that today attracts nearly 6,000 competitors in various events [source: NRA].
During World War II, as might be expected from an organization founded by army generals, the NRA played a role in the war effort, offering its ranges to the government, developing training materials and encouraging members to help guard defense plants. The organization even collected 7,000 firearms and shipped them to Great Britain to help that country prepare for a possible German invasion. (The NRA notes that Great Britain had virtually disarmed itself between World Wars I and II due to gun control laws.)
After the war, the NRA shifted its focus to safety training and education for hunters. In 1949, it worked with New York state to establish the first hunter education program, and similar programs followed across the U.S. and in Canada. In 1960, the NRA also launched a firearms instructor certification program for police officers, and in 2018, there are more than 13,000 NRA-certified policy and security instructors across the nation [source: NRA].
Eventually, though, the NRA would become more prominent for its political activism.