Mission of the NRA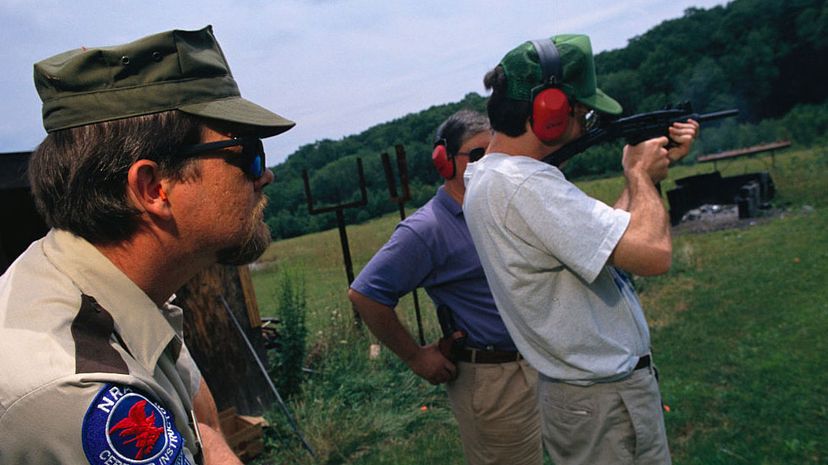 Brian Coffey, a certified National Rifle Association instructor gives a lesson at the Paradise Shooting Range in Cresco, Pennsylvania.
Mark Peterson/Corbis via Getty Images
Article II of the NRA's bylaws describes the organization's purposes and objectives, and not surprisingly, at the top is protecting the right of American citizens "to acquire, possess, collect, exhibit, transport, carry, transfer ownership of, and enjoy the right to use arms" [source: GuideStar]. The NRA's Institute for Legislative Action, which was formed in 1975, takes the lead in such advocacy, spending nearly $24.9 million in 2015, according to the NRA's tax return [source: ProPublica].
The bylaws also spell out the NRA's other aims, including training members of law enforcement agencies, the armed forces and "people of good repute: in marksmanship and the safe handling and use of small arms." The organization also promotes sports shooting, such as amateur marksmanship competitions from the local to the international level, as well as hunter safety and the defense of the sport of hunting as necessary to wildlife conservation [source: GuideStar]. According to its 2015 tax return, the NRA spent $45.4 million on its training courses and promotion of competitive shooting and hunting [source: ProPublica].
The organization has certified 125,000 firearms instructors who train about 1 million gun owners a year, with courses available in basic rifle, pistol, shotgun, muzzle-loading firearms and ammunition reloading, according to the NRA website. Since 1988, it also has run the Eddie Eagle GunSafe Program, which aims to educate fourth-grade students on what to do if they happen upon a firearm in an unsupervised situation.
The NRA also spent about $35.5 million in 2015 on membership support, which included what its tax return describes as "a growing multimedia platform" of four official journals for members, plus other magazines and digital channels aimed at different subsets of the gun-owning population, like women. A key part of that sprawling media operation is NRA TV, a website that features pro-gun rights video commentaries sponsored by firearms manufacturers [source: Yablon].