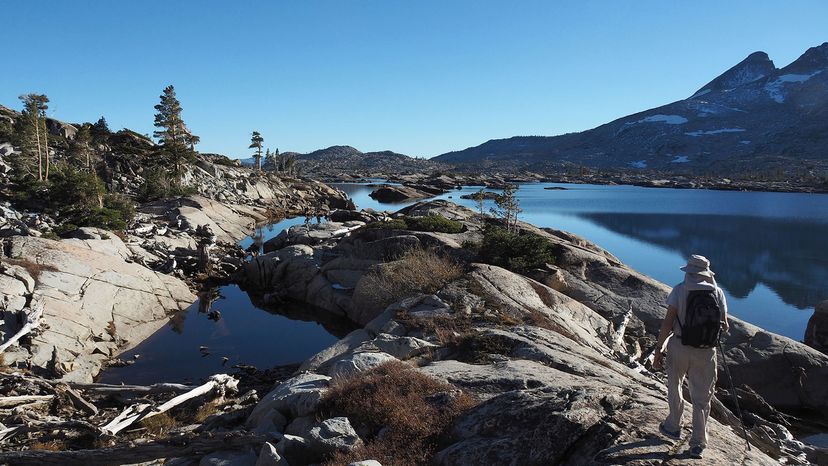 A hiker takes in Aloha Lake, surrounded by smoothly eroded granite boulders. It's situated in the Eastern Sierra Nevada, west of Lake Tahoe, along the Pacific Crest Trail.
Federica Grassi/Getty Images
Ever since the 2012 publication of Cheryl Strayed's best-selling memoir, "Wild," which chronicles her 1,100-mile (1,770-kilometer) solo hike along the Pacific Crest Trail (PCT) from California to Washington state, many more people have been lacing up their hiking boots.
Hiking is now the fourth most-popular outdoor activity in the U.S., after running, fishing and biking, according to The Outdoor Foundation's 2018 Outdoor Participation Report. The report noted that 44.9 million people hit the trails in 2017, up from 30 million in 2006. The biggest jump in participation came between 2015 and 2016.
Trail experts say no definitive study has been conducted to determine why hiking has exploded in popularity over the last few years. But many do believe "Wild," which was made into a movie in 2014, has at least played a part. For instance, The Pacific Crest Trail Association issued 7,313 trail permits in 2018, up from a mere 1,879 in 2013. (The PCT runs from Mexico all the way to the Canadian border, a distance of 2,650 miles or 4,265 kilometers)
But it's not just the PCT portrayed in Strayed's book that is attracting hikers. Members representing all 11 of the country's National Scenic Trails, of which the PCT is one, are reporting growth in trail traffic over the last five years, says Wesley Trimble, program outreach and communications manager for the American Hiking Society. In 2017, a record 3,389 hikers set out from Georgia to hike the Appalachian Trail (AT) which ends all the way in Maine. That's 40 percent more than in 2015.
Trimble says in addition to the "Wild" effect, he believes hiking is increasing in popularity because more people are discovering the nation's various trail systems and learning about the concept of long-distance hiking. "I also think the Millennials, and even Gen Z, are putting a lot more value on experiences than on monetary items and career advancement," he says. "Cultural shifts have definitely played a role in the number of people getting out on the trails."
Mike Wollmer is executive director of the Ice Age Trail Alliance (IATA), which protects, maintains and advocates for the Ice Age Trail, another one of the 11 National Scenic Trails. Wollmer believes social media has also helped to boost hiking numbers, as it is being used to showcase the beauty and diversity of U.S. hiking trails, construction projects and more. This is especially true for lesser-known paths such as the Ice Age Trail, which winds 1,150 miles (1,850 kilometers) around Wisconsin, highlighting the state's Ice Age landscapes.
The IATA recorded 76 trail completions between the path's birth in the 1970s and 2012. During the next six years, another 114 people reported trail finishes. The IATA is active on Facebook, Twitter and Instagram, and many of its 21 volunteer chapters help with specific sections of the trail and have Facebook pages of their own. The hiking community also created the IATA-specific "Thousand Miler WannaBes" Facebook page, aimed at helping people achieve their dream of becoming a "thousand-miler," the prestigious designation the IATA bestows on those who have completed the entire trail.
Too Much of a Good Thing?
While the explosion in trail usage is heartening to the scores of volunteers who build, maintain and advocate for the country's various pathways, it has caused some growing pains. Trails such as the Appalachian and Pacific Crest, which span several states and numerous climates, are safest when certain sections are hiked at specific times of the year. You don't want to be laboring along the PCT's desert segments in the heat of summer, for example. But that means hikers tend to be clumped together on the trail, which strains the land and trail resources, such as shelters.
More hikers also mean there will be more novices out there. And nature can be dangerous. There has been an increase in the number of hikers needing to be rescued from the arid southern New Mexico portion of the Continental Divide Trail, for example. "People aren't as prepared to be out there as in the past," Trimble says.
Newbie hikers also need to be aware of sustainable trail practices, namely the seven "Leave No Trace" principles. These include practices such as packing out your trash, camping on durable surfaces and respecting wildlife. It's also important to stay on the trail. No taking little detours to avoid stepping in mud or water; that starts widening the path and results in trampled vegetation. "Your footprints do have an impact," Trimble says.
Perhaps most critical, though, is that all hikers — whether seasoned or novice — should remember the importance of giving back. "Trails don't maintain themselves," Trimble says. "If every trail user would do just one day of trail work a year, it would make a huge impact."
Another way to lessen impact is to seek out trails that are less popular than the PCT and the AT, like the Ice Age Trail. You'll be treated to lots of scenic beauty without all the crowds.
Learn more about great hiking destinations in "Fifty Places to Hike Before You Die: Outdoor Experts Share the World's Greatest Destinations" by Chris Santella. HowStuffWorks picks related titles based on books we think you'll like. Should you choose to buy one, we'll receive a portion of the sale.