There's something about grabbing a mountain bike and heading out onto the trail. Maybe it's the feel of bouncing along rough terrain, or the thrill of climbing steep hills and edging sharply around tight turns. Whatever the reasons, an estimated 50 million Americans love riding their mountain bikes [source: NEMBA].
You don't have to be a pro to get into mountain biking, but you can't just jump onto a bike and into the sport immediately, either. Mountain biking requires a combination of strength, endurance and skill. To get that combination right, you need to train, and how hard you train depends on how serious you are about the sport. Weekend riders might need little more than the right gear, some practice and a good warm-up, but those who want to be mountain biking pros might need to spend months -- or even years -- perfecting their tricks and techniques.
In this article, you'll learn some helpful tips on how to gear up, build your endurance and stay safe while mountain biking.
If you're going mountain biking, you need to buy a bike. Mountain bikes can range from about $300 to as much as $5,000, so you'll want to have a budget in mind. The more expensive bikes are designed for serious riders because they're made of higher-quality materials such as premium-grade steel or aluminum, and they offer more accessories and abilities to fine-tune.
Mountain bikes come in several different styles, depending on where you're planning to ride:
Cross-country bikes (also called XC bikes) are lightweight and efficient. They're great for smooth trails with rolling hills, but you wouldn't want to take them on really rough terrain. Trail mountain bikes are modified cross-country bikes with a softer suspension to handle bigger obstacles.
All-mountain bikes were built to handle rough terrain. They're heavier than cross-country bikes, and can climb hills with ease.
Downhill bikes are made for speed. They have the most suspension of any mountain bike and can take the abuse of rough courses with steep drops, but they're not ideal for uphill riding.
Dirt jump bikes tend to be smaller and are built to withstand big jumps.
Freeride bikes are easier to pedal than downhill bikes. Their thick wheels and long-travel suspension make them good for jumps, stunts and big drops.
Mountain bikes also come with two kinds of suspension, which protect the bike and rider from the shock of rough terrain:
Full suspension bikes have both front and rear suspension. They're heavier, more comfortable and easier to control than hardtail bikes.
Hardtail bikes have a front suspension fork, but no rear suspension. They are lighter and pedal more efficiently than full suspension, and they're more durable for off-road riding.
Once you've gotten your bike, you'll need some gear to protect you from the elements and keep you safe on the trail.
For clothing, padded shorts will keep you more comfortable on long rides. Add a waterproof jacket in case the weather changes and a reflective jersey if you're going to be riding at night. Knee and elbow pads will help shield you against scrapes and falls, and gloves will keep your hands warm and protect against blisters when you grip the handlebars.
Choose a helmet that's been certified by a safety organization such as the Consumer Product Safety Commission. The helmet should fit snugly, and it shouldn't move when you tilt your head. Extra vents will increase air circulation to your head, keeping you cooler.
If you have clipless pedals, you'll need shoes that fit into your pedals' cleats. They should be comfortable, durable and have a hard sole to help you pedal more efficiently. Add thick cycling socks to prevent blisters.
A good pair of sunglasses will protect your eyes from the sun's ultraviolet rays, and keep out dirt, wind and bugs. Choose shatterproof lenses with high UV protection.
Water is a must-have so you don't get dehydrated. Make sure you take a drink every 20 minutes or so, even if you aren't thirsty. If you don't want to continually pick up a bottle while you ride, get a backpack-mounted system. Also, bring along a snack, such as an energy bar or piece of fruit, to keep you going.
As with other sports, mountain biking has its own set of rules, many of which were created by the International Mountain Biking Association. Here are few key rules to remember:
Ride only on open trails. Always follow the signs and route markers, and get to know the trails well.

Stay in control. Watch your speed, slow down around tight corners, and don't try any tricks beyond your skill level.

Yield the trail. When you get near another person, slow down. Let them know you're approaching and signal that you want to pass.

Be prepared. Bring along a repair kit and extra supplies, so you don't get stuck out on the trail.

Clean up. Any trash you bring with you should go back home with you or be disposed of properly.

Watch out for animals. Never approach wild animals or startle them.
[source: IMBA]
Mountain biking requires strength, endurance and skill. You never want to ride 50 miles through rough terrain on your first day. Build up your endurance and increase your aerobic capacity so that you can tackle longer rides, and practice your skills slowly until you get them down. Here are a few training techniques:
Ride up and down hills, alternated with speed intervals on straight stretches of road. Your goal is to get your heart rate up to 50 to 85 percent of its maximum [source: American Heart Association].
Practice handling your bike in a variety of terrains, from wooded areas to hills. Try tackling rocks, grass and sharp turns until you feel sure that you can keep your bike under control, no matter what's in front of you.
Each time you ride, take at least 20 minutes beforehand to warm up. This increases blood flow to your muscles so that you're less likely to injure them. For the first part of your warm-up, ride a stationary bike or take your mountain bike down a straight stretch of road. Start with high RPMs (about 90) and low resistance. After about 10 minutes, add a bit of resistance. Then get off your bike and stretch your muscles, especially the quadriceps, hamstrings, calves, lower back, neck, and shoulders. Finally, ride again for 10 to 20 minutes to increase your heart rate.
Doing other types of exercises regularly -- also known as cross-training -- can help firm the muscles you'll use for mountain biking and give you the aerobic endurance you'll need for long rides. Swim, hike and work out with weights to stay in top biking shape.
For more common questions and expert answers on sports and athletic performance, visit Sharecare.com.
There may be almost as many trails crossing the United States as there are riders waiting to tackle them. Trails can range from smooth and easy to rough and rocky. When picking a trail, choose wisely based on your skill level and how far you want to ride.
Beginners should stick to smooth, flat trails with few sharp turns or steep descents. These trails should be pretty similar to riding on the road.
Intermediate riders will want a few added rocks, hills, narrow spots and switchbacks (zigzagged trails) to challenge them. Before trying these trails, you'll want to be in good aerobic shape and have at least a few technical skills.
Advanced riders can try more technical trails or go for longer rides.
Professionals will want the challenge of long, technical trails with plenty of rocks, switchbacks, high climbs, steep drops and tight twists. Novices should not try these twisted trails.
How do you know that you've found a trail that's worth riding? A good trail should have:
Plenty of signs to show you where you're going

Signs that indicate the skill level needed to ride the trail

Ground that isn't too muddy

Alternating clear runs and more technical areas with rocks, jumps and tight switchbacks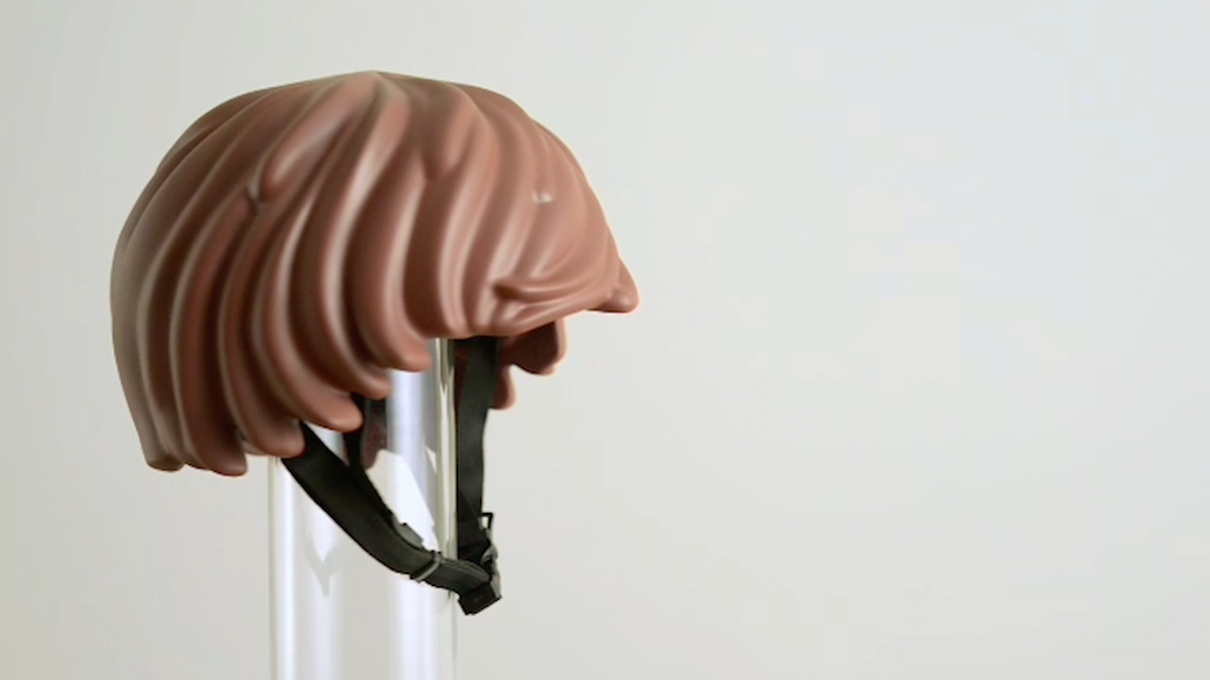 Up Next
How can parents encourage children to wear bicycle helmets? Learn more about helmets modeled on Playmobil and Lego in this HowStuffWorks Now article.
---
Related HowStuffWorks Articles
More Great Links
Sources
ABC-OF-MOUNTAIN BIKING. "Features of a Good Mountain Biking Trail." (Accessed Nov. 9, 2009)http://www.abc-of-mountainbiking.com/info/mtb-trails-features.asp

ABC-OF-MOUNTAIN BIKING. "Mountain Biking Clothes & Gear." (Accessed Nov. 9, 2009)http://www.abc-of-mountainbiking.com/mountain-biking-gear/

ABC-OF-MOUNTAIN BIKING. "Mountain Bikes - Types." (Accessed Nov. 9, 2009)http://www.abc-of-mountainbiking.com/mountain-bike/mountain-bike-types.asp

About.com. "Before You Buy a Mountain Bike - A Buyers Guide." (Accessed Nov. 9, 2009)http://mountainbike.about.com/od/buyersguideandreviews/bb/bike_BYB.htm

American Heart Association. "Target Heart Rates." (Accessed Nov. 23, 2009)http://www.americanheart.org/presenter.jhtml?identifier=4736

Armijo, Vic. The Complete Idiot's Guide to Cycling. New York, NY: Alpha Books, 1999.

Chapple, Thomas. "You're Getting Warmer." Dirtworld.com. March 19, 2007. (Accessed Nov. 9, 2009)http://www.dirtworld.com/TipsAndTricks/TipsStory.asp?id=609

Cyclingmind.com. Mountain Bike Training. (Accessed Nov. 9, 2009)http://www.cyclingmind.com/mountainbike-training.html

International Mountain Biking Association. "Rules of the Trail." (Accessed Nov. 9, 2009)http://www.imba.com/about/trail_rules.html

O'Reilly, Tina. "Mountain Biking: Ride On!" Listen. May 2008. Vol. 61, Iss. 9, pgs. 24-26.

New England Mountain Biking Association (NEMBA). "The Economics and Benefits of Mountain Biking." (Accessed Nov. 17, 2009)http://www.nemba.org/

Utahmountainbiking.com. "Biker's Backache." (Accessed Nov. 9, 2009)http://www.utahmountainbiking.com/goodies/backache.htm

Yeager, Selene. "Backache in the Saddle Again." Bicycling. (Accessed Nov. 9, 2009)http://www.bicycling.com/article/0,6610,s1-4-22-14977-1-P,00.html

Yeager, Selene. "Sprint Into Spring." Bicycling. March 2005. Volume 46, Iss. 2, pgs. 82-83.