Olympic National Park
600 East Park Avenue
Port Angeles, WA 98362-6798
360-565-3130
Olympic National Park -- located in northwestern Washington, about 90 miles from Seattle -- contains jagged mountains, glaciers, lush rain forests, and beaches that are covered with driftwood. These diverse offerings attract nature lovers from around the world. In addition to viewing the surroundings, visitors can partake in a number of activities, including boating, fishing, and water sports.
Entrance fees: $10/vehicle for seven days or $5/individual for seven days
Visitor centers: Olympic National Park Visitor Center and Hoh Rain Forest Visitor Center are open year-round
Other services: Four visitor centers, a museum, information stations, two lodges, two resorts, and 16 campgrounds
Accommodations: Some of the park's 16 campgrounds are open year-round. Most operate on a first-come, first-served basis, but some reservations are available (800-365-CAMP).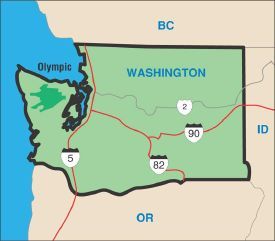 Visiting Olympic National Park
Come to Olympic National Park, and you enter an enchanted forest, a luminous world suffused with a soft green light reflected and refracted by trees garlanded with club moss and lush growths of ferns and oxalis.
There, in Washington's Hoh Rain Forest, western hemlock, Sitka spruce, and western red cedars, some with diameters of 25 feet, tower 300 feet above you. These ancient giants, standing on enormous roots called stilts, form great colonnades with inviting, winding side aisles that look like green tunnels leading to another world.
A jumble of undergrowth spreads out far below the forest canopy in the national park on the Olympic Peninsula, located in the extreme northwest corner of Washington. Seedlings that would have been unable to compete with other plants on the forest floor sprout exuberantly on fallen trees, called nurse logs.
From these rotting logs, some saplings may grow into the world's largest specimens of Douglas fir and western hemlock. The undergrowth is luxuriant and abundant, but it is not impenetrable because its growth is kept in check by the foraging of the park's most famous inhabitant, the Roosevelt elk.
Olympic is the most diverse national park. Along with the Hoh and two other rain forests, the park contains two more equally distinct ecosystems: a rugged wilderness seacoast, with stunning headlands and lovely beaches covered with driftwood, and the Olympic Mountains, a rugged range of high alpine meadows, great jagged ridges, and glaciers.
Because of this remarkably diverse landscape, climatic changes within the park are abrupt. The western side of the park has the wettest weather in the United States, averaging nearly 12 to 14 feet of precipitation each year. The eastern side of the park, which lies in the rain shadow of the mountains, is the driest area on the Pacific Coast north of Los Angeles.
Olympic National Park's diverse landscape offers equally diverse activities and sightseeing opportunities for visitors. On the next page, learn about the many things to see and do in this park.