A Cultural Holiday Weekend
Broadway Shows
Planning on a visit to the Great White Way after your white meat feast? Here's the bad news: Each year, between 70 and 80 percent of Broadway theaters go dark on Thanksgiving night. You're not totally out of luck, however, as a handful of excellent shows will still proceed with their regular, 8 p.m. performances. According to Playbill, you can still see "A Chorus Line," "Avenue Q.," "Chicago," "Les Miserables," "The Phantom of the Opera" or "Spring Awakening" [source: Playbill]. ("Pygmalion" also plays, but starts at 7 p.m.) This year, however, dozens of shows have been cancelled through the holiday weekend due to the striking stange hands and producers [source: MSNBC.com]. Be sure to confirm that the show you have tickets to is scheduled to go on.
Friday, Nov. 23, Broadway lights up for one of its busiest days of the year, with most shows adding a 2 p.m. matinee to their 8 p.m. offerings. Saturday, the same schedule prevails at most venues. Sunday, as cast members fight fatigue from four performances in two days, many theaters cancel their evening performances or offer a single, 3 p.m. show. One Sunday exception is "Dr. Seuss' How the Grinch Stole Christmas." If you're looking to end your Thanksgiving weekend by getting into the Christmas spirit, the mean, green guy rocks Whoville at 11 a.m., 2 p.m. and 5 p.m. at the St. James Theater on 246 W. 44th St. [source: Grinch Musical].
Special Exhibits
The Met, the MoMA, the Guggenheim and just about every other museum in the city, are closed on Thanksgiving Day, but you can visit those great institutions over the long weekend. The place to be on Turkey Day itself is the National Museum of the American Indian. Located at the U.S. Customs House at One Bowling Green in downtown Manhattan, the NMAI is maintained by the Smithsonian Institute and has a sister site in Washington, D.C. The museum is open from 10 a.m. to 8 p.m. Thursday, with special, Thanksgiving-themed films running continuously. Current attractions include an exhibit of the Indians of the Pacific Northwest and a retrospective on shaman artist Norval Morriseau.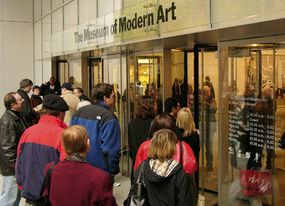 The Museum of Modern Art isn't open on Thanksgiving Day, but there are others that you can visit.
Also open on Thanksgiving Thursday from 11 a.m. to 5 p.m. is the excellent Rubin Museum of Art. Located at 150 W. 17th St., this relatively new space specializes in the art of the Himalayas. Housed in a former Barney's department store building, the museum features a central, spiral staircase ascending through five floors of paintings, sculptures and artifacts. Guided tours are free with your $10 admission from 3 p.m. to 4 p.m. Keep an eye out for photographer Kenro Izu's new exhibit, "Bhutan: The Sacred Within," which began Nov. 2.