You've traveled to New York City to spend the holiday weekend away from home. Maybe you have family there, or maybe you wanted to get away from family and spend it on your own. Whatever brought you to the city, there's no shortage of things to do to keep yourself busy while you're there.
Thanksgiving has come and gone. You're still sated from all the turkey and trimmings that you ate. Now, it's time to get down to business. What should you do with the rest of your weekend?
In this article, we'll look at some of the activities that can fill your days while you're in New York. We'll give you some suggestions for where to get a jump start on your holiday shopping. We'll also discuss some ideas to broaden your cultural horizons with Broadway shows and museum exhibits. For the active traveler, we'll tell you where you can get your gang together to play some flag football or run a 15K race. And finally, we'll go over some volunteer opportunities you can participate in, if you're feeling civic-minded.
Best Black Friday Sales
Thursday thankfulness is wonderful, sure. But for many of us, Friday morning's cut-throat deal hounding is Turkey weekend's real reward. And there's no place to shop like New York City. Regardless of your shopping goals, the key to a successful New York Black Friday haul is good planning and an early start. Your options are dizzying, so we've identified some best bets.
For the consummate midtown Manhattan experience, line up with hundreds of tourists and locals alike outside Macy's flagship Herald Square store before its usual 6 a.m. opening. (The queue gets going well before dawn.)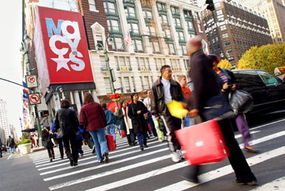 The Macy's flagship store in Herald Square, New York City
For fashion nuts: SoHo will be a madhouse later in the day, but it's not quite as bad in the morning. Most of the neighborhood's smaller boutiques open around 9 a.m. and generally feature solid discounts. Don't forget to have a look at the SoHo Antique Fair and Flea Market while you're downtown. (Caution: If you're expecting early hours and great sales from the Prada mothership at Broadway and Prince St., expect to be disappointed.)
For electronics enthusiasts: Circuit City and Best Buy have multiple Manhattan locations. Both will compete for the most outrageous Black Friday technology deals and can open as early as 5 a.m. In year's past, early bird shoppers have plucked $100 laptops, free desktops and free digital cameras.
For those with highbrow taste: Tiffany, Barney's, Saks Fifth Avenue and Bergdorf Goodman all open early. You can find these stores grouped fairly close together in Midtown East in the upper 50s. After your shopping day concludes, be sure to enjoy a well-earned cocktail somewhere in the neighborhood -- Peninsula Hotel's Pen Top Bar and Terrace would fit the occasion perfectly.