A Foreign Thanksgiving
Little Italy Thanksgiving
Most of the best Little Italy restaurants are family-owned establishments, so it's no surprise that it's hard to find an open restaurant in the Mulberry St. vicinity on Turkey Day. A few good spots remain lit on the holiday. Here are a few suggestions.
Il Cortile (125 Mulberry St.) is open Thanksgiving Day and offers a classic Little Italy experience. The humongous, ornate dining room is decorated in a Roman-garden style. The copious plant life, statues, white columns, fountain and giant skylight will have you reciting Julius Caesar in no time. Fun as interiors can be, you're paying for the food, which, thanks to chef Michael DeGeorgio, is above average.
The upscale Novella (191 Grand St.) will be offering a special turkey dinner prix fixe, in addition to chef Vincenzo Pezillo's regular menu.
After dinner, if you're ready for round two on desert or looking for a Friday morning sweet, stop by La Bella Ferrara bakery (108 Mulberry St.) for a pastry ( open until midnight).
Chinatown Thanksgiving
Those in the mood for a Chinese meal for Thanksgiving dinner will be happy to know that most restaurants in Chinatown remain open during the Thursday holiday.
To stray completely off the turkey track, Ping's Seafood (22 Mott St.) is a great place to start. The Hong Kong-style seafood dishes here are super-fresh -- what you see in the restaurant's tank is what you get on your plate -- and deliciously executed.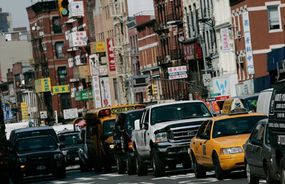 Chinatown offers up Thanksgiving dinners that have nothing to do with turkeys.
Joe's Shanghai (9 Pell St.) is famous for its soup dumplings -- be sure to order a round of both the pork and the crabmeat varieties before your main meal.
If affordable but tasty is your goal, try New Green Bo (66 Bayard St.). The decor is no-nonsense and the cuisine comes from coastal Shanghai. The deep-fried eel and the scallion pancakes make excellent holiday comfort food.
Finally, Chinatown Brasserie (380 Lafayette St.) is located a bit North of Chinatown itself, but you should still consider it in your dinner plans. The dining room is gorgeous, and the chefs do Thanksgiving right. They prepare turkeys in their custom-built Peking duck oven, producing a perfect, crisp, brown skin texture. Don't miss the turkey spring rolls and baked turkey buns either.
For dessert, pay a visit to the Chinatown Ice Cream Factory (65 Bayard St.) and give thanks that China invented ice cream.
For more information on New York City, Thanksgiving and related topics, check out the links below.
Related HowStuffWorks Articles
More Great Links