A Different Kind of Dinner
Thanksgiving Dinner Cruise 
Visitors to the Statue of Liberty and commuters on the Staten Island Ferry know what a pleasure cruising New York Harbor can be. As enjoyable as those rides are, they can't compare to a fuller navigation around Manhattan Island. Care for a side of stunning scenery with your bird? A Thanksgiving dinner cruise is for you. For reservations, contact one of the three main players dominating the city's dinner cruise circuit: Bateaux New York, Spirit Cruises or World Yacht.
Bateaux's ship, docked at Chelsea Piers, has floor-to-ceiling windows, surprisingly good food and a pretty decent band. On Thanksgiving Day, you can choose a lunch cruise or a dinner cruise. Alcoholic beverages, taxes and gratuity aren't included. Free-range turkey stars on the entree list for both cruises. Vegetarian options are also available.
Spirit's large boat, also docked at Chelsea Piers, features a buffet-style Thanksgiving Day lunch cruise. Alcoholic beverages and taxes aren't included in the price.
And finally, World Yacht is located at Pier 81 on W. 41st. St. They're offering a lunch cruise as well as a four-course dinner, music and dancing. Like the other two lines, beverages, taxes and gratuity are extra.
Vegetarian Thanksgiving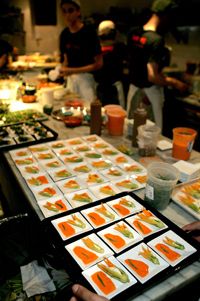 Pure Food and Wine will be seriving a Thanksgiving meal of completely raw, vegan food.
On a holiday dedicated to slow-roasting an enormous bird, vegetarians have more or less drawn the short end of the wish bone. Fortunately, for the meat-abstaining set, New York City has no shortage of excellent restaurants in which to enjoy a vegetarian Thanksgiving feast.
Counter, located at 105 1st. Ave. in the East Village, offers a $65 Thanksgiving prix fixe meal. You can also get an optional wine pairing with each course for an additional $35. Want to pick your own wine? The restaurant has over 50 organic wines from which to choose.
The Candle Cafe has two locations on the Upper East Side: The original at 1307 3rd Ave., and the new place, Candle 79, at 154 E. 79th St. Both spots will be open from 2 p.m. to 9 p.m. on Thanksgiving Day. Voted "New York Naturally's" Restaurant of the Year in 2005, Candle is planning a special, organic/vegan Thanksgiving menu this year. You can choose your dishes a la carte, or opt for a prix fixe menu.
Pure Food and Wine, at 54 Irving Place, is probably the best known "raw food" restaurant in New York. It'll be offering a special Thanksgiving meal made completely from raw, vegan components. Last year, the "turkey" was a sage-marinated-and-rubbed Portobello mushroom. Also, the restaurant's popular 126 E. 17th St. takeout location will sell complete Thanksgiving meals the week leading up to the holiday.