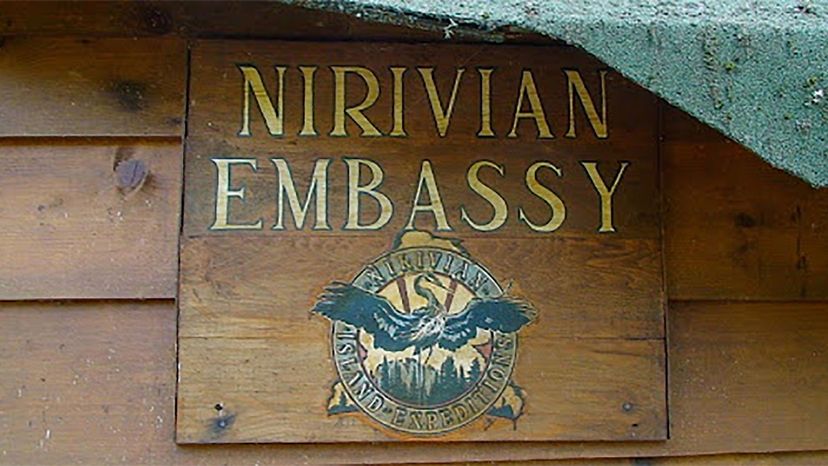 Should you encounter any sort of diplomatic issue in the land of Nirivia, you could take it up with the "embassy," but don't expect much of a solution, as the embassy is actually a sauna.
Zach Kruzins
Among the world's numerous micronations — generally, tiny realms tucked into nooks and crannies on the map, where someone has proclaimed sovereignty that's not recognized by the rest of the world — the Republic of Nirivia stands apart. It might be the only country in the world that was founded around a campfire, by a group of outdoorsy, whiskey-drinking Canadians who gave themselves fancy titles in jest, and mostly seem to have wanted to make a point about the importance of preserving a pristine natural area from logging and mining.
Nirivia comprises 59 islands situated on the northern part of Lake Superior, the biggest of which is St. Ignace Island. It's the sort of place that's a paradise for hikers and kayakers — full of verdant woods, sea caves, beaches and striking columnar basalt formations, home to an assortment of aquatic and avian creatures. It's a locale whose spectacular scenery has been compared to Norway.
It was a place treasured by a group of friends who'd grown up in the area and spent their youth exploring its wonders. In a 2014 article by Charles Wilkins in Cottage Life magazine, one of Nirivia's founding fathers, Rusty Evans, explained that they seized upon a perceived loophole in a land claim filed by native people, under a 19th century treaty with the Canadian government. That claim was for a stretch of land along Lake Superior's north shore, but Nirivia's founders noticed that it didn't include the islands. Evans took that to mean that the natives hadn't ceded the islands to Canada in the first place, leaving their status murky.
"We oughta just swipe them from the government — declare our own country!" Evans recalled telling his friends, as recounted in the Cottage Life article.
They even came up with a name — Nirivia. "It was like Nirvana, but they had a little booze in them," explains Zack Kruzins, the owner of Such a Nice Day Adventures, an outdoor adventure and education company based in northwestern Ontario. (He's also co-author of "A Paddler's Guide to the Lake Superior National Marine Conservation Area.")
"They started this place, which is more like a state of mind. It's a pristine, beautiful wild place that's so far from everything that it seems like a separate country," Kruzins explains. "It's got this energy that's magical."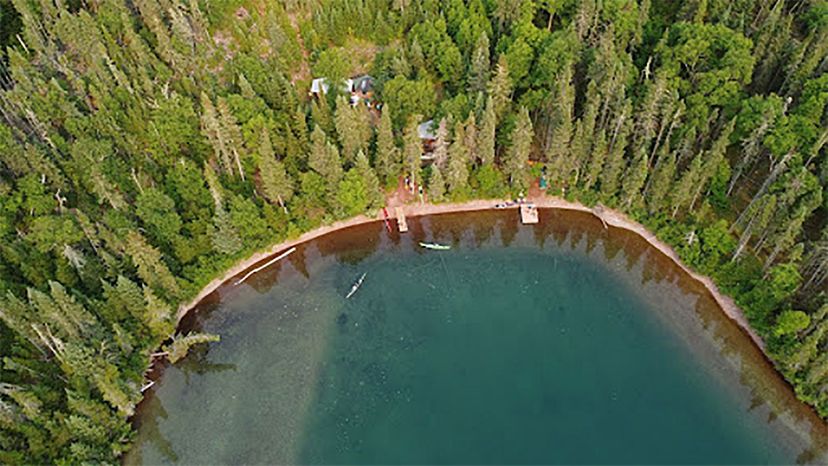 The coastline of the Republic of Nirivia on Lake Superior.
Zach Kruzins
A Proclamation and a Flag-raising
Declaring their own country was an amusing idea, but one that they actually decided to carry out, if only to make a point about the importance of preserving Nirivia. As a Canadian Press wire service article in the Oct. 31, 1979 edition of the Ottawa Journal described, a group of 16 residents of Thunder Bay and Nipigon, Ontario gathered on St. Ignace Island — the largest bit of land in the archipelago — to proclaim the new nation of Nirivia and hold a flag-raising ceremony.
The Nirivians were willing to let their new country revert back to Canada, according to the Canadian Press, provided that the Canadian government met certain conditions, including developing hiking trails, protecting Nirivia from logging and mining, and cleaning up a trash dump left behind by hunters.
"Our declaration is an intention to point out the uniqueness of this place, rather than to secede," another founder, David Kruszewski, explained in the article.
The founders of Nirivia — who also included Jim Stevens, author of numerous books on northern Ontario — jokingly conferred upon themselves various titles, such as king and earl. As travel writer Bob Henderson noted in his 2014 book "More Trails, More Tales: Exploring Canada's Travel Heritage," one even composed a national anthem for the fanciful country, with lyrics such as "When the waters start to roll / The Nirivia spirit started to blow / Oh Nirivia, the island nation of Nirivia."
On St. Ignace Island, they also built a camp of wooden structures, including a sauna that they called the "Nirivian Embassy," and some geodesic dome-like structures for use as cabins when they visited, according to Elle Andra-Warner's 2019 article about Nirivia on the Northernwilds.com website.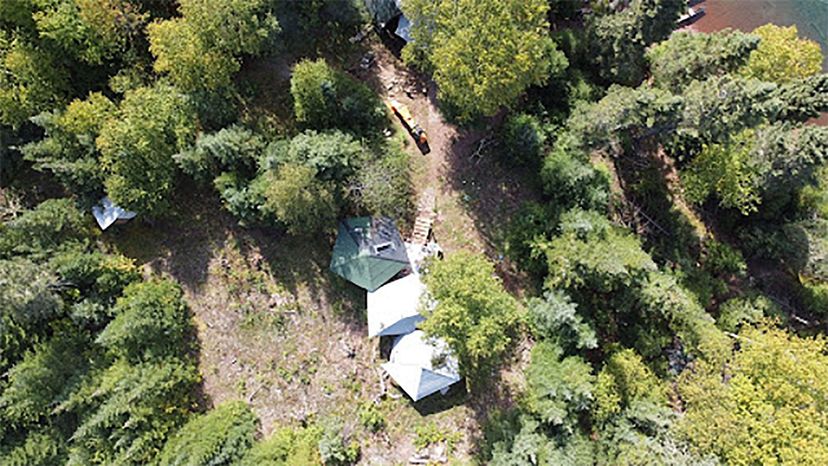 Some of the geodesic dome-like structures that were built in Nirivia.
Zach Kruzins
One thing they didn't do was settle in the new country year-round. "It's so cold in the winter, the unpredictability and challenge of the weather (means) nobody can live there," says Kruzins.
The Canadian government, of course, didn't recognize Nirivia's independence, and Ontario's agency in charge of developing natural resources were more inclined to view the Nirivians as squatters — along the lines of "You can't do this, it's Crown land," as Kruzins says. But eventually, Kruzins explains, a sympathetic official helped to work out a deal in which the Nirivians received a commercial land use permit for nature-based tourism, which enabled them to continue using the area, and helped protect it from resource development and extraction.
Though they didn't actually form a real country, Nirivia's founders essentially got what they wanted when it came to preserving their special spot on the planet. According to Henderson's book, much of Nirivia now is designated for conservation. Moreover, "the resource extraction industries along the northern Lake Superior coast have cleaned up their act from the 1970s," he wrote.
Today, the tradition of the fanciful nature-protecting micronation is continued by people such as Kruzins, who proudly flies the flag of Nirivia on his canoe. As he explains: "It represents the spirit and the energy of the place, which is unique."
HowStuffWorks may earn a small commission from affiliate links in this article.