Three massive natural bridges of stone -- the largest and most impressive collection of such formations in the world -- can be found at the Natural Bridges National Monument in southeastern Utah. The oldest is Owachomo, a 106-foot-high bridge that is only nine feet thick across the top. Though it is no longer being eroded by water, it is susceptible to cracking.

The Sipapu Bridge ("place of emergence" in Hopi), is the largest bridge in both height (220 feet) and span (268 feet). The youngest of the three is Kachina Bridge, named for the symbols that are carved on the bridge and also found on kachina dolls. This bulky bridge is 210 feet high and 93 feet thick. Floodwaters in White Canyon are still eroding and enlarging Kachina.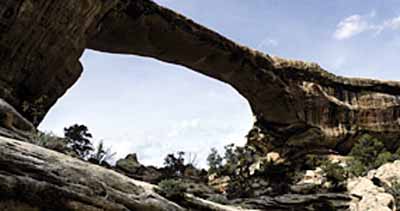 ©National Park Service
Rivers carved natural bridges into the rock at the National Monument in Utah.

Water is the force that forms natural bridges (natural arches are formed by other erosional processes). When a river forms a great loop, almost circling back on itself, it can create a thin rock wall in which a natural bridge can form. Running water scrapes away at opposite sides of the thin wall. Eventually, the river breaks through the wall and takes the new, shorter course under the bridge. The river continues to wear down the rock, slowly enlarging the opening.
In addition to the bridges, the monument contains fascinating plant and animal life, as well as prehistoric ruins.
Natural Bridges National Monument Information

Address: End of Hwy 275 (35 miles west of Blanding, UT)
Telephone: 435/692-1234
Hours of Operation: Open daily, 8:00 a.m. - 5:00 p.m.; closed Thanksgiving, Christmas, and New Year's Day
Admission: $3 per person or $6 per vehicle
Learn about these other national monuments:
To learn more about national national monuments, memorials, and historic sites, and other travel destinations in North America, visit:

­
ABOUT THE AUTHOR:
Eric Peterson is a Denver-based freelance writer who has contributed to numerous guidebooks about the Western United States.