Mount Rainier National Park
Tahoma Woods, Star Route
Ashford, WA 98304-9751
360-569-2211
Mount Rainier National Park -- located in central Washington, about 50 miles southeast of Tacoma -- draws hikers and mountain climbers from around the world. Mount Rainier, one of several volcanoes in the Cascade Range, is the centerpiece of this national park, with its flowered meadows, its numerous glaciers, and its challenging two-day hike to the summit. This park offers visitors scenic vistas and many different outdoor activities, including fishing, backpacking, and snowshoeing.
Entrance fees: $10/vehicle for seven days or $5/individual for seven days
Visitor centers: Longmire Museum is open daily. Jackson Visitor Center-Paradise is open daily from mid-April through mid-October, weekends only from mid-October through mid-April. Other visitor centers are open seasonally.
Other services: A museum, two wilderness information centers, two park inns (one is closed for rehabilitation until 2008), and six campgrounds.
Accommodations: Sunshine Point Campground is open year-round and operates on a first-come, first-served basis. Five other campgrounds are open variously from mid-May through mid-October. Reservations are available at 800-365-CAMP. National Park Inn (360-569-2275) is open year-round. Paradise Inn (360-569-2275) is open for the summer season.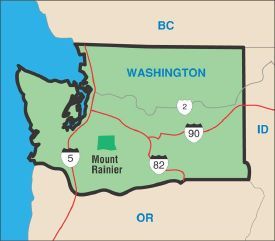 Visiting Mount Rainier National Park
The highest of the great peaks of the Cascade Range is Mount Rainier, a gigantic mountain that is covered with 26 active glaciers, more than any other peak in the lower 48 states. The mountain is a mecca for climbers around the world, and quite often it claims a life or two.
Even though the mountain is its most prominent feature, the nearly quarter-of-a-million-acre national park offers a number of other attractions. Below the extensive snowfields that cap Rainier are such wildlife as mountain goats, black-tailed deer, black bears, and beavers.
Downslope, the forests are almost like a cathedral, with enormous western and mountain hemlocks and western red cedar that tower to awesome heights thanks to the more than 100 inches of rain the area receives annually. The high spruce and fir forests are known for their summer wildflower displays.
Summer is the best time of year to visit Mount Rainier, because the area is legendary for its deep snows. Autumn is short, with snow storms commencing in some years as early as late September.
Mount Rainier National Park is a paradise for nature enthusiasts and athletes alike. If you're interested in adventure sports, check out the ice climbing article, video and images at Discovery's Fearless Planet.
For active outdoors enthusiasts, Mount Rainier National Park offers countless activities, including the two-day hike up Mount Rainier. On the next page, we'll provide sightseeing tips.