Suggested Itineraries for Visiting Miami
Whether your idea of a dream vacation to Miami involves unwinding on the beach, exploring the famed Art Deco district, checking out the buzzing Miami nightlife, or all of the above, the following itineraries will cover your interests. From glamorous shopping at Bal Harbour to ultimate tranquility at the Ancient Spanish Monastery, your sightseeing plate can be full each day, if you so choose. Here are suggestions on how to see the best of Miami:
Special Events & Attractions in Miami
Special Events & Attractions in Miami
The variety of special events and attractions in Miami can truly make your head spin. Use these tips to focus in on some of the highlights:
1 day: One day to cover all things Miami? That's a tall order. South Beach may be the place to see and been seen, but locals steer away from the tourist magnets for quieter enclaves like North Beach. This revitalized neighborhood has a wonderful collection of MiMo (Miami Modern) architecture, as well as unpretentious shops, oceanfront cafes (the lemon tart at Paul's is to die for; 14861 Biscayne Blvd), and best of all, uncrowded beaches.
You can't leave without a taste of Miami charm -- take a boat trip to Stiltsville, with Dr. Paul George in tow to elaborate on the history of this overwater community, or take a dip at Coral Gables' Venetian Pool, a spring-fed swimming pool built in 1923 from a coral rock quarry.
2 days: Beat the heat by spending a day under water -- snorkeling or diving. Miami is known as the "Wreckreational Capital of the Americas" because of its enormously popular artificial reefs, created by old ships, oil platforms, and army tankers that have been sunk to create an underwater wonderland of marine life and coral. Most of the reefs are within 130 feet of water and are less than two miles east of Sunny Isles, Miami Beach, and the Key Biscayne shoreline.
Sample a few other of Miami's adventure offerings if you have time: the Miami Jai Alai Fronton (3500 NW 37th Ave) and the Miami Speedway in Homestead (1801 W International Speedway Blvd), home to NASCAR and other major auto racing events.
3 days: Fuel up on hot malted waffles and breakfast burritos at Mobil One-Star Big Pink on Collins Avenue before checking out the Miami Seaquarium (4400 Rickenbacker Cswy) on Biscayne Bay. The marine mammal aquarium features exhibits with sharks, manatees, tropical fish, and crocodiles, along with sea lion, dolphin, and killer whale shows. If you're lucky enough to get a seat near the bottom of the amphitheater, you're bound to get wet -- the perfect cool-off on a hot Miami day. Later, charter a sailboat and cruise around Miami's chain of islands. Several companies, such as Flyer Catamaran Excursions, offer sunset and evening cruises.
A tight schedule can nix plans to visit the Everglades National Park, but if you're intent on seeing a real side of Florida, then an all-day -- if not weekend -- trip will be more than satisfying. An early arrival increases chances to see wildlife, plus you'll have more time to explore the distinct areas of the park.
Getting around is fairly easy whether you drive, bike, or walk. Bird watching, kayaking, fishing, camping, and stargazing are perfect pastimes, but you should also join one of the guided tours provided by park rangers. These include tram tours to the heart of the Everglades, boat tours around the Ten Thousand Islands of the Gulf Coast, and slough slogging -- swampland walks through waist-deep water.
Arts & Culture in Miami
Arts & Culture in Miami
From cigar-rolling and salsa lessons to art museums and playhouses, Miami has the arts and culture scenes covered. Here are some suggested itineraries:
1 day: Begin the day at the Wolfsonian (1001 Washington Ave), whose unique collection addresses a diverse array of late-19th- and 20th-century topics, such as nationalism, political persuasion, industrialization, architecture, and urbanism -- issues that complement the city's culture and architecture.
In the afternoon, wander through the Miami Art Museum (1001 W Flagler St) for a peek at works by art-world heavyweights Chuck Close, Oscar Munoz, and James Rosenquist, to name a few. At night, catch a play at the Coconut Grove Playhouse (3500 Main Hwy). Check ahead for the schedule.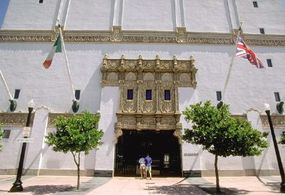 ©2006 Greater Miami CVB The Wolfsonian offers a unique collection of decorative arts and more.
2 days: Spend an unforgettable day in Little Havana (SW 8th St and SW 11th Ave), the heart of Miami's Cuban community. Stroll down Calle Ocho, 8th Street, and marvel at its Spanish-style architecture, exotic fruit stands, and sidewalk counter cafes. Learn how cigars are hand-rolled at the Credito Cigar Factory (1105 SW 8th St) and wander into one of the botanicas that sell potions and tools used for the white magic rituals of Santeria.
Near Maximo Gomez Park (1444 SW 8th St), grab a hot-pressed Cuban sandwich for lunch. In the afternoon, visit Woodlawn Park Cemetery (3260 SW 8th St), the site of the Bay of Pigs Monument, then do some shopping in the markets and boutiques teeming with all things Cubano.
At night, enjoy one of Miami's Nuevo Latino restaurants, where the evolution of "Cuban culture in exile" is most evident, before catching a class at the Salsa Lovers Dance Studio (9843 SW 40th St). Private lessons are available to learn the latest and oldest steps, including the tango, rhumba, and of course, the salsa. The studio also travels to local clubs, offering free instruction before playing Cuban music into the early morning hours.
3 days: Homestead's Fruit & Spice Park (24801 SW 187 Ave) opens at 10 am, which gives you the morning (and hopefully the coolest part of the day) to explore this 35-acre public park. Check ahead of time to see what tours or classes are being offered.
After lunch, orient yourself to downtown by riding the Miami Metromover. Visit the groovy Miami Design District, with its assemblage of decorator showrooms, antique boutiques, and art galleries showcasing local, regional, and international artists.
If you visit during the concert season, reserve your night for a performance by the Miami Symphony (6915 Red Rd), which performs at both the Gusman Concert Hall in Coral Gables and the Lincoln Theatre on Miami Beach. There are also select "Concerts in the Park" in the summer at various amphitheatres.
Architecture & Landmarks in Miami
Architecture & Landmarks in Miami
The can't-miss architecture and landmarks in Miami include the many art deco hotels and, of course, the city's incredibly beautiful beaches. The following suggestions will point you in the right direction.
1 day: Spend your morning in South Beach along Ocean Drive, taking note of architectural details on such hotels as the Adrian, Breakwater, Casablanca, Cavalier, and Edison. Take a break from the heat at one of the fancy restaurants, where you can sample haute cuisine at lunch prices rather than plunk down full dinner fare. Talula (210 23rd St) serves fried calamari and a field greens salad that lessens the guilt of eating a molten chocolate cake for dessert.
In the afternoon, visit Coral Gables' Venetian Pool (2701 De Soto Blvd) to stroll among its Spanish-style buildings, garden patio, and grotto. If time allows, make a reservation beforehand for tea at the esteemed Mobil Three-Star Biltmore Hotel (1200 Anastasia Ave), one of the few traditional afternoon teas in Miami. Dine on cumin-rubbed chicken mofongo at the Mobil Four-Star Norman's (21 Almeria Ave), where the proprietor, Norman Van Aiken, is known as the father of Florida's new Caribbean cuisine.
2 days: Day two begins at Vizcaya Museum and Gardens (3251 S Miami Ave), one of the crown jewels of Miami architecture. Check ahead to see what tours are offered: the museum does an excellent job of making its art and architecture accessible and understandable to both children and adults. One of the best is an art-making program inspired by Vizcaya's extensive collection. One note: Sundays at Vizcaya are free. In the afternoon, sequester yourself at the Ancient Spanish Monastery (16711 W Dixie Hwy).
3 days: No trip to Miami is complete without a visit to its landmark beaches. Sandy shoreline stretches from Sunny Isles to Homestead's Bayfront Park (301 N Biscayne Blvd), each with its own version of fun in the sun. Windsurf at Hobie Beach, ride the carousel at Crandon Park Beach, bikini-watch at South Beach, or play golf at Haulover Beach Park, which is also home to a nude beach on the west side.
Shopping in Miami
You could spend your entire vacation shopping in Miami, but with so much else to do, you may just want to hit the highlights. Here's how:
1 day: Rubbing elbows with the rich and famous is just as thrilling as the designer duds you'll find at the Bal Harbour Shops. From fashion models to well-to-do women parading around small dogs in baby strollers, this is the place where the wealthy stop by for gem-studded jewelry and glittering ball gowns. Tiffany, Bulgari, Escada, Prada, and Harry Winston are a handful of haute couture boutiques catering to the luxury goods clientele.
Have lunch at Leah's Tea Room & Bistro before spending your afternoon at Bayside Marketplace (401 N Biscayne Blvd), an open-air 16-acre complex with more than 150 restaurants and shops. This is also a departure point for gondola and sightseeing cruises.
2 days: Mix pleasure, people-watching, and shopping with a stroll down Ocean Drive in South Beach, home to eclectic boutiques, galleries, and restaurants specializing in alfresco dining overlooking the ocean. One morning here and you will agree: Window-shopping under the shadow of fabulous Art Deco architecture is the best way to hone in on the next fashion trend. A book on Art Deco architecture makes for a great souvenir, as does a small bottle of Miami sand.  
Lincoln Road, the heartbeat of Miami Beach and home to both national chains and homegrown boutiques, is an easy option for afternoon, especially when you factor in a visit to Brownes Beauty Lounge (841 Lincoln Rd). This day spa and beauty emporium is a perennial favorite of fashion editors, models, and celebrities in need of pampering.
3 days: Serious bargain hunters won't want to miss Dolphin Mall (11401 NW 12th St), a mix of affordable retailers and bargain-basement clearance centers. Later in the afternoon, venture to CocoWalk (305 Grand Ave) for last-minute souvenirs like gold name necklaces and carved candles depicting palm trees. This three-story architectural wonder and tourist attraction has high-end boutiques, chain stores, restaurants, nightclubs, movie theaters, live bands, and the "parrot guy" who will snap your picture (for a fee) holding one of his big birds.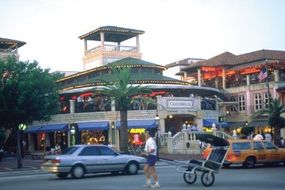 ©2006 Greater Miami CVB CocoWalk is a great place to grab classicMiami souvenirs like palm tree candles.
Nightlife & Entertainment in Miami
Nightlife & Entertainment in Miami
Miami has the hottest clubs to see and be seen, as well as late-night haunts to just sit back and enjoy salsa, reggae, and Caribbean beats. Take a look at these suggested itineraries to make sure you don't miss anything.
1 day: If you snooze, you lose. Instead, wake up with Lady Luck at The Miccosukee Resort and Gaming (500 SW 177th Ave), where 24-hour gambling features 1,000 video pull-tab machines, poker tables, Lightning Lotto, and High Stakes Bingo just 15 minutes west of Miami.
Burn off some energy by dancing all afternoon to the Caribbean beat at Mango's Tropical Cafe (900 Ocean Dr) in the heart of Ocean Drive in South Beach. The tropical drinks and scantily clad dancers begin early and continue all night with live bands and well-known DJs. You can enjoy the dance floor while being steps away from the beach's breathtaking view. At night, go to BED (929 Washington Ave) -- that is, the edgy eatery in South Beach where guests are served dinner and drinks in platform beds.
2 days: Sailing on Horizon's Edge Gaming Cruise (100 N Biscayne Blvd) gives you the best of both worlds: Las Vegas-style gambling and a day on the water. The cruise features 225 slot machines, blackjack, craps, and roulette, plus a gourmet buffet and live entertainment. Sails leave at noon and 7:30 p.m. daily. Later, take in a show at the Jackie Gleason Theater (1700 Washington Ave), a New York-style theater that hosts Broadway shows, world-renowned dance productions, and concerts from classical to pop.
3 days: If you can't get enough of Miami's frenetic vibe, you are the perfect candidate for a spin around the track at the Richard Petty Driving Experience. Located at the Homestead Miami Speedway, the Experience puts you behind the wheel of an authentic NASCAR Nextel Cut-style race car at speeds up to 150 mph.
After that fast-paced fun, you can slow down by visiting one of the most popular restaurants for race fans -- La Querbradita Taqueria (702 N Krome Ave, Homestead). The outdoor seating adds atmosphere to the spicy flavor of tacos, burritos, and other Mexican delicacies. If southern barbecue is more your taste, try the ribs and chicken legs in a picnic-table atmosphere at Shiver's Bar-B-Q (28001 S Dixie Hwy, Homestead).
Round out the day by checking out Club Space (142 NE 11th St), a premier nightclub in Miami's downtown warehouse district. With more than 9,000 square feet of dance floor space, you'll always have room to move to the salsa, reggae, and Caribbeanbeat. You don't have to go home early if you don't want to since this club has a 24-hour license.
1-, 2-, and 3-Day Suggested Itineraries for Relaxing & Unwinding in Miami
1-, 2-, and 3-Day Suggested Itineraries for Relaxing & Unwinding inMiami
Is there any better way to unwind than on the beach? Well, if fun in the sun doesn't suit you or your skin type, check out these other relaxing outings:
1 day: Start your day with brunch at the Mobil Two-Star Balans on Miami Beach (1022 Lincoln Road), where the Nicoise salad or lobster club sandwich will satisfy your palate while you people-watch in the outdoor seating area surrounded by a beautiful garden. Sneak a peek at the local Miami Herald and enjoy a Bloody Mary or two.
When the sun heats up, settle in at one of the designer pools in the area. Possible spots are Acqualina's adults-only, oceanside tranquility pool (17875 Collins Ave) and the Mobil Three-Star Delano's "Water Salon," complete with a poolside butler and separate areas for floating and meditating (1685 Collins Ave). If you need to get away in glamorous fashion, rent a yacht and spend the afternoon on the water, close enough to observe goings-on along the shore, but out of the limelight.
2 days: Stay in bed at the Shore Club, where custom tufted beds smothered with pillows of all shapes and sizes surround the infinity pool just off the beach. The beds are tucked away into cabanas, offering even more privacy and seclusion. Or go for an afternoon drive to ArtSouth in Homestead, a nonprofit artists' community where you can take classes from master artists or simply browse the gift shop for one-of-a-kind jewelry, pottery, and paintings.
Think of it as Sonoma South -- that's what a visit to Schnebly Redland's Winery in Homestead is like. The southernmost winery in the Continental United States, the winery specializes in tropical wines sans the grapes -- lychee, passion fruit, carambola, guava, and mango wines take center stage. Include time for a wine tasting near the natural coral waterfalls surrounded by the lush tropical foliage on the property.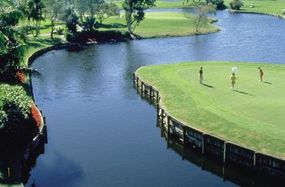 ©2006 Greater Miami CVB Golfing in Miami is as natural as breathing. Choose from suchrenowned courses as the Doral Golf Resort and Spa.
3 days: Golf, golf, and more golf. There's no better place to play than on one of the golf courses in South Florida. The Golf Course at the Mobil Three-Star Biltmore Hotel (1210 Anastasia Ave, Coral Gables) has been restored to its 1925 Donald Ross design, complete with a scenic layout. The Mobil Three-Star Marriott Doral Golf Resort and Spa (4400 NW 87th Ave, Doral) hosts the annual Ford Championship and is noted for its par-72 Blue Monster course. If you're new to the game, try out the 9-hole, par-3 Haulover Golf Course on the Intracoastal Waterway (10800 Collins Ave; Sunny Isles). The longest hole on this walking course is 125 yards, and green fees are only $6.
After an all-day golf blitz, if you're still up for going out, opt for Jazid (1342 Washington Ave), which hosts some of the best jazz and blues musicians in the area. This club serves as an alternative to the hip-hop and house music found in most of the clubs on Miami Beach.
Yes, Miami is hot, hot, hot. But such cool spots as the Art Deco district and The Wolfsonian give this city a unique flavor that keeps tourists coming back for more.
©Publications International, Ltd.
ABOUT THE AUTHOR:
From her home in Tallahassee, Florida, Heidi Tyline King writes travel guidebooks and features for national publications.
Related Links
Chopin Foundation of the United States
Miami Museum of Science and Planetarium
National Hurricane Center, Tropical Prediction Center, and Forecast Office