You've heard the hype about Miami: hot, hot heat and cool, blue-wave beaches; couture fashion and flip-flops; rollerbladers on Ocean Drive; and flashy nightclubs that pulse to a never-ending beat.
But there's another side to this international city that can turn your trip from touristy to a terrific memory-making experience. It's a side where neighborhood Cuban restaurants serve picadillo and arroz con pollo as tasty as any abuelas, where beach bums revel in the sun sans the skimpy chi-chi crowd, where the lure of world-class art trumps the run of the mill souvenir circuit.
This is Miami of the new millennium, as American as key lime pie but also the prime gateway to a taste of Latin America and the second-largest airport hub in the United States for international travelers. Each year, 9.5 million people visit this cosmopolitan beach town.
The Best of Miami
Metropolitan Miami is part bazaar and part Broadway -- a place of bikinis and minks, the habitat of boulevardiers and budgeteers. It's a new-world city made up of both North and South American peoples, an international place that provides visitors with glamour and excitement.
The frenetic vibe -- along with Miami's Art Deco architecture, classic beaches and glitzy nightlife -- lures travelers the world over. If you did nothing else but people-watch, you'd leave Miami as a satisfied visitor.
There are a number of reasons for visiting Miami, the beach being the most obvious. Choices range from the famed South Beach, an oceanside historic Art Deco district with a be-seen beach scene and boisterous nightlife, to the more secluded shores of Bill Baggs Cape Florida State Park.
Architecture is another draw. Art Deco is the most well-known of styles in the area, and while South Beach certainly has a fabulous collection of historic and vintage hotels and buildings, Miami's signature style can be found throughout the greater metropolitan area.
The city also is home to Vizcaya Museum and Gardens, a 34-room estate on Biscayne Bay and one of the finest examples of Italian Renaissance architecture in the United States.
Then there are tropical attractions like the Miami Seaquarium, Monkey Jungle, Parrot Jungle & Gardens, Dolphin World and Everglades tours that give families and adventure-seekers a fix of all things unique to South Florida.
Fast Facts & Info
Geography and landscape: Miami sits at the southeastern edge of Florida, sprawling between the Atlantic Ocean and the Everglades. A broad, flat plain of limestone stretches underneath, peaking at 15 feet above sea level at its highest point.
To most visitors, Miami is an all-encompassing term, including both the city of Miami and its across-the-bay twin, Miami Beach. Actually, each is a separate community with its own personality.
There are also neighboring cities that make up the Miami metropolitan area. The city is the largest in the South Florida Metropolitan area, which includes Miami-Dade, Broward and Palm Beach counties, and the second-largest in Florida after Jacksonville.
Altogether, the greater Miami area encompasses 2,042 square miles and includes Miami, Miami Beach, Biscayne Bay and dozens of small cities in between.
In regard to geography, most neighborhoods average three feet above sea level. Water is everywhere, from the ocean to the Miami River to the numerous lakes feeding from vast springs in the limestone underneath.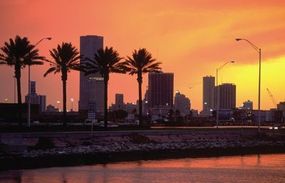 General orientation: Miami is divided into two main areas: the mainland and the adjacent 16 narrow barrier islands to the east, which are connected by causeways that tie into I-95 before breaking down into numerous highways leading to points beyond.
The mainland includes Greater Miami, Kendall, Coral Gables, Coconut Grove, Little Havana, Little Haiti, North Miami, Surfside and Sunny Isles. Miami Beach (including South Beach) and Key Biscayne are located on barrier islands to the east. More than 5 million people live in the greater metropolitan area, with around 365,000 in Miami proper alone.
Safety: Like other well-visited cities, Miami's reputation in past years was tarnished by a spate of crimes against tourists. Since then, visitor-safety programs and neighborhood patrols have been implemented to keep travelers safe. Generally, Miami Beach is considered safe, but visitors should exercise common sense and stay on well-lit, well-traveled streets.
The mainland, with its complex road system, could create more chances for mishaps. Little Havana and Little Haiti are both better enjoyed during the day. Overtown, north of downtown, is an up-and-coming neighborhood, but another area to avoid at night.
Liberty City and Opa-Locka, in northwest Miami, also raise caution flags for travelers. As in other cities, it is prudent to stay in well-populated areas, keep from venturing into unfamiliar neighborhoods (especially at night), and travel with another person if possible (particularly if walking from one neighborhood of the city to another).
Weather: Miami is hot, hot, hot, which is the reason many people vacation there. Expect average temperatures between 60 degrees Fahrenheit (15 degrees Celsius) and 85 degrees Fahrenheit (30 degrees Celsius). In the summer, surprise rain showers pop up and then disappear just as suddenly, leaving behind a dense humidity. December, the peak of the tourist season, has lower humidity and less chance of rain showers.
Interestingly, Miami has never officially recorded a temperature over 100 degrees Fahrenheit, though the humidity can often make it feel like the thermometer has hit triple digits.
Miami's web of highways and causeways, which crisscross between the mainland and the surrounding string of islands, can make it quite challenging to get around. Turn to the next page for important tips on navigating Miami.